Android continued its dominance and captured 84% of global market share in Q3 of 2014, according to a latest report from Strategy Analytics. For the third quarter, global shipments of Android-based smartphones reached 268 million, up from 206 million for the same quarter a year ago.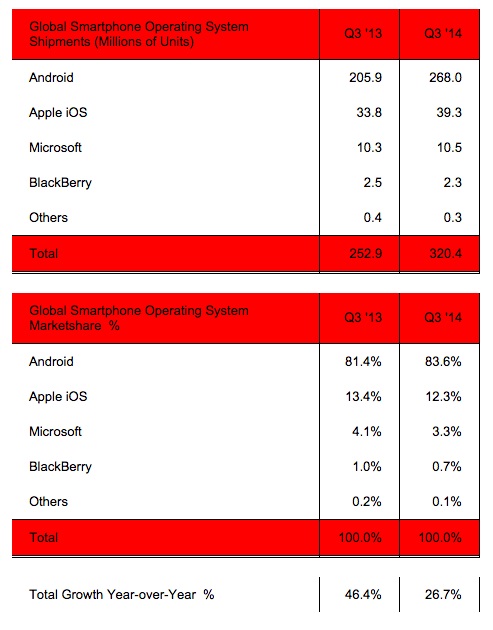 "Android's leadership of the global smartphone market looks unbeatable at the moment. Its low-cost services and user-friendly software remain attractive to hardware makers, operators and consumers worldwide. However, challenges are emerging for Google. The Android platform is getting overcrowded with hundreds of hardware brands, Android smartphone prices are falling worldwide, and few Android device vendors make profits."

said Neil Mawston, executive director at Strategy Analytics,in a statement.
Meanwhile, global smartphone shipment reached 320.4 million in Q3 2014 reporting a 27 percent annual increase from 252.9 million units in Q3 2013, said the report. Apple iOS was in the No. 2 spot with 39.3 million shipments, while Microsoft Windows cam in third with 10.5 million global shipments in Q3. BlackBerry saw its shipments dip to 2.3 million from 2.5 million, while its market share inched down to 0.7 percent from 1 percent.