HTC announced last month that One (M8) and One (M7) will receive the Android 5.0 Lollipop update "within 90 days of receiving final software". Last week, leaked screenshots of the device showed the Android 5.0 update with a layer of Sense 7 UI over it.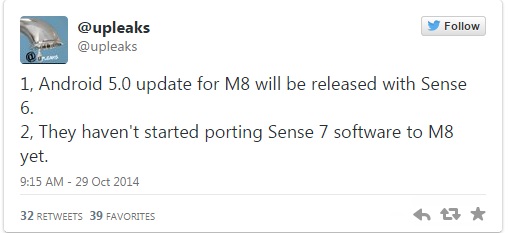 However, now a leak from @upleaks is stating that the HTC One (M7) update will infact not come with the Sense 7 UI and instead come with the current Sense 6 UI. The reason for the delay is reportedly because HTC has not started to port Sense 7 to the HTC One M8 currently. It is not sure exactly whether the company will roll out the Android 5.0 update with Sense 6 UI or Sense 7 UI.
The HTC One (M7) and (M8) remain the first in line for the update. Google Play  Edition versions of the handsets will receive an update in late November-December, as expected, and Sense based versions will see an update in January-February, as per a recent report.