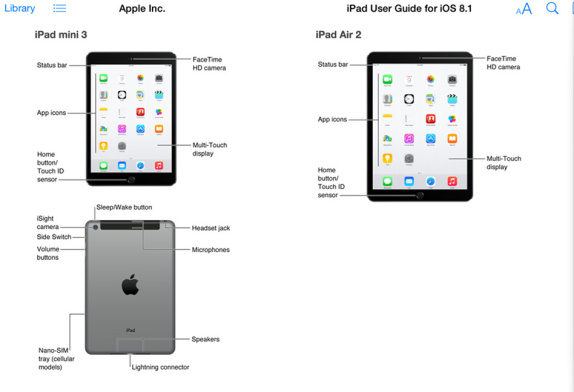 Well, you read that right. Apple in an unforeseen circumstance has revealed its next generation tablets. The company has 'accidentally' revealed both of its new iPads – the iPad Air 2 and the iPad mini 3 ahead of its tomorrow's press event.
The details come courtesy of an official user guide for iOS 8 in the iTunes store, which has the screenshots of the both tablets ahead of their unveiling.
The leaked image reveals that iPad Air 2 and iPad mini 3 will have Touch ID fingerprint sensors on-board. From the design aspects, both the tablets seem to look identical to their predecessors. However, the tablets are expected to feature the new A8 or slightly more powerful chipset, which means that the performance will scale up significantly.
Leaked user guide also hints that the new iPad Air will feature the burst photo capture mode, but there's no mention of the mini. It's quite clear that new iPads will come with iOS 8.1 out of the box.
If you were expecting the new models to feature a new design language, that we are afraid, you will be left disappointed. We will know more about the iPad Air 2 and iPad mini 3 when Apple officially announces it in less than 24 hours.