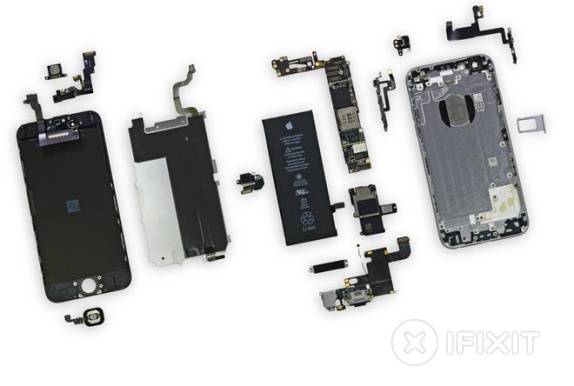 Apple iPhone 6 has just gone on sale in a few selected markets. The folks at iFixit have already managed to grab a unit and have given at a teardown treatment.
Thanks to iFixit, we can now see the innards of the iPhone 6 for the very first time. Apple's latest flagship smartphone has managed to score 7 reparability points, which means that you don't have to break your back to fix something internally.
Apple hasn't shared any details about repairing the iPhone with third-party repair shops and the folks at iFixit are not happy about it. The teardown experts weren't satisfied with the proprietary pentalobe screws the Cupertino giants use in their iPhones.
Once you remove the back panel, you get to see the 1,810mAh battery, which is one of the easiest parts to remove. You can also remove the display assembly without having to break a sweat. Apple has rerouted its fingerprint sensor cable and it is now much safer to remove that compared to the previous model.
The teardown also shows us the main logic board of the iPhone 6 that houses the Apple A8 silicon and the 1GB SK Hynix RAM. The 16GB NAND flagship chip is manufactured by Sandisk.
You can check out the source link below for more details and the step-by-step procedure of the teardown.