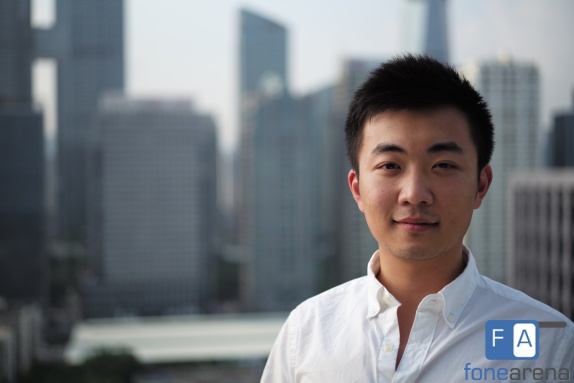 We had a chance to sit down with Carl Pei – Director, OnePlus Global and talk to him about the company's vision ahead of their launch in India.
The young Chinese smartphone manufacturer has already made a name for itself with its first product. Thanks to the high-end hardware specifications and a very affordable price tag, the One has changed the dimension of the market.
While the smartphone is currently hard to get, there is some good news for the potential Indian consumers. OnePlus is working hard and is almost set to make its debut in one of the biggest markets in the world.
I had heard a lot about Carl in the past, but never had a chance to sit down with him. He is an easy going man who answers pretty much everything that's thrown at him. The future of OnePlus in India looks very promising.
On with the interview..
FoneArena: Carl, first of all, we would request you to present yourselves for our readers. And, do spread some light about the position you hold at OnePlus.
Carl: Carl, I grew up in Sweden. I am currently leading the global side of OnePlus. When we started the company 9 months ago, back in December, we were only 3 people and we never thought it would take off in the way it has done and we are now rapidly scaling and expanding the team.
FoneArena: You were early with OPPO, which was on a rise. Why did you move to a start up like OnePlus?
Carl: Back at OPPO, I was responsible for global marketing and I was there for a year. During that time, a lot of people got to know about OPPO for the first time. So, when my boss at OPPO, Pete decided to start his own company, it was pretty natural to join him, because he recruited me at OPPO.
And, when you once start something with a blank slate you can paint it however you want, so you can use a lot more creativity and you can validate more of your own ideas. So, I immediately knew there was a good opportunity in front of me. So, it was really easy to make this decision to be there at the very beginning and build something from scratch.
FoneArena: OnePlus has already created a high benchmark in the industry with its first product, the One. At the moment, OnePlus doesn't have its presence outside China. So, I am just wondering what made you feel that India would be your next market.
Carl: Its true India is the first market where we plan to have a local team. It's such a vast market and you can use the smartphone adoption growing super quickly and leading a lot of change. It is so different from anywhere else and that's why we thought we need a local team to deal with this market. From the very beginning we believe that we shouldn't have any cultural barriers to our users and that's one of the reasons why our global team have people from all over the world.
We actually never expected to enter India. It's only after we launch that we saw huge interest from the Indian fans on internet. When we check the stats, we already have thousands of users who have bought the phone from US and also by looking at our website traffic, India ranks #8 despite not being in the first sixteen launch countries. So, we just saw the tremendous amount of interest and we saw an opportunity. That's why we are here.
FoneArena: I know that you are currently in search of a person who could manage your business in India. Do you have any time frame before when we could see you guys rolling? And, how do you plan on scaling up?
Carl: We are not looking for someone who could manage our business, but we are looking for someone who could create it with us.
We know very little about the market and whoever we find will build the strategy and OnePlus in India. IIM Ahmadabad is helping us by going through their alumni list, so we are meeting a lot of experienced and great people. We will probably make a choice later this month.
If everything goes as planned, we can launch our product before December this year, but since there are always uncertainties, we don't want to promise something until we are 100% sure.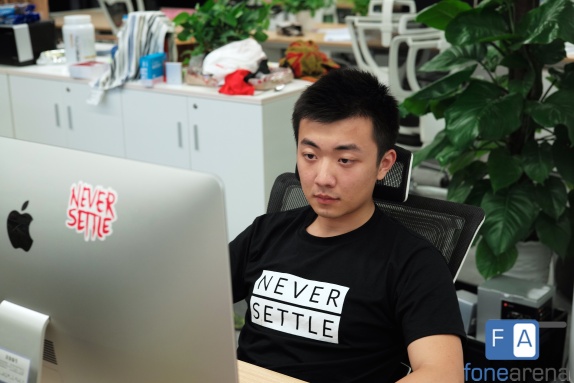 FoneArena: OnePlus one is already in huge demand globally and there is shortage of supply. When this is the current scenario, do you think you will have enough supply to start your business in the country? I mean, recently Xiaomi started their operations in India and with high demand and shortage of supplies; the company had to face a lot of heat and criticism from the consumers. So, are you prepared for the challenge?
Carl: Everyone knows that OnePlus One is super hard to get and the reason for it is we under estimated the demand from the very beginning. And, some of the components in this phone take about 3 months from the order, so for us to increase the production it took us that long.
But, if you now look around, it is a lot easier to get the invite and going forward the production rate is going to increase. That's why we think we can come to India with enough inventories. Having said that, it is always a risk in hardware because we make no money with it and we cannot afford to have an inventory reserve. If we order too many phones and if we don't sell them then we will have to go bankrupt as we have no margins to absorb this cost.
When we come to India, the stocks will still be conservative until we get a feel for the market and learn more about the users and demand. So, I don't want to set the expectations that it is going to be super easy to get one once we start our operations.
FoneArena: Are you entering the market with any pre-set targets in mind?
Carl: We are looking to keep the sales to six figures in the first year, but it's too early to call.
FoneArena: OnePlus Ones key selling point is its price tag. And, considering India is such a diverse country, pricing will be a key factor. A direct conversion would mean that the 16GB variant will carry a price tag of INR 18,000 and the 64GB version will cost you around INR 21,000.
Obviously, there are so many other factors like import duties, shipping among other things that play a role in the pricing. Considering all these, is there any price range in which our readers could expect the device to fall in?
Carl: We are looking to price our 64GB variant below INR 25,000. We are looking at the 16GB variant, but we aren't sure. We are looking at our inventory and our memory chips, certification and back cover, which is a bit different when you compare it with the China version.
We haven't made any 16GB global version yet, so we are still looking at the possibility of bringing it. That said, I think there is huge opportunity for the 16GB model if we price it lower in India.
FoneArena: I often wonder, with such a killer price tag, do you make any profits out of your hardware? Or do you break with it? How does OnePlus make money?
Carl: We see ourselves as a software company rather than a hardware company. We worry about how to create a product first and then we worry about user acquisition. So, once we have users, it's not going to be hard to make money and we are doing it the same way a lot of software companies does.
We are already thinking ahead of how and what revenue streams are available to us. The area where we will have more opportunity may be not this year, but next year and the years to come is through software and services and that's something we want to focus on.
FoneArena: There are two versions of OnePlus One currently shipping – one with the colorOS in China and the other with CyanogenMod that is being sold globally. Which of the models will eventually make it to India?
Carl: We are almost sure that the Indian consumers will prefer the global version, which is running on CyanogenMod. However, we will showcase our ColorOS model in our collaborated fan gathering and see how they react and gather some feedback.
We will go with global version unless the reception today is completely different from what we expect.
FoneArena: Do you have any sales model for India? Is it going to be invite based or are you looking at a new model? Are you considering selling your products through e-commerce, which is very strong in India? If so, are you in talks with any of them?
Carl: We will also be working with one of the leading e-commerce companies. They have a lot of logistics and other stuff figured out.
As I said, there is a lot of risk with hardware especially when you don't have any margins. So, stock levels will not be high from the beginning and will be more of gradual roll out. We are still discussing with our potential partners on how we could make this for the Indian market. So, no, we haven't figured out an exact sales model.
FoneArena: Another key aspect of a brand entering a new market would be its service network. How focused are you on providing quality after sales service to your potential consumers in India? And, can we expect, exclusive or certified Oneplus service centers across the country?
Carl: That's one of the other reasons why we need a local team to manage service. We know that Indian consumers are very concerned and care a lot about the service they get. Before we launch, we will have a service network set up locally.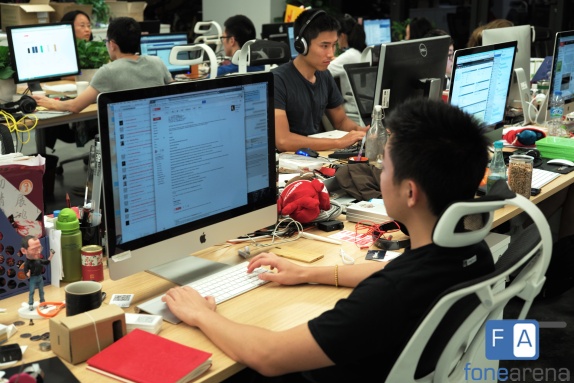 FoneArena: There are reports on an issue with the Ones display where the users are noticing yellowish band at the bottom where the back light is located. And, we understand that it cannot be corrected via software patch due to the uneven levels of white, while an update would be applied to the whole screen.
How are you addressing this issue? And, what is the standard procedure one has to undergo if he has this unfortunate issue?
Carl: There were many problems because of which this issue raised, but it's better now. We used a few variants of displays on phone and CyanogenMod didn't adopt the software for every variant. So, there were more yellow on some, but with recent patch we fixed this.
We now have users report about small gradual worming from the bottom and we know the reasons for it – some users have noticed that it is due to the glue completely drying and they have used UV lights to cure this problem. The other thing is due to the issue with how LCD displays are manufactured. The construction requires us to put some material under the panel so that the back lights don't show, but the light that is coming out is pretty uneven and this exists in everything we ship.
Some users are very vocal about it, while some don't even notice it. What we are doing is we are offering a 14 day return and we still don't know how this will work in India, but if you are not happy, then you can ship it back to us and we will refund your money.
But, looking at the statistics, no one is returning the phone. So, it's more to do with the technology of how this display works, than any quality issue.
FoneArena: What's the relationship between OPPO and OnePlus? You know why I am asking you this, OnePlus is said to be a sister company of OPPO. We know that both the companies have the same investors and you also utilize OPPO's manufacturing lines, but do you share anything beyond that?
Carl: We had some people saying that OnePlus is not a real start up, but this is a company owned by OPPO. On the other side we are sitting in office working till 4AM and it just feels super unfair.
Every company has investors and just because we share the same investors as OPPO, it doesn't mean we are OPPO or we are huge. We are just a bunch of young people, putting all our passion and time to build something new.
At the same time, it's not easy to explain this as the more you try to explain, some people will think that you are trying to hide something, so we are not commenting on it publicly unless someone specially asks it. Every decision we make is completely separate and we are actually competitors!
We are also looking and actively talking to other investors for a second round of investments, which will probably close later this year or early next year. I think if you give us some time we will have multiple investors in the company and people will start understand the actual situation better.
FoneArena: What's coming next in your road map? When can we expect the next device from you? And, also do you plan to utilize other mobile platforms like WindowsPhone on your device in the coming days?
Carl: Before we launched the One, we always asked our forum members about what features and what kind of hardware specifications they want and then designed our model. Every time we choose hardware to use, we announced in the forum and wrote an article and explained why we made the choice. That's why on the product package it says 'created by fans.'
We are planning to start this process again for OnePlus Two and this is going to be another scale of things. We look to refresh our flagship product once every year and probably later this month or early next month we will start asking our users about some of the features they want in the phone.
Looking at the road map, it's going to be a pretty interesting device.
Regarding other platforms, we want to be open as much as possible. If you look at the OnePlus One we already have six officially supported ROMs. So, we are also open for other OS makers and we see it as a positive thing. If anyone wants to port their OS to our phone, we are happy about it.
FoneArena: Do we see OnePlus entering any other category like wearable's in the coming days?
Carl: We got to make sure that our phone succeeds at the first place. If our future phones fail, there is no need to enter wearable's, because smartphone is still the most important piece of hardware. So, for 2014 we are not going into any other categories and if at all we see anything it is going to be in second half of 2015.
FoneArena: What are the challenges you are currently facing in India?
Carl: In India, everything is going surprisingly smooth and it's been a pretty amazing trip so far. IIM, one of the best universities in India is helping us hire people, so we see a lot of support from not only our fans, but from the entire eco-system.
We have received a lot of help and support in building our service network and everything is going smoothly.
The main concern is to find our general manager and make sure he is a good culture fit, make sure he can execute on the vision we define together.
FoneArena: What is your learning in this trip to India?
Carl: People are really passionate about technology. The smartphone is such an important device for Indians. I think a lot of people have gone from no connectivity to smartphone connectivity and may be a lot of people have skipped laptops and computers completely. So, I understand that smartphone is very important here.
Well, that's it. Thanks for your time. Welcome to India!