BlackBerry has ambitious plans for its smartphone market in 2014. A leaked roadmap of the struggling smartphone maker will target four main segments with its future devices that will be tailored for the Affordable, Classic, Innovative, and Prestige audiences.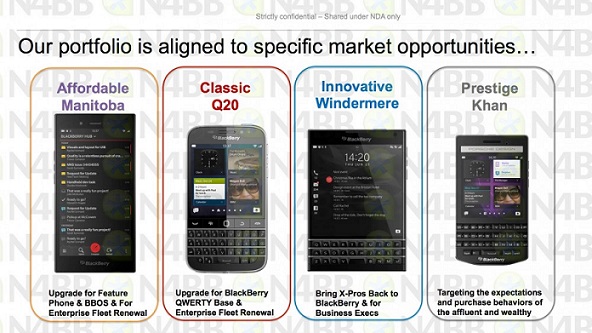 According to the leaked roadmap, BlackBerry will launch four different mobiles under each segment viz, Affordable "Manitoba," Classic "Q20," Innovative "Windermere" and the Prestige "Khan", are the code name of the devices that will launch by this year. The roadmap further suggests that the highly anticipated BlackBerry Passport which is codenamed as 'Windermere will launch in Q3 2014 most likely in September along with Khan" which is the new BlackBerry Porsche Design P '9983.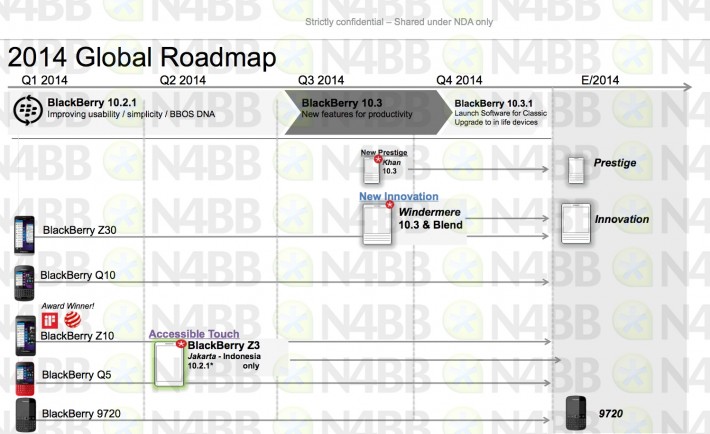 At the same time BlackBerry OS 10.3 will be released alongside BlackBerry Blend which will bring BBM, emails and much more to desktop and tablets.  Blackberry Classic aka Blackberry 9720 that will sport a physical QWERTY keyboard with touchpad and function keys will also be ready by November for launch.   The 10.3 OS will be released for all other BlackBerry 10 smartphones – Z3, Z10, Z30, Q10, Q5 & P'9982 in Q4 2014 i.e. November.
via:N4BB