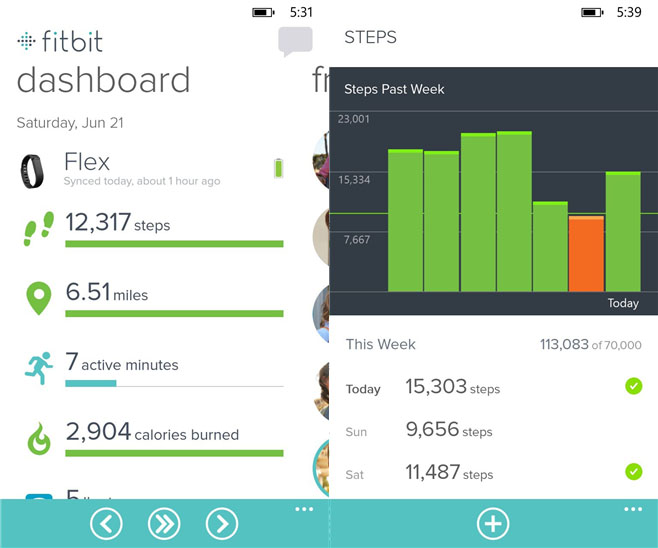 Users of Windows Phone devices have long been left out of the fitness bands and wearables group due to lack of official applications on the platform. Earlier this year, Microsoft had claimed that it was working on changing that. With the Windows Phone 8.1 update, the mobile operating system got much improved bluetooth support including much needed Bluetooth LE support which is most important for low power wearables. Fitbit is the first company to take advantage of it.
As stated on the product page, the key features include:
REAL-TIME STATS: Automatic and wireless syncing for all Fitbit activity and sleep trackers through Bluetooth 4.0
FITBIT ON YOUR START SCREEN: Pin the Fitbit Live Tile to your Start screen and quickly view your step count
STAY ON TRACK: Real-time and historical stats in easy-to-understand graphs, to help track progress and set goals
LOG MORE THAN ACTIVITY: Recently enhanced food database of more than 350,000 foods with accurate nutritional data for faster, better food-logging and calorie coaching
GET MOTIVATED: Fitbit's motivational social tools like notifications and badges, to help reach target goals
STAY SOCIAL: Ability to challenge friends and family with leaderboards, direct messages, cheers and taunts
The company aims to make its application for the wearable fitness tracker available on the Windows Phone 8.1 app store. As expected, the application has all core functionality including automatic syncing as well as real time stats. it is also possible to log nutritional information through the food database. Prospective users will need a device running Windows Phone 8.1 and the Lumia Cyan update in addition to Fitbit hardware of course. While only one of many fitness trackers out there, it is a move in the right direction and as the elephant in in the room, it should motivate others to target Windows Phone as well.
[Via – Windows App Store]