Google has entered into the set-top box space by officially announcing Android TV. The TV service will run on set-top box hardware similar to Amazon and Apple TV.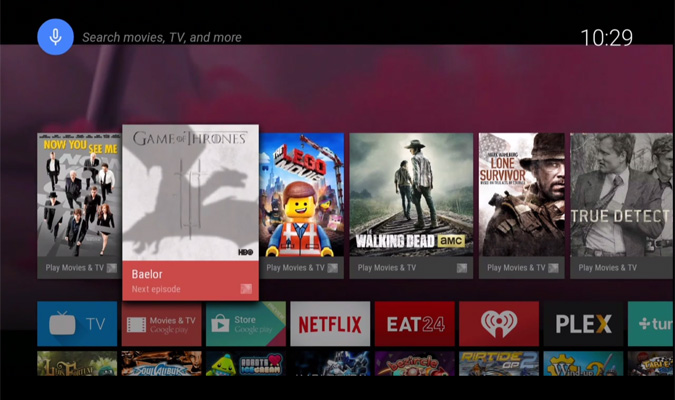 Google as developed software that helps smartphones and tablets interact with a television to perform a variety of tasks, including searching for videos, controlling playback, and controlling a video game.  Users will be able to stream content from their smartphones and tablets to their TVs using the system, which will also integrate with Google's Chromecast device. Android TV will rely on the Material Design UI of Android L, which brings in support for HDMI, IPTV, and other sources.
Android TV has a homescreen that is designed to put content front and center. It recommends content to the user and the top of the homescreen shows recently used apps. One of the key features of Android TV is voice control which enables users to find information like TV Shows, Movies, Music etc with simple voice commands. The interface is based on cards which maker searching easy by simple scrolling. These cards are organized into Movies, Shows, Games and Apps sections.
Google is also putting focus of Android TV as users can use an Android tablet as a controller, while an Android game is broadcast on your TV set. All 2014 Sony and Sharp 4K televisions will support Android TV. Google has teamed up with NVIDIA to create a Tegra-powered Android TV development kit that would be available starting today. NVIDIA also offers Tegra K1 Android TV reference design for OEMs interested in building set top boxes or TVs based on Android TV.
This is not Google's first attempt to get into your living room. The company had forayed into creating TV software with Google TV in 2010 but unfortunately it did not garner any momentum.