Microsoft has announced that it will soon give Skype for iPhone a major makeover in about a week's time. The latest 5.0 update will make the Skype app for iPhone five times faster than the current app along with fewer lags.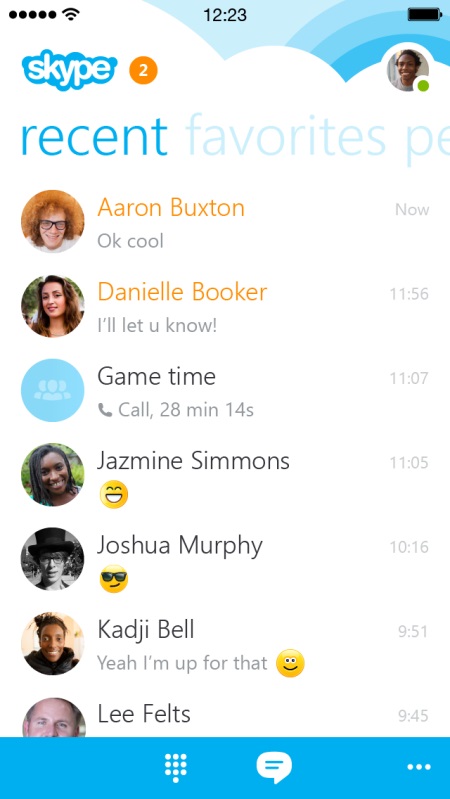 The new Skype for iPhone is the most refined version yet. It has all the visual finish that iOS users expect, smooth animations and even a few features that aren't just new for this version, but new to Skype altogether.

Skype Product Marketing Manager Eric Lin wrote in a blog post.
The company said that Skype for iPhone has been redesigned to create a "consistent look and feel with the Windows Phone and Android apps". In terms of look, Skype 5.0 gets a sleek and cleaner UI and focuses on large thumbnails and buttons. It also supports smoother scrolling and simplified navigation that makes it easier to swipe between conversations, contacts list and favorites.
One of the important feature added in the latest update is the ability to start group chat from the main hub. Skype for iPhone gets improved notification, which syncs your conversation across multiple devices. This essentially means that if you have read a new message on Skype's PC, Xbox, or tablet app, and it will be automatically marked as read on the iPhone app. Messages and photos can be sent and received with contacts who are offline.
Eric Lin claimed that "This is the biggest change ever to Skype for iPhone". The move from Skype comes at a time when instant messaging is at its peak with strong and established players like WhatsApp and Facebook Messenger. Moreover, new players like Vine and Snapchat are foraying into the extremely crowded market.
Check out the video below that shows the latest Skype for iPhone app