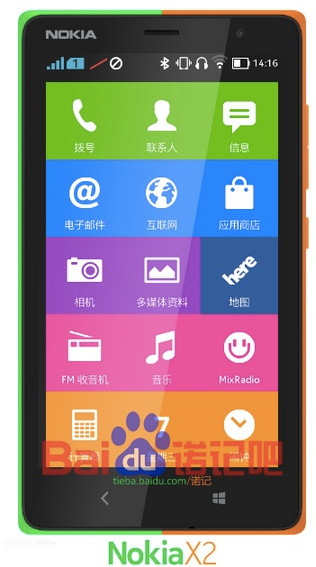 Nokia X, the company's first Android smartphone based on Android Open Source Project (AOSP) was launched in India back in March. Nokia X+ and the Nokia XL were launched in India earlier this week. A render of the upcoming Nokia X2 smartphone has surfaced on a Chinese website along with AnTuTu scores that reveals that is has a 1.2 GHz dual-core Snapdragon 200 (MSM 8210) processor. All the X series devices are powered by 1GHz dual-core Qualcomm Snapdragon S4 play (MSM8225) SoC.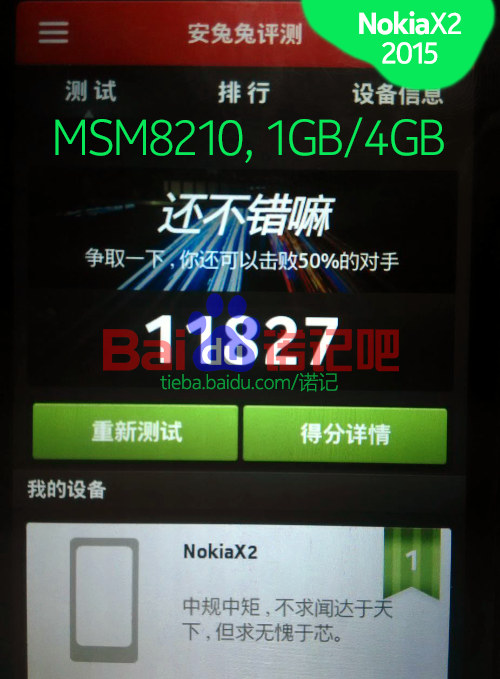 It also reveals that the smartphone could have 1GB RAM, unlike the Nokia X that had 512MB RAM. Even the Nokia X+ has 768MB RAM, so this looks like a decent upgrade. All the Nokia X series smartphones had only one back button, but the Nokia X2 is rumored to feature a home button along with the back button. According to the leaked render, it seems to have a front-facing camera and a two-tone back cover. Other specifications are not available currently.
Accordingly to the website the Nokia X2 is expected to launch sometime in 2015. Since Nokia's mobile devices division is now own by Microsoft it is doubtful if the smartphone would ever see the limelight.