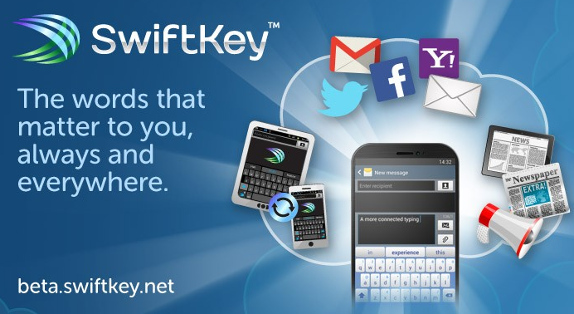 SwiftKey, popular Android keyboard maker has launched the version 4.2 Beta, four months after the release of SwiftKey Flow. The new Beta app introduces SwiftKey Cloud with the most required feature – backup and sync that back up the words and phrases so that you can sync it when you move to a new device. The trending phrases feature analyses treding topics online and Twitter to automatically auto complete it as you type.
New features in SwiftKey 4.2 Beta
Backup & Sync option lets you back up words and phrases that can be synced across your devices.
Trending Phrases analyzees Twitter and other news sources for relevant daily discussions and trending topics to auto complete words and phrases
Enhanced Personalization – SwiftKey now learns from your writing style to get next-word predictions and auto-corrections. Gmail and Facebook personalization is now one click away, Yahoo! Mail added
Refined Settings structure
Improved language layout settings
Physical keyboard functionality has been improved, including:
Spacebar behavior can be set separately for the on-screen keyboard and the attached physical keyboard
Punctuation completion, smart spacing, and capitalization can be configured for physical keyboards
The Trending Phrases would launch first for users of US and UK English, Spanish, French, Portuguese and Brazilian Portuguese, German, Italian, Russian, Dutch, Korean, Indonesian and Arabic, and be expanded gradually. More personalization options would be added soon.
Download SwiftKey 4.2 Beta for Android free from beta.swiftkey.net.