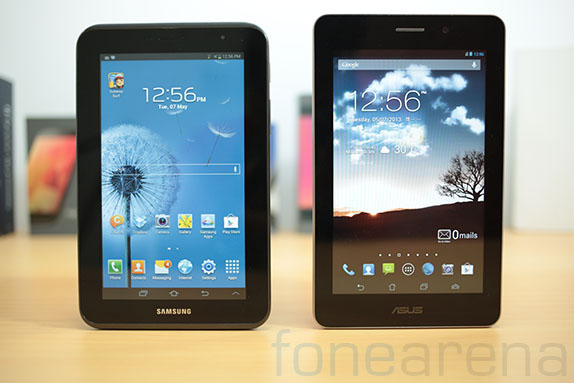 We have been comparing the ASUS Fonepad with various small tablets here at our labs. We recently compared it with the Galaxy Note 8.0 aka Note 510 and found it quite different from the latter. However, in this comparison, we feel that both these devices are currently pegged head-to-head. In terms of target audience as well as similarities and functionalities, both these tablets aim for the budget calling tablet segment. Yes, we are talking about the Samsung Galaxy Tab 2 310. So, which is going to win you over? Read on to find out, and before all of that, watch our detailed comparison video below –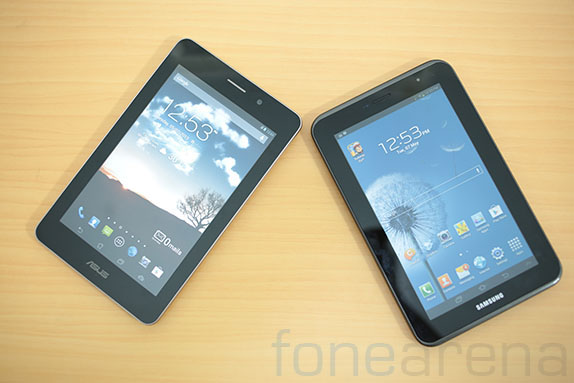 Lets quickly go through the similarities and differences then. Design wise, the fonepad is very much a metal Nexus 7, which is highly similar, even in dimensions. The Galaxy Tab 2 310 on the other hand, looks like a previous generation Samsung, with its traditional design. Both have rounded corners and curved sides, which makes it blunt and easier to hold in both landscape as well as portrait.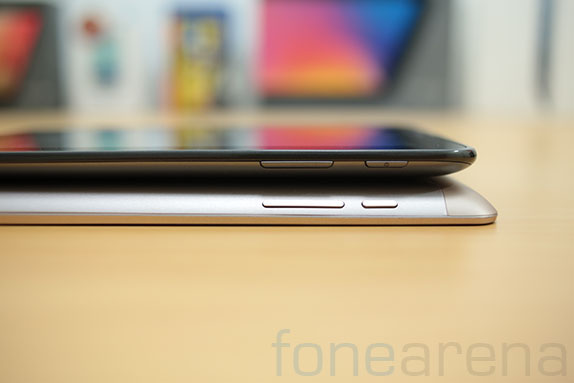 Coming to dimensions, both are very similar, with the Fonepad coming in at 10.4mm, and weighing 340g while the Tab 2 310 is 10.5mm thick and weighs 345g.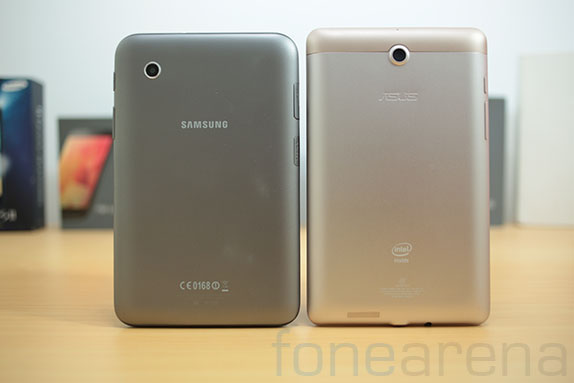 Build wise, the materials used in the ASUS Fonepad are better thanks to it being made of aluminium in the back. The Galaxy Tab 2 310 isn't shabby either, it is made of good quality matte plastic unlike the recent glossy designs from Samsung. The solid feel and the weight makes it reliable. While we prefer the materials on the fonepad, we found some disturbing quality issues, with incorrect fits and creaks. Tab 2 was definitely more solid in that department.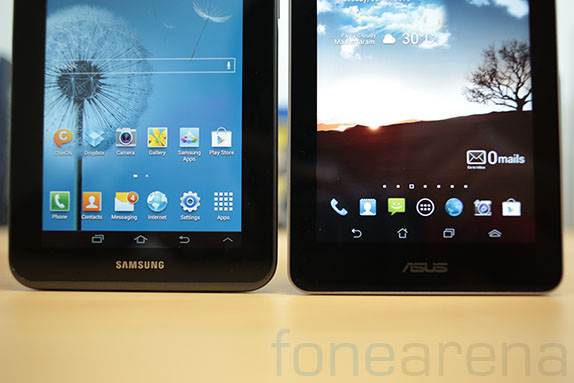 Coming to the display, the fonepad has a 7 inch 1280×800 IPS TFT screen at 216 ppi, that is better than the Tab 2 310's 7 inch 1024×600 LCD at 170 ppi. The colour reproduction, pixel density and viewing angles are better on the fonepad, but not class leading. The fonepad's display is highly reflective and is a finger print magnet and that goes for the Tab 2 as well.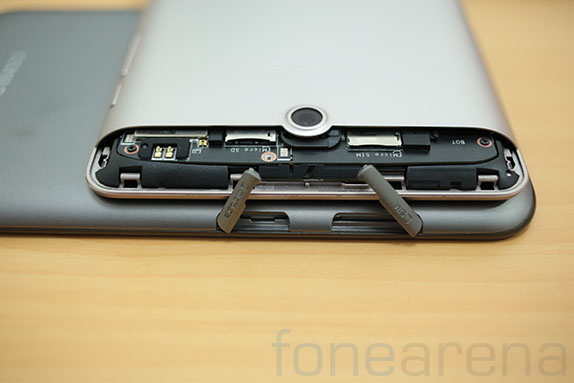 Talking about the internals, the fonepad is powered by the Intel Z2420 single core 1.2 GHz processor with HT, coupled with 1 GB of RAM and 16 GB of storage while the Tab 2 310 is powered by the good old TI OMAP 4430 1 GHz dual core ARM processor with 1 GB of RAM and 8 GB of internal memory. Both tablets have the PowerVR SGX 540 GPU. In terms of performance, both are slightly poor but fonepad chugs along better. Both have SIM card slots and respective applications for calling and messaging, with 3G data. There is also a micro SD card slot on both, for expandable memory.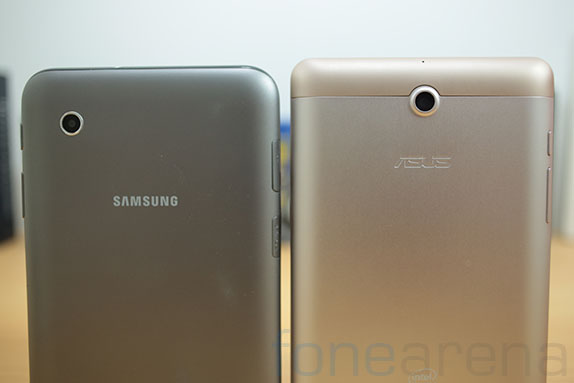 There is a 3MP rear camera on Tab 2 as well as the fonepad, both capable of 720p video recording. The Front Facing Camera is 1.2 mp on the fonepad and VGA on the tab 2. In terms of performance, both are poor, but ok for video calling.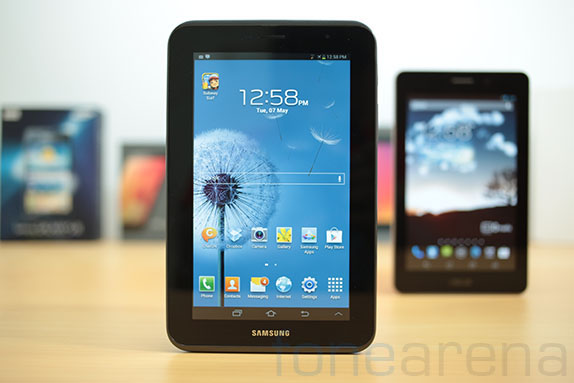 In terms of software, the fonepad launched with Android 4.1.2 Jellybean, while the Tab 2 launched with ICS, it is now running Android 4.1.1 Jellybean. Like all Galaxy devices, the Tab 2 also runs Touchwiz but only has some touchwiz features present on other Galaxy devices. The fonepad runs on a custom UI too, but the changes are very minimal and has mini apps, very much like touchwiz on the Tab 2. On terms of software features, both the tablets are toe-to-toe, with a few advantages on the Tab 2 like the pop up video player, that might be available on some third party video players too.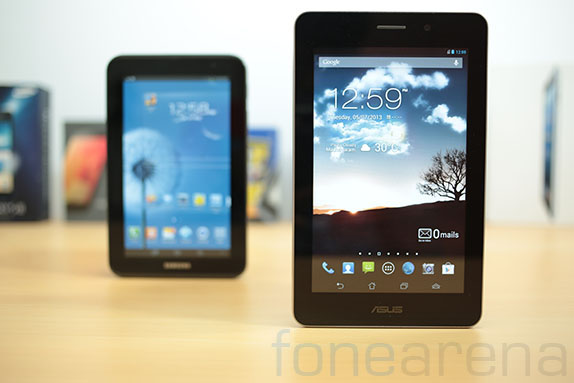 Concluding, there is tough competition between the two. Both are priced slightly similarly, with the fonepad costing a bit more but overall build, internal memory, display + performance favours the ASUS Fonepad. That's our opinion, but we are looking forward to hear what you have to say about these two, so let us know what you feel in the comments section below.