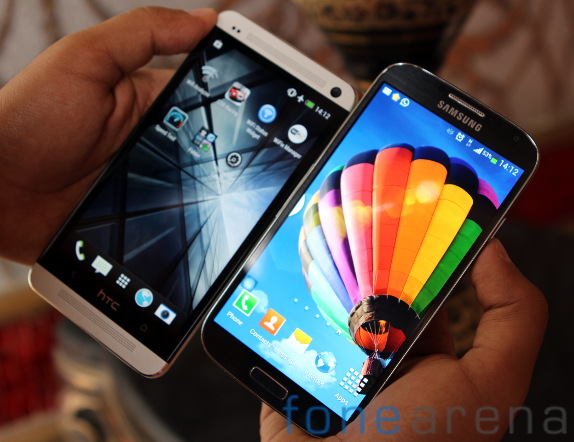 Samsung Galaxy S4 and the HTC One are the latest and hottest Android smartphones. Samsung launched the Galaxy S4 in India last week. We brought you benchmarks of the Galaxy S4 powered by the Exynos 5 Octa last week, and benchmark comparison between the Snapdragon 600 and the Exynos 5 Octa earlier this week. The HTC was the first to release in the global market, but it yet to go on sale in India. We brought you the benchmarks of the HTC One last month.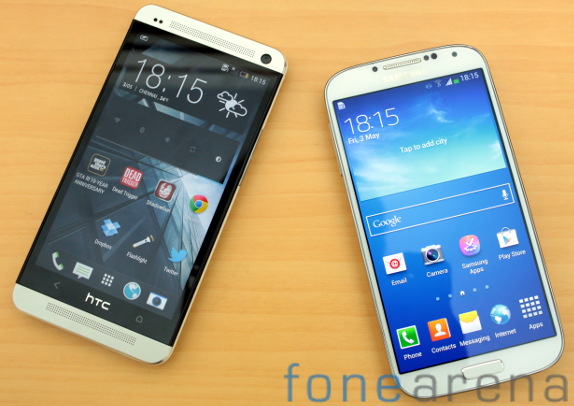 The Galaxy S4 comes with a quad-core Snapdragon 600 CPU clocked at 1.9 GHz and Adreno 320 GPU in select countries. The HTC also comes with a quad-core Qualcomm Snapdragon 600 processor, but it is clocked at 1.7 GHz. It has a Adreno 320 GPU. The Exynos version has four Cortex A15 chips clocked at 1.6 GHz and four Cortex A7 chips at 1.2 GHz. It has tri-core PowerVR SGX544MP3 GPU. Let us check how both the Galaxy S4 variants and the HTC One stands up in the benchmarks
Quadrant Benchmark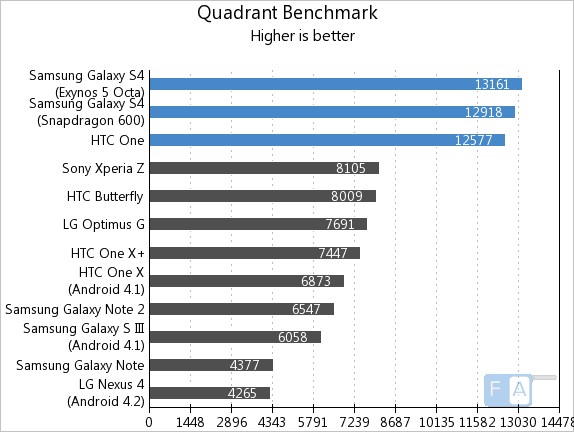 Both the S4 variants top the Quadrant benchmark with HTC One following them in the 3rd place.
AnTuTu Benchmark 3.3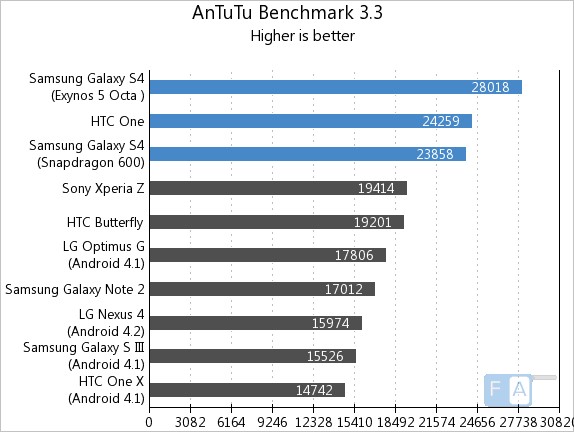 In the AnTuTu Benchmark 3.3, the HTC One scores few hundred points more than the S4 powered by a similar Snapdragon chip, but the Exnos 5 version of the S4 tops with a whopping 28018 points.
Vellamo 2.0 (HTML5)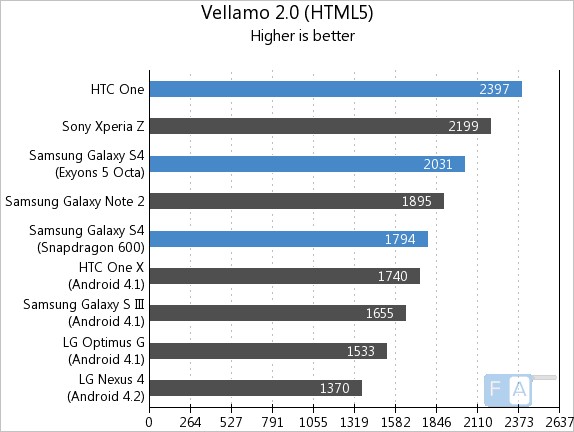 In the Vellamo HTML5 browser benchmark the HTC One is a clear winner with 2397 points.
Vellamo 2.0 (Metal)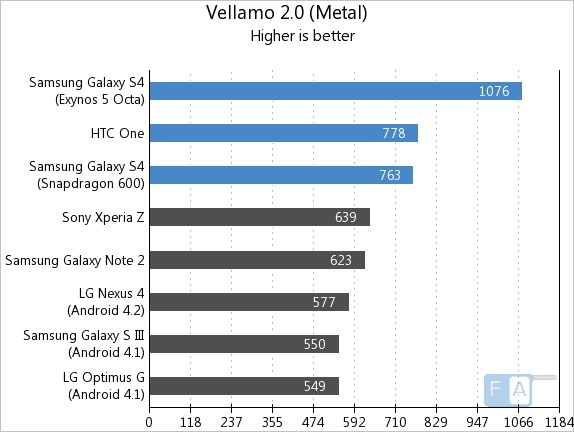 The S4 Exynos variant tops the Vellamo Metal CPU subsystem performance benchmark. Snapdragon-powered HTC One and the S4 scores almost similar points.
SunSpider JavaScript Benchmark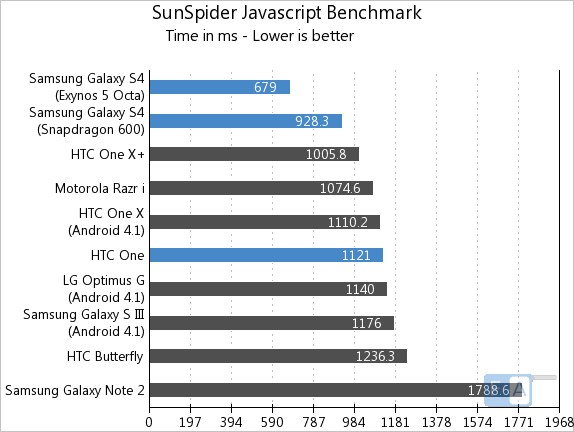 Exynos-powered Galaxy S4 tops the SunSpider Benchmark with 679 score followed by the Snapdragon variant. The HTC One is behind with 1121 points.
Linpack (Single Thread)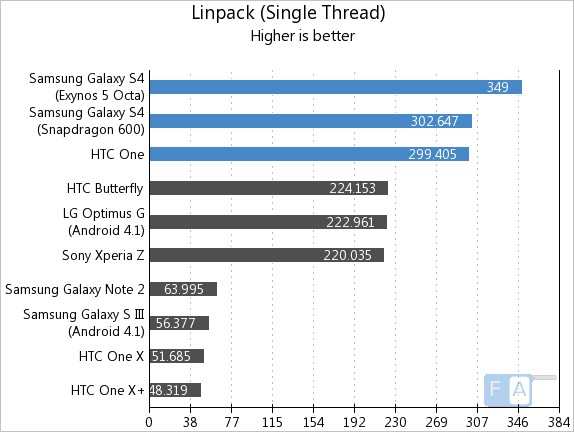 Linpack (Multi-Thread)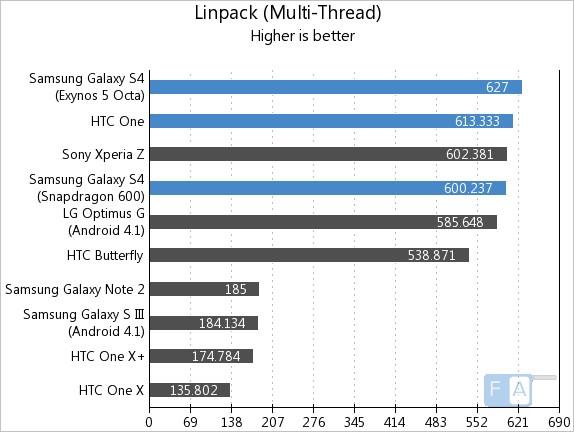 The Exynos 5 Octa tops the Linpack single thread and multi-thread benchmarks. Performance of the HTC One is almost similar to the Snapdragon-powered Galaxy S4.
NenaMark 2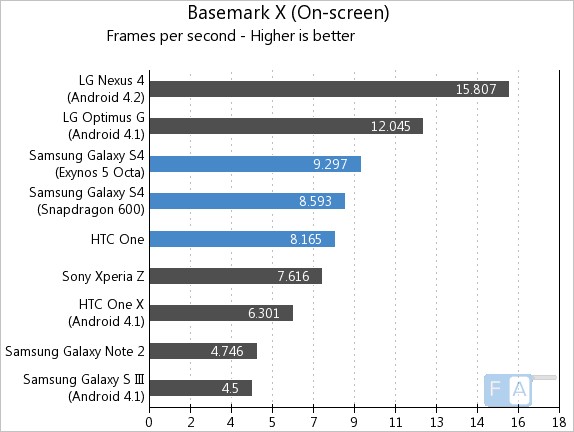 Basemark X (On-screen)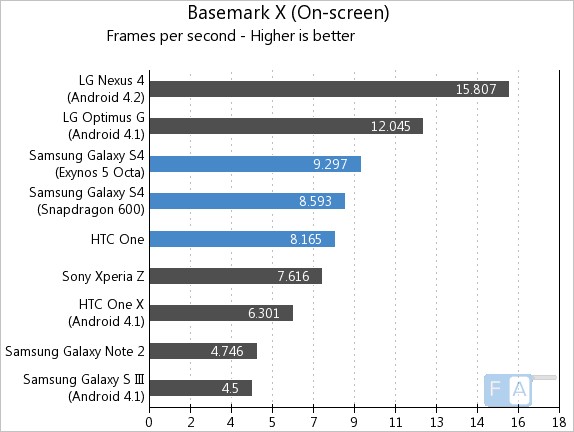 Basemark X (Off-screen)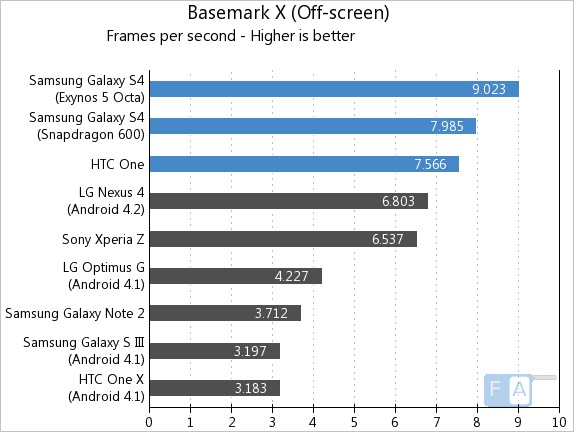 In both the Basemark X on-screen and off-screen GPU Benchmarks, the Galaxy S4 variants are better than the HTC One.
GLBenchmark 2.7 T-Rex HD (On Screen)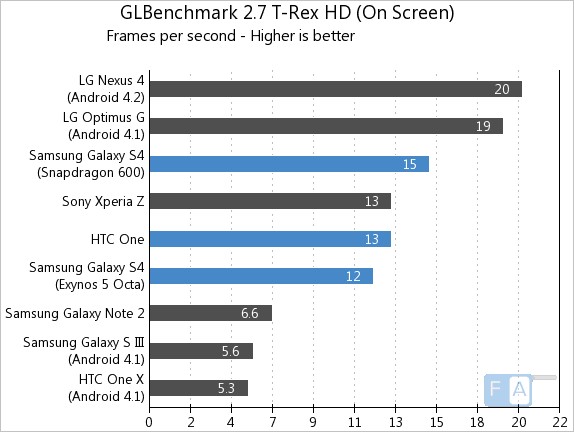 The Snapdragon's Adreno 320 offers better performance in the GLBenchmark T-Rex On-screen GPU benchmark.
GLBenchmark 2.7 Egypt HD (On Screen)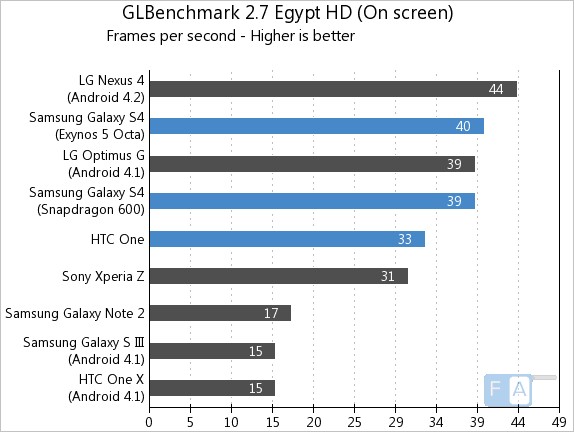 Here the Exnos-powered Galaxy S4 has an edge over the Snapdragon-powered S4. The HTC One could clock just 33 fps in the GLBenchmark Egypt HD On screen benchmark.