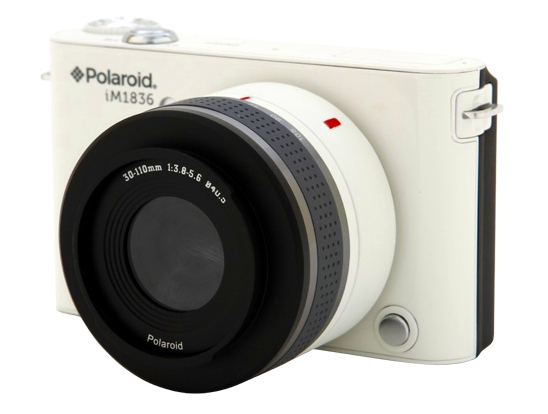 Polaroid has announced iM1836, the first interchangeable lens (mirrorless) Android camera at CES 2013, produced by Sakar International. It has a 18.1 megapixel sensor and comes with interchangable 10-30mm optical zoom lens and also accepts micro Four Thirds system lenses in other mirrorless cameras. It has a 3.5-inch LCD display with complete touch controls. It can record 1080p Full HD videos.
It has Auto blink detection, Panorama mode, auto face exposure, ISO up to 3200, Google Play support and pop-up flash. It has Built in Peer 2 Peer WiFi to share images and videos from the camera through the Android apps, 3.5mm audio jack, HDMI but lacks 3G / 4G support that the Galaxy Camera had.
The Polaroid iM1836 is expected to go on sale in the US in Q1 2013 at a Maximum Suggested Retail Price (MSRP) of $399. This is definitely cheaper than the Android Jelly Bean-powered point and shoot, the Galaxy Camera. Since there are no details about the processor and RAM, it is doubtful whether the Polaroid's Android camera would offer similar performance as the Galaxy Camera.
Via: Engadget