Home » apps, Blackberry, Software
Facebook for BlackBerry v3.0 update brings BBM integration, more BBM-Connected apps to follow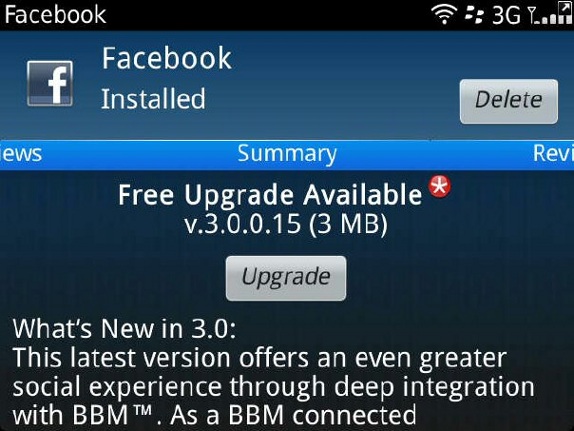 Facebook for BlackBerry has been updated to version 3.0.0.15 that brings new features such as integrated BlackBerry Messenger that allows users to automatically share their Facebook status with their BBM friends right from within the app. The beta version was launched in February.
New features in Facebook for BlackBerry v3.0
BBM integration lets you share your latest Facebook status and location check-in as your BBM Personal Message
Now you can add your location, tag a friend, upload a photo with status updates with new publisher
Share with BBM Contact
UI Discoverability Improvements to filter new feed
Improved Facebook message notifications based on custom frequency
RIM has also announced list of apps with BBM integration such as BlackBerry Travel v2.5, BlackBerry App World v3.1.2, BBM Music v2.1 and BBM v6.2 would be available for download over the next 10 days. Twitter for BlackBerry v3.0 with BBM integration was available last week. Some apps would be available in select countries only.
Download Facebook for BlackBerry v3.0 from the BlackBerry App World for free.
Image via BlackBerryOS