Home » India, News, Tata Docomo, VAS
Tata DOCOMO launches SMS based VAS service – Video News Alerts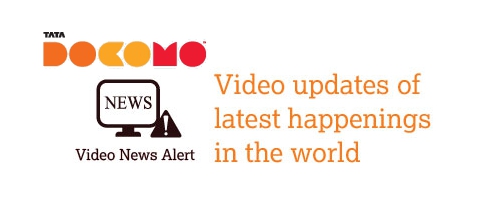 Tata DOCOMO has launched new Value Added Service (VAS service) called Video News Alert in partnership with business channel group Network 18. This would let the users to know the latest news around the world in the form of video clip that could be streamed and also downloaded by both 2G & 3G subscribers. The customers can also search and view news stories, like it, participate in polls and also share their opinion.
To subscribe to this service customers need to SMS VIDEO NEWS to 53333 (Toll Free) or Via IVR by Dialing 155223, after that they would receive confirmation. They would receive 3 video alerts per day in the form of WAP links that could be used to stream or download the video. To unsubscribe SMS 'UNSUB VIDEONEWS' to 53333.
This VAS service would work on all WAP enabled mobile phones. There are no charges to subscribe or use this service, however data charge of 10kb/10p would be charged for viewing or downloading videos.