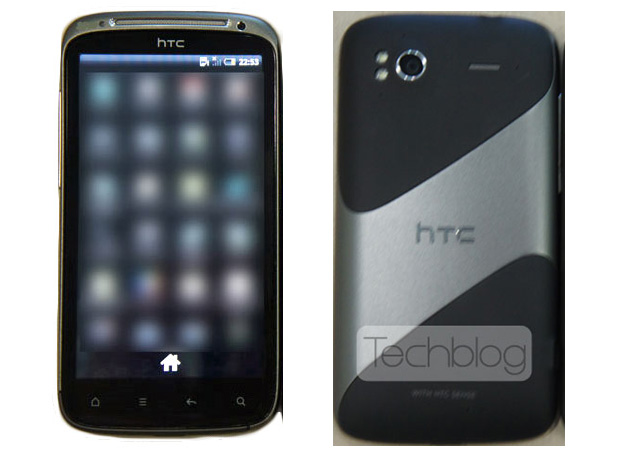 HTC recently announced several new Android devices at the Mobile World Congress, and they all seem to be good. But we told you back in February that HTC have something big up their sleeves. HTC is cooking a phone codenamed as HTC Pyramid, which is an Android powered phone and will come with a lot of great features. Then later on, we saw the phone in an inventory system along with few other phones. Now a few days ago, first render images of HTC Pyramid were leaked on xda.cn and the phone is quite beautiful as compared to other HTC models. As it's a render image, we didn't trust it because it could be photoshopped. But now thanks to our friends over at Techblog and GSMArena, they caught the HTC Pyramid in the wild.
In the image above, you can see the front and back panel of the HTC Pyramid. According to Tmo-News, T-Mobile is getting this phone in June, and the device is probably hitting Sprint too as EVO 3D but it's not confirm yet. Have a look on the rumored specs:
Specs of the HTC Pyramid:
Android 2.4 with HTC Sense 3.0
1.2 GHz processor dual-core Snapdragon (MSM8x60)
4.3-inch SuperLCD display with qHD resolution (960 x 540, according to GSMArena)
8 megapixel primary camera and 1.3 megapixel front-facing cameras
768MB of RAM
HSPA+ (14.4 Mbps)
Well people, now we know that the device is real and hopefully HTC will release it soon, probably at the CTIA event. Are you excited about this device?