Home » Android, Handsets, iPhone, USA
Android shows explosive growth in USA while iPhone is still the leader !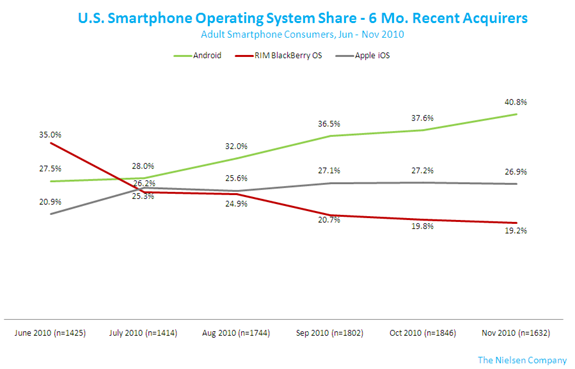 A market research report was published yesterday by The Nielsen Company and it confirms the fact that Android is seeing explosive growth in USA. Over 40% of users who bought a smartphone in the last 6 months chose Android.  Despite the fast growth , iPhone continues to be the market leader in terms of overall market share at 28.6%But the gap between Android and iPhone for smartphone marketshare is quickly shortening and the iPhone might loose the top spot to Android if the current growth continues.Things don't seem so great for Blacberry maker RIM whose market share has been on a downward slope.
Apple releases only one iPhone every year and we have tons of Android handsets flooding the market every few weeks. It's certainly interesting to watch the battle of the Smartphone OSes
Source:Nielsen