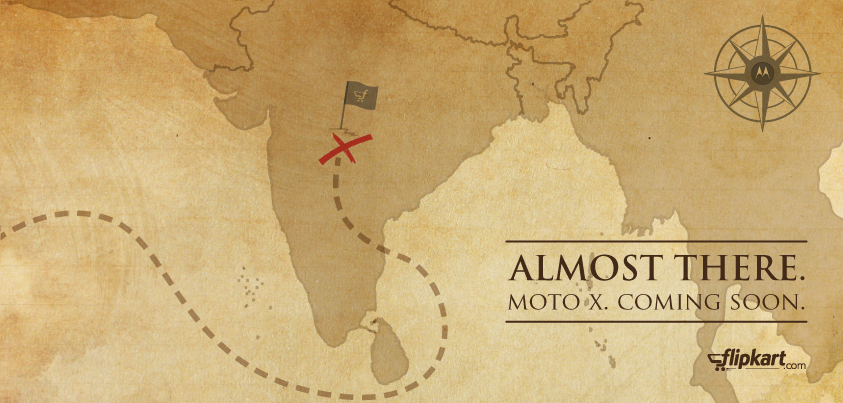 Motorola had revealed its plans to introduce the Moto X in India, during the Mobile World Congress event, and it also had said that, much like the Moto G, the X too will be launched through Flipkart. As a confirmation, Flipkart has now started to tease the Moto X launch on Twitter, adding that there will be exclusive launch day offers and that the launch details will be revealed in a couple of days. With the success of Moto G, Flipkart goes ahead with yet another exclusive launch, but this time, the reception might not be as overwhelming. This is mainly because the phone is already late to the market, and its initial pricing in the US was off the mark, making a really capable device flop in the market. But now that the prices have come down drastically, it will be interesting to see how well it is priced for the Indian market.
The Motorola Moto G was priced very competitively with the worldwide prices, in fact it almost matched the conversion rates. In that sense, if Moto X launches in India with a price tag of 339$(Around Rs. 20,000), it could be yet another potential best seller.
[HTML1]
The Moto X, the Motorola flagship with a 4.7 inch screen and numerous good features like the always on Google Now functionality and a super thin bezel, was also known for its customization features. One could customize the colours and even change the type of material for the back covers. One of the really popular additions to that catalog was the range of wooden covers. When asked about this specific availability for the Indian edition of the Moto X, Flipkart replied by saying –
[HTML2]
While that is certainly good news for prospective Moto X buyers, it is still not clear if Flipkart will be offering the Moto Builder add on, for personal customization. It would be awesome if Motorola and Flipkart could make that work here. One can hope, right?
That said, the Moto X is already up for a refresh, so it might not make complete sense for you to buy one right now, but you want a phone made of wood? Well, the Moto X could be your only choice. We'll update you with more details on the pricing when Flipkart reveals it in a couple of days. We think it will be a soft launch, so stay tuned for the breaking news on our blog and let us know what you think in the comments section below. Also, did you hear about the rumour that Flipkart might be making its own phones?
Source Flipkart