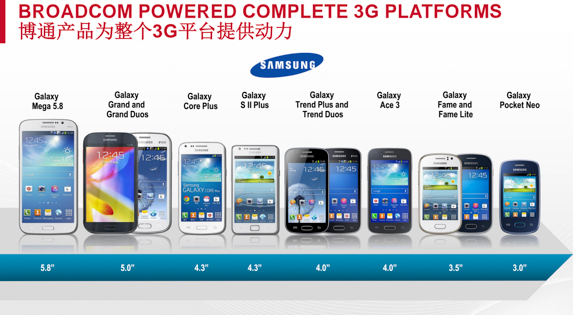 As global smartphone shipments rise, estimates show that mobile internet traffic is poised to grow 10 times between 2013 to 2019. LTE users too will be consuming twice the amount of data. As LTE connectivity makes its way across price segments and reaches entry-mid range smartphones, it puts Broadcom in a unique position of being able to provide a complete package.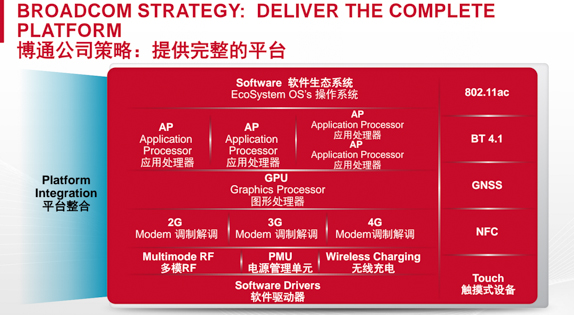 Indeed, the company makes everything from application processors, GPUs, 2G/3G/4G modems and all manners of wireless chips that make their way into handsets. Having chipsets that work with all possible GPS standards to wireless charging solutions that work with both legacy standard like PMA to the latest ie A4WP Rezence, leads to a turnkey design that offers the most value for money to both the OEM and the customer. Combine with it the freely available Android operating system and you have a compelling, budget solution that brings internet to the masses and pushes LTE adoption.
The multiple internet connectivity standards on offer pose a challenge in terms of potential hand off combinations. Standards include FDD-LTE, TDD-LTE, TD-SCDMA, 3G UMTS, 2G. While the current deployment on networks is based on 150Mbps Category 4, the future brings with it 300Mbps Category 6 LTE networks that will employ Carrier Aggregation. Broadcom faces stiff challenge here as Qualcomm's Gobi LTE Modem 9×35 announced in November 2013 also offers Category 6 connectivity ie 300Mbps peak data rates by combining two 20Mhz carrier channels.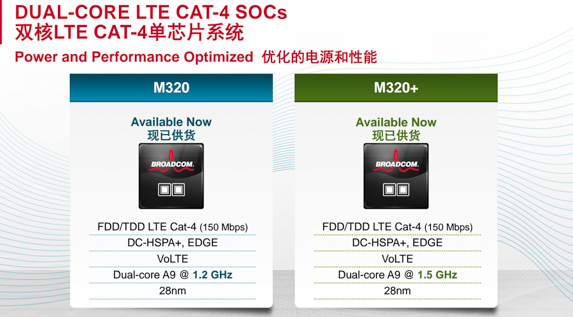 21663 and 23550 are Broadcom's latest dual core, quad core 3G SoC solutions that are pin for pin compatible making it easier for OEMs to work on multiple products simultaneously. Broadcom has also announced two new chips based on their LTE solutions. The new M320, M340 4G LTE SoCs will allow Broadcom to scale across the price segment from $100 to $300 by offering pin compatible dual core, quad core solutions. Having pin compatible SoCs is the key takeaway from here as it allows OEMs to make single reference design and then use that to make multiple different models targeting varied price categories.
Highlights of new Broadcom LTE chips
Delivers 150Mbps Category 4 speeds on FDD-LTE and TD-LTE networks, 42Mbps 3G HSPA+ and 2G
BCM2095 LTE RF transceiver enables FDD and TD LTE/3G/2G band support for worldwide roaming
dual-band Wi-Fi, Bluetooth smart, GPS and near field communication (NFC)
VoLTE and HD voice support
Pre-integrated with the Android KitKat operating system
HD display, imaging and graphics
Reduces LTE modem power consumption by up to 30 percent for extended hours of use
Utilizes Broadcom's pin-to-pin compatible dual-core M320 or upcoming quad-core M340 LTE SoC
Design reuse between dual-core and quad-core basebands for developing multiple devices with the same platform design to cut the cost
Certification for Category 4 (Cat 4) speeds in FDD-LTE and TD-LTE modes with seamless worldwide roaming capabilities.
The solutions are also particularly enticing because of the smaller die size. The 25-30% reduction in die size is responsible for significantly lower power consumption. CAT-4 connectivity and Android support make it a compelling solution for OEMs.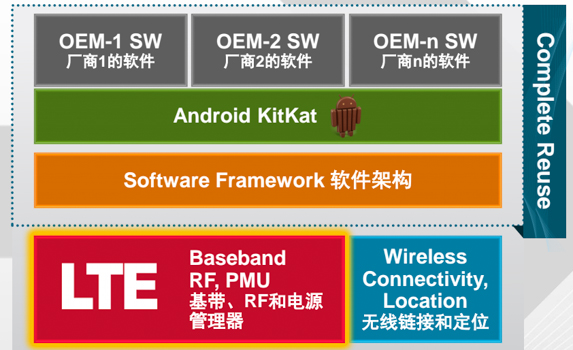 With the recently launched Samsung Galaxy Core LTE being the first device to be based on Broadcom's Cat 4 LTE Solution, it gives confidence regarding the capabilities of the chipset manufacturer's solutions. We're quite excited to see how upcoming Cat 6 solutions scale down to mass market devices to help push internet adoption and also assist in last mile connectivity.