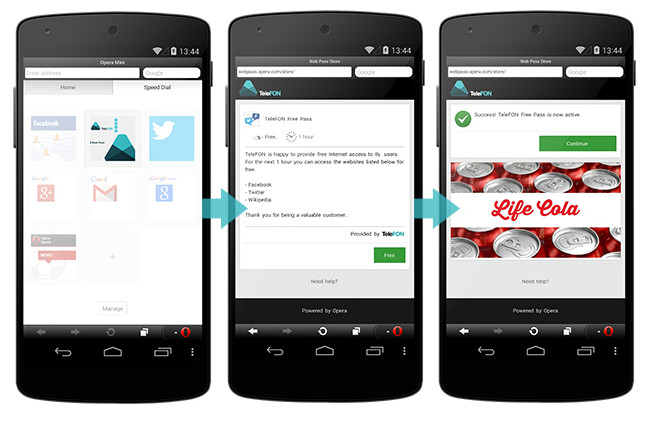 Opera Software has announced Sponsored Web Pass, new mobile internet packages to consumers that lets operators team up with advertisers to sponsor mobile internet access for a limited time, free of cost. Opera Web Pass that was announced back in 2012 lets operators offer time or site specific, mobile internet offerings to their users. Opera's Sponsored Web Pass now allows operators to increase their revenues from data services by enabling their participation in ad revenue monetization, says Opera.
Airtel launched Opera Web Pass in Africa, MTS launched it in Ukraine and a local operator Avea introduced it in Turkey. Indian operators are yet to enter introduce Opera Web Pass. Most of the Indian operators had already partnered with Facebook and Twitter to offer free access to these apps for a limited period. It would be a great advantage to bring Sponsored Web Pass to India both, that would benefit both the operator and the advertiser.
This would let users enjoy one day of mobile internet, or one hour of Twitter usage sponsored by an advertiser. Sponsored advertiser would offer short advertisement before continuing to the content, after that users can enjoy Web Pass for its entire duration. After the free period is over, users would can purchase a paid Web Pass, or to re-engage with different sponsors and continue browsing at no charge.