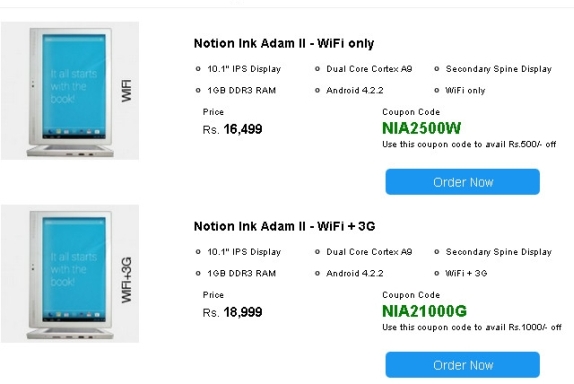 Remember Notion Ink with their innovative but quirky Android tablet that incorporated a Pixel Qi display? Roughly 3 years later they're back in action with the Notion Ink Adam II. The tablet is running an almost AOSP build of Android 4.2.2. Internal specifications include a 1.5Ghz Dual Core Cortex A9 processor and it has 1GB of DDR3 RAM. Storage is a bit limited at 8GB but it can be expanded via the microSD card slot. 
Specifications include
1.5Ghz Cortex A9 Processor
1GB RAM
8GB storage + micro SD expansion
10.1″ IPS Display with a resolution of 1280×800
Secondary display for notifications
Speakers rated for 101.8 dB
Aluminum construction
The tablet will ship in both WiFi and 3G variants. The display is a 10.1 inch IPS panel. Notion Ink has played it safe by avoiding Pixel Qi technology and no doubt that helps in cutting cost too. The resolution leaves a lot to be desired though at just 1280×800. The tablet has a trick up its sleeve in the form of a secondary display on the spine that can be used to see notifications and contextual data. Additionally, the tablet is made of aluminum which makes it feel quite premium. The WiFi variant is priced at Rs. 16,499 while the WiFi + 3G version will be available for 18,999.