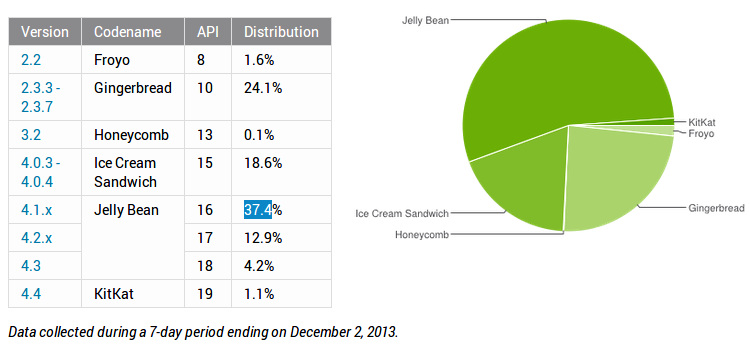 Google has released the Android's Platform Distribution Numbers for the period of November to December 2013.  The chart shows that 54.5% of Android devices are running on Jelly Bean, in which Android 4.1 (Jelly Bean) leads with 37.4% share. Only 1.1% of devices are running on Android 4.4 (KitKat). Google unveiled the Nexus 5 running on KitKat at the end of October. It also rolled out the Kitkat update for the Nexus 4, 7 and 10 and also released the factory images for these devices.
KitKat will definitely gain some share in the coming months since OEMs have already started rolling out Android 4.4 update for their devices. HTC One and Samsung Galaxy S4 Google Play Edition devices received the Android 4.4 OTA update recently. Motorola has also rolled out the update for the Moto X. Sony has already confirmed that some of their devices would get the Android 4.4 update, but it is not expected until Q2 2014. HTC has promised that the HTC One would get the KitKat update in January 2014. Even the Moto G that is running on Android 4.3 (Jelly Bean) will get the Android 4.4 update in January.
Even though Android Jelly Bean is still growing, Gingerbread and Ice Cream Sandwich are losing their share slowly. It would definitely takes months for KitKat to catch up with Jelly Bean since a lot OEMs are still shipping devices running on Android 4.2 (Jelly Bean).