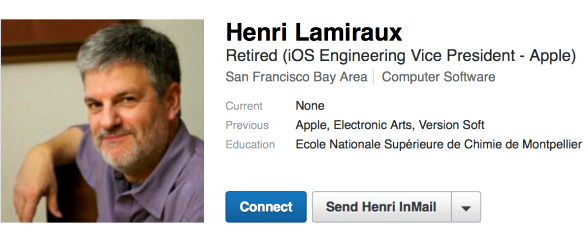 Few weeks after the launch of iOS 7, Apple's Vice President of Engineering for iOS Henri Lamiraux has left the company, according to a report from 9to5 Mac. He has mentioned on his Facebook page that the has left the job at Apple to retire. He joined Apple in 1990 as a Mac software engineer. He was moved iOS team around 2005, working with the team for 8 years  as director of software engineering for iOS and senior director of engineering for iOS.
9to5Mac reportes that Lamiraux retired from Apple within the last couple of weeks, having decided that iOS 7 would be his final release.  According to 9to5 Mac
 Sources within Apple's iOS division say Lamiraux is respected and he was in charge of developing the applications that come with iOS. The executive also led feature-implementation across the operating system, and he managed both bug-fixing processes and feature distribution to consumers. He also managed the frameworks within the operating system that power features and allow developers to build applications.
He worked at Apple for 23 years.  At the moment it is not clear who will replace him as Apple's lead iOS engineer.