Nokia posted its Q3 2013 sales report a week back and it showed signs that the Finnish mobile phone giant is slowly fighting its way back into the smartphone race. Nokia saw a successfully Q3 2013 where it sold 8.8 million Lumia smartphones which was 1.4 million more than its previous quarter – Q2 2013 where it managed to sell around 7.4 million smartphones. During the course of Q3, the biggest gain for Nokia was the increase in Lumia smartphone sales in USA.
During Q2 2013, Nokia sold less than half a million Lumia smartphones in US and that numbers hugely improved as Nokia was able to sell nearly 1.4 million smartphones in USA during Q3 2013. The entry range smartphones like Lumia 520 were the driving force behind Nokia's surge in the smartphone market in US.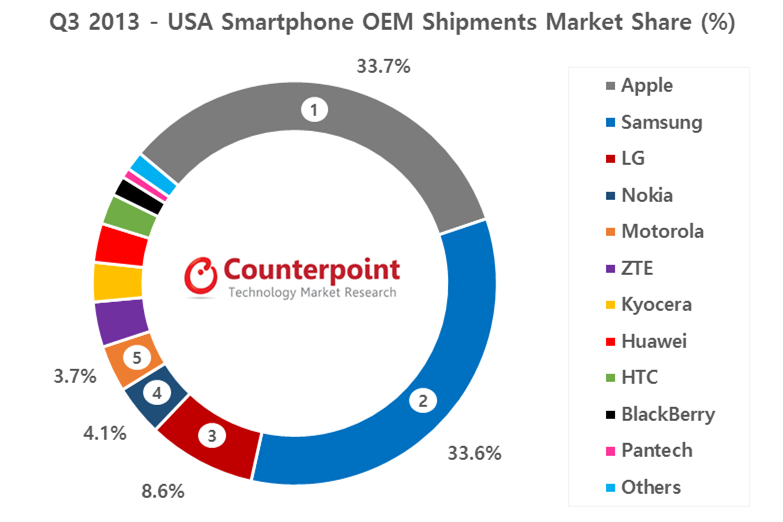 According to the CounterPoint Research Report, Nokia is at fourth position in the US smartphone market which is dominated by Apple iPhones and Samsung Galaxy devices. As per the report, Apple has the most share with 33.7% share of the market while Samsung is right behind it with a 33.6% share. Together, Apple and Samsung account for nearly two thirds of the US smartphone market. The third place goes to LG which occupies around 8.6% of the market and Nokia takes the fourth spot with 4.1% market. The 4.1% market share for Nokia is a record high for Nokia ever since the launch of iPhone.
Things are looking good for Nokia which is all set to be acquired by Microsoft. What do you think of Nokia's value in India? Will Microsoft acquisition of Nokia change your opinion? Let us know in the comments below.