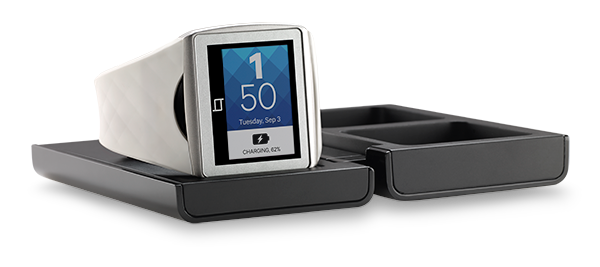 You just witnessed the "Sixth Sense" guy Pranav Mistry reveal the latest Samsung Galaxy Gear Smartwatch with much excitement, but Qualcomm had their own "Digital sixth sense" idea. The guys behind the Snapdragon processors have just announced their own implementation of a wearable computer – the Toq Smartwatch. Pronounced "Talk", the smartwatch has been blessed with Qualcomm's own technologies like the super low power reflective display tech – Mirasol, Qualcomm WiPower wireless charging and proprietary Qualcomm MEMS technology. Skip past the break for more details and watch this video now –
httpv://www.youtube.com/watch?v=YzTrqifCOhs#t=15
"Toq's always on, always connected, always visible wearable technology gives you a 'Digital 6th Sense,' telling you what you need to know, when you need to know it, with just a glance at your wrist or a whisper in your ear. Toq is a showcase for the benefits of the Mirasol display, WiPower LE and stereo Bluetooth technologies and highlights the experience that the wearable category can provide," said Dr. Paul E. Jacobs, chairman and chief executive officer of Qualcomm. "Toq not only represents a long history of technological innovation for Qualcomm, but it also demonstrates our commitment to delivering the breakthrough technologies that redefine the ways we interact with each other and the world around us."
The Mirasol technology enables an always-on display with the battery life lasting more number of days than current implementations. Of course that is along with the WiPower LE and MEMS technology from Qualcomm. This is apparently a limited edition Smartwatch which makes it a lot more interesting. With truly low power requirements, the watch doesn't even have a ON/OFF switch. And charging too isn't much of a hassle thanks to it being wireless. The Toq is one of the first devices to support the WiPower LE tech to enable a "drop and go" charging experience, according to Qualcomm.
On the software side, the device will support apps written for Android, with the AllJoyn APIs. Those APIs will be the ones that interfaces with the SmartWatch for all the notifications and the interaction. Qualcomm also assures that the Smartwatch's software will be frequently updated, with additional integration with Qualcomm's own 2net ecosystem.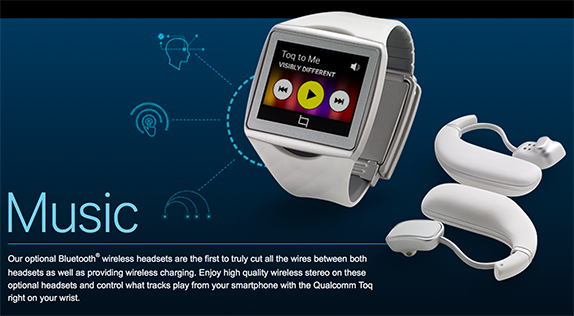 That said, there will also be a "Premium Audio" edition of the Toq which will come with the world's first truly wireless stereo headset. There are no wires connecting the two earpieces and that's what makes it really special. Taking advantage of the stereo Bluetooth functionality of the Toq, the headset will let you answer calls, with a button on both the sides. Like the Google glass, the wireless bluetooth headset also does bone-conductive audio and sits outside the ear canals for long lasting comfort.
The Toq Premium Audio Edition features high quality stereo sound with a dedicated tweeter and woofer for superior wide band audio.
All said, Qualcomm warns us that this is just a limited edition product that is meant to be a proof of concept for all the ecosystem partners to take note of. And finally –
As this category grows, Qualcomm expects to closely collaborate with traditional ecosystem participants and new entrants to enable new product opportunities leveraging these industry-leading technologies, further driving forward the emerging wearables space.

At launch, Toq will be compatible with Android™ 4.0.3 and above mobile devices.
This seems like a really good move from Qualcomm to showcase their appropriately implemented technology especially tailored for wearable devices. We seriously hope some major company takes note and mass produces this beauty, or a variant of it.
More information – Toq by Qualcomm