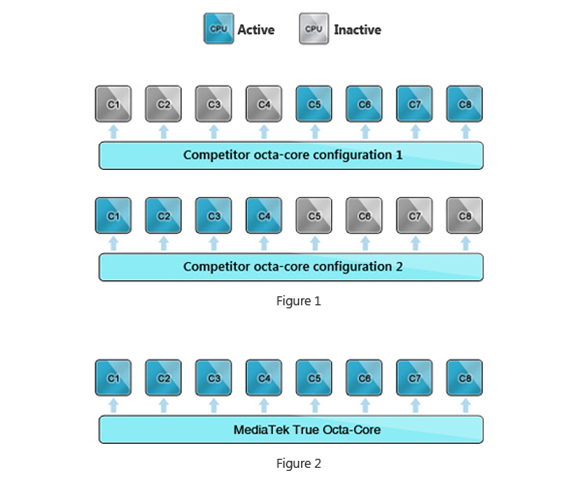 MediaTek, the company responsible for the countless number of Quad Core devices in the mid range Indian market, has today revealed its "True" Octa-Core solution by taking a slight jab at Samsung's big.LITTLE based Exynos Octa 5. It has been rumoured for some time that MediaTek is going forward with its plans for a Octa Core solution of its own, but the news has finally reached "not a rumour anymore" status with the company proudly announcing this on its site. This "True" Octa Core solution, as MediaTek claims, utilizes the full potential of all the eight cores for a seemingly better performance and even better battery life management.
While the company has stayed mum on releasing the specifics of this upcoming chipset, it does vaguely describe what the advantages will be like, with respect to current Octa-Core solutions.
Enhanced multi-tasking capabilities: By allowing tasks to run concurrently with the use of multiple different cores, MediaTek True Octa-Core intelligently allocates processing power to where it is needed, both on a per-application and per-task basis.
Advanced web browsing: With the unique ability to allocate individual browser tabs to CPU cores, MediaTek True Octa-Core allows for a faster, more stable web browsing experiences.
Smoother user interfaces: With the ability to delegate user inputs to individual cores and render 3D effects more smoothly, the functionality and appearance of user interfaces in both applications and operating systems are significantly enhanced.
Superior gaming experiences: The advanced multi-threaded programming deployed in the MediaTek True Octa-Core, enables different sequences to be allocated to different cores, delivering enhanced video frame-rate processing and exceptionally low-latency gaming experiences.
Efficient video playback: When on decoding mode, the battery used for decoding HEVC (H.265) FHD video can be reduced by up to 18 percent compared to current quad-core solutions. While on display mode, MediaTek True Octa-Core provides users 20 percent more frames.
So, as you can see from above, MediaTek intends to use all the cores at once to enhance the various facets of daily smartphone usage. Interestingly, early rumours point to a eight core solution based on A7 cores instead of A15 cores, but the site also has an unreleased data sheet titled " Optimized ARM big.LITTLE" which might mean that MediaTek has somehow worked around the multi processing constraints of the big.LITTLE architecture. I guess we'll be seeing more about the new chipset on 29th July, the day in which MediaTek plans to reveal the currently hidden data sheet.
At this rate, we will certainly be seeing a lot of cheap "Octa Core" devices in the mid range price spectrum, much like what we are seeing with quad core devices these days. Do you think the no. of cores is actually going to help in real world performance? Let us know what you think in the comments section below.
httpv://www.youtube.com/watch?v=UWskNEnl_gc
Source MediaTek