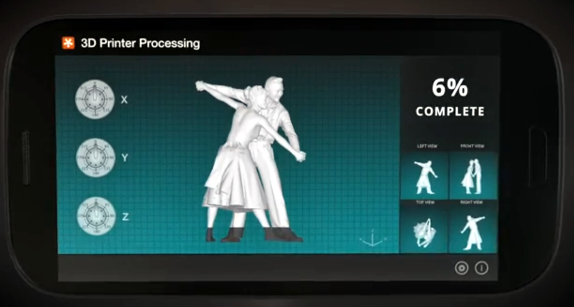 Pelican Imaging announced the array camera for smartphones earlier this year. Now the company has released a new video that show off the depth-enabled features of the array camera including 3D printing, all-in-focus image capture, linear measurement, and 3D video capture. The camera can capture still images and video footage with depth information of the scene. You can perform several actions such as refocusing, selecting multiple objects of focus, measuring distance between any two points, or creating a depth map/3D model of any scene. The camera is about 50% of the thickness of the top-end camera modules used in mobile phones says the company.
httpv://www.youtube.com/watch?v=Nleclfgqn_U
The video shows a person capturing a video using the  array camera on a smartphone all-in-focus image capture, linear measurement, and 3D video capture. Later the person captures a video of the bride and groom and prints a 3D model of them by connecting the phone to a 3D printer.
"We're looking forward to working with our customers, strategic partners, and third party application developers to bring Pelican's mobile array camera to market in late 2014." said Pelican Imaging CEO and President Christopher Picket.
Qualcomm and  Nokia Growth Partners have invested in the company alongside several venture capital firms. Hope we can see manufactures adopting this technology and implement in on the smartphones next year.
Source:  Pelican Imaging | Via: Engadget