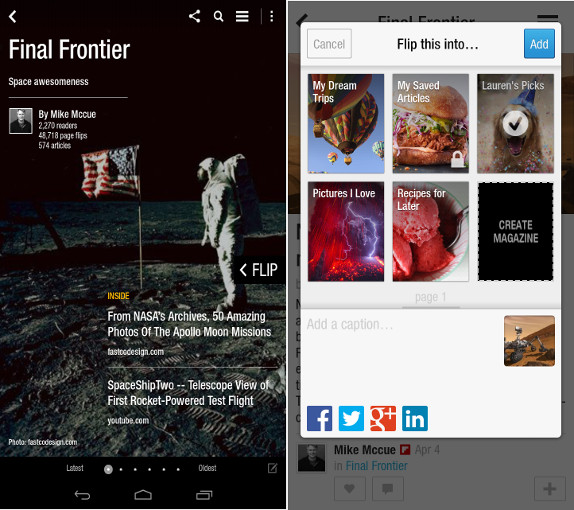 Flipboard for Android has been updated to version 2.0 that brings new features including option to create your own magazines, improved search, faster and lots more new features. Now the magazine editor is also available on the web from editor.flipboard.com. All these features are already for Flipboard for iPhone and iPad in the version 2.0 update back in March.
httpv://www.youtube.com/watch?v=c0PeBt1S3w4
New features in Flipboard for Android 2.0
Collect and save content into your own magazines, tap the "+" button to begin
Make the magazines public or private
Integrated Android share: add content from the Gallery & other apps to your magazines
New bookmarklet (share.flipboard.com) lets you add items to your magazines from your browser
Get notifications when people like, comment or subscribe to your magazines
Share your magazine through email, Facebook, Twitter, G+, etc
Get personalized list of things for reading in cover stories based on your social interactions.
Search is now front & center, with improved results
Download Flipboard for Android from the Google Play Store for free, if you don't have it yet.