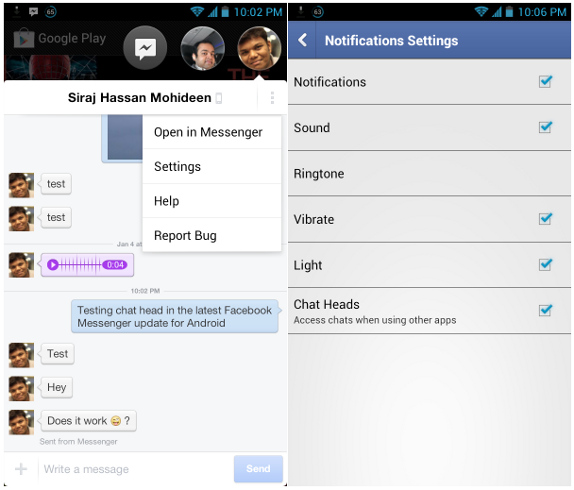 Facebook announced the Facebook Home last week that comes pre-installed with the HTC First. It brings several features including  Chat Heads feature. We brought you the hands-on hands-on impressions of the Facebook Home last week, but it didn't have the chat heads feature, since it was a pre-release version. The Facebook Messenger for Android has received an update to version 2.4.2 today that brings Chat Heads.
Chat Heads lets you get notifications along with the unread message count on a chat head bubble, even when you're using other apps. You can just tap the chat head to reply, drag down to close. This takes you to the to a separate page that lists the current people you are chatting with. You can continue the conversation in Messenger by tapping the messenger icon next to the chat head during the conversation.
If you can't see Chat heads after the the update, you can enable it from the Facebook Messenger settings. The Facebook app for Android has also received an update that takes the app to version 3.1 from version 2.3. The change log says new permissions for Facebook Home has been added, but no sign of Facebook Home yet, which is expected today for the HTC One X, One X+, One and also on the Samsung Galaxy S3, S4 and Note 2 initially. The latest update also brings bug fixes to both these apps.
Download the Facebook Messenger for Android from Google Play, if you don't have it yet.