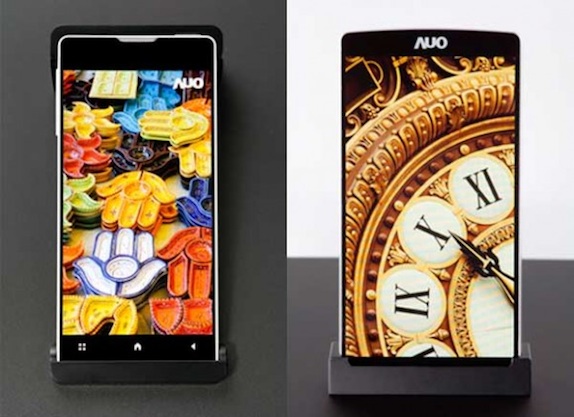 Earlier this fall, Motorola announced two very interesting smartphones called the RAZR M and the RAZR i. From the outside they look exactly the same, but on the inside the M model sports a dual core Qualcomm chip, whereas the i model uses an Intel Atom. Silicon aside, what makes these phones so intriguing is their displays. At 4.3 inches and a resolution of 960 x 540 pixels, they're not the most advanced panels on the planet, but they have almost no border. What advantages does that bring? The RAZR M, despite having a 4.3 inch display, is practically the same size as Apple's new 4 inch iPhone 5.
AU Optronics, more commonly known as AUO, is a company that makes displays. This week they're announcing that they've come up with a new LCD panel that pushes a resolution of 720p, measures 4.46 inches diagonal, and has a border of just 1 mm on each side. That means we're likely going to see some new smartphones in 2013 that push the boundaries of what's possible with smartphone design. Not only that, but we're finally going to start seeing phones shrink down to a more reasonable size. The Galaxy S III, as much as we love it, is a monster at 4.8 inches. Don't even get us started about the 5.5 inch Note II.
So who will be the first company making use of these new screens? That's very difficult to say. Samsung likes to use their own panels, as does LG, so maybe HTC? Then again, HTC isn't that big. AUO makes panels for Apple, but they're unlikely going to introduce any 4.46 inch products. That's not how Apple rolls.
AUO is also announcing that they've made a 10 inch 2560 x 1600 pixel panel, obviously meant for a tablet, and we wonder if that's what Samsung is using in the newly announced Nexus 10.