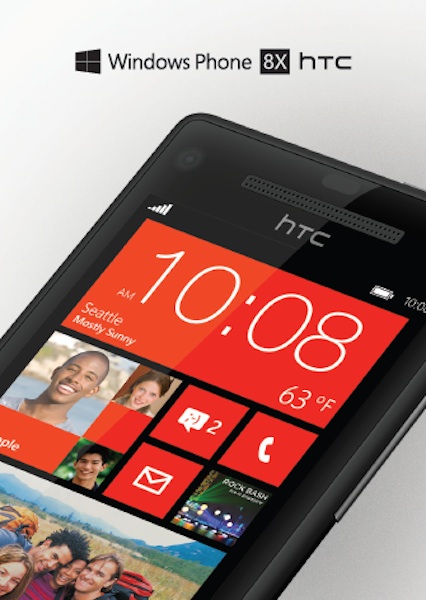 HTC is going to hold a press event in less than two weeks, on the 19th, where it's widely believed that the company is going to show off their first smartphones powered by Windows Phone 8. One of those smartphones, codenamed "Accord" (pictured above), has just been leaked by Twitter user @Football4PDA. We don't know who this person is, but Paul O'Brien, the founder of MoDaCo, trusts this source, so we're going to run with the story.
Here's what's known about "Accord": It's going to be called the Windows Phone 8X HTC, it'll have a 4.3 inch 720p display, an 8 megapixel camera with an f/2.0 lens, and it'll also have a dual core 1.2 GHz processor paired up with 1 GB of RAM. Rumors from earlier this year suggest HTC is planning to release two additional Windows Phone 8 devices, one codenamed "Zenith", which should be a flagship phone with a 4.7 inch screen, and another codenamed "Rio", a midrange 4 inch handset.
Switching things over to Android, HTC is supposedly going to unveil a successor to the One X called the One X+. It'll have NVIDIA's AP37 inside, better known as the Tegra 3. The AP37 is a more refined version of the Tegra 3 that can hit 1.6 GHz in quad core mode or 1.7 GHz in single code mode. Compare that to the original HTC One X, which has the AP33, it runs at 1.4 GHz in quad core mode and 1.5 GHz in single core mode. The One X+ will also come with Android 4.1 Jelly Bean out of the box, and it's supposed to measure 134.36 mm x 69.9 mm x 9.3 mm, making it almost the exact same size as the original One X. The One X+ is just 0.4 mm thicker, hopefully because there's a larger battery inside.
Like we said earlier, HTC is holding a press event on the 19th, so it shouldn't be too long until we see all the devices mentioned above.