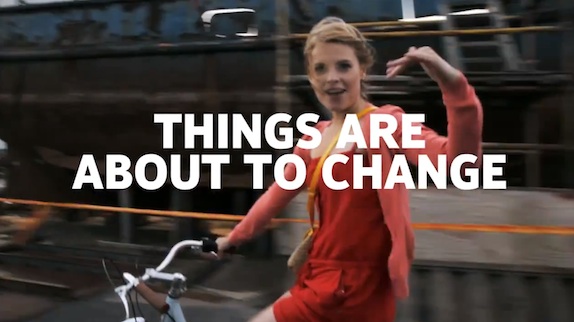 Nokia has just uploaded a 21 second video to YouTube that features a young woman riding her bicycle near a shipping yard. The woman doesn't say anything, but at the end of the video a block of text appears saying "THINGS ARE ABOUT TO CHANGE" and then the date 05.09.2012 appears. That date, the 5th of September, is when Nokia is going to hold a press event in New York City where it's widely believed that the Finnish handset maker will announce at least one Windows Phone 8 device. Last week reporters from The Verge said their sources tell them we'll see two devices. One codenamed "Phi", which is supposed to be a successor to the Lumia 800 and Lumia 900, and another codenamed "Arrow" that will be a midrange device. It's safe to say that "Phi" will have a 720p display and a dual core Qualcomm Snapdragon processor under the hood. As for "Arrow", we haven't got the slightest clue what it's supposed to bring to the table.
httpv://www.youtube.com/watch?v=moJ9T5pgKkA
There are two important questions here that we look forward to finding the answers to next week. One is what exactly is new in Windows Phone 8 that makes it compelling enough for someone using an Android device or an iPhone to switch? In July Microsoft showed off a handful of features that will be in the next version of Windows Phone, but nothing really "wowed" us. The second question is when will Windows Phone 8 hardware be on store shelves? Will Nokia announce something next Wednesday and then say it'll be out by the end of September or will they make consumers wait a month or two?