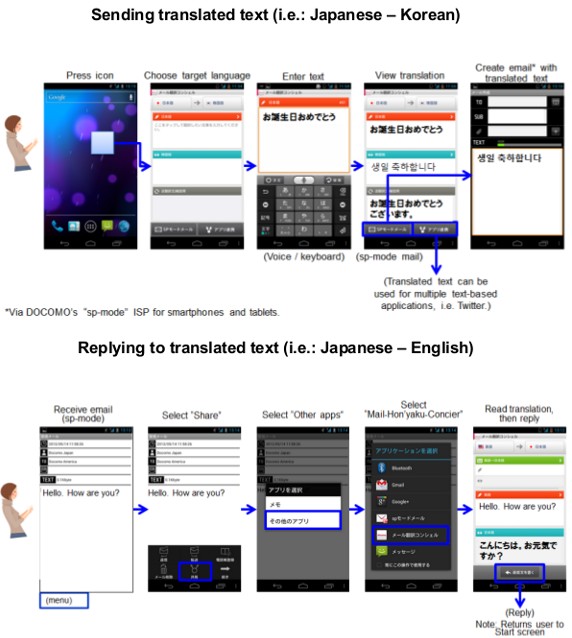 Japan's largest telecom operator NTT Docomo has announced new services and would also enhance the current services under docomo cloud brand for DOCOMO smartphones and tablets. They would launch Mail-Hon'yaku-Concier text translation app, Photo Collection service and enhance the Shabette-Concier voice command-based app.
The Mail-Hon'yaku-Concier text translation app would automatically translate text messages, such as e-mails and social networking content, between Japanese and English/Chinese/Korean. It is based on cloud technology that they have been working on.  Docomo's Shabette-Concier, voice command-based app would be enhanced to provide precise answers to inquiries on a wide range of topics. These apps would work on Android 2.2 devices at the launch.
They also plans to launch Photo Collection service in August that would offer up to 5GB of free storage to store photos and videos for an unlimited amount of time. It would also support external services including Evernote, Eye-Fi and HighlightCam for better content management. The content would also be accessible over Windows PCs apart from smartphones and tablets that run on Android 4.0.
The dmarket would be enhanced to support to sync content that are purchased from DOCOMO's VIDEO Store, MUSIC Store, BOOK Store or ANIME Store between the multiple devices under one account to the same subscriber.