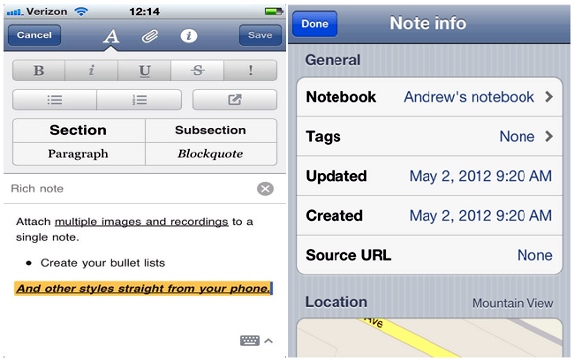 Evernote for iPhone and iPad has been updated to version 4.2 that brings new features for iOS 5 that includes redesigned note editor, improved editing, better check boxes, new attachment options, and more new features.
New features in Evernote for iPhone and iPad v4.2
Easy access to attachment features with intuitive text styling and formatting options, Redesigned note info screen and More powerful note editing capabilities.
Improved check box functionality with support for check box indentation, adds a check box if a new line is added after the first box.
Improved attachments with added support for Photo Stream images and redesigned audio recorder.
New Note Editor settings option to turn off note auto-titling and option to turn off automatic Save to Camera Roll function.
This version also includes numerous improvements and bug fixes that makes the Evernote app more reliable. Download Evernote for iPhone and iPad from the Apple iTunes Store for free.