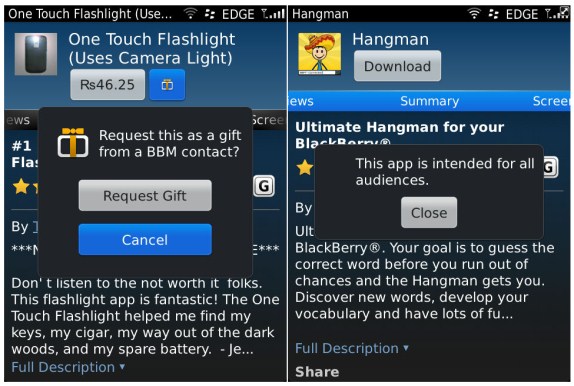 BlackBerry App World has been updated version 3.1 in the BlackBerry Beta Zone in time for the holidays. This version including new features such as app gift request to your BBM contact, content rating and filtering, Wi-Fi only support and new language support that are suggested by users.
New features in BlackBerry App World v3.1 (Beta)
Requesting a Gift – Now you can request others to Gift the latest and greatest applications available from the App World for you.
Content Rating and Filtering – New rating abilities allow content providers to indicate the maturity level of their content and let users filter results based on their desired maturity level.
WiFi Only Support – App World will now allow users access when using a WiFi only connection.
New Language Support – App World 3.1 now supports simplified Chinese, Traditional Chinese, Korean, Thai, Indonesian, Vietnamese, and Dutch.
The new Beta version of the BlackBerry App World v3.1 could be downloaded from the Blackberry Beta Zone.