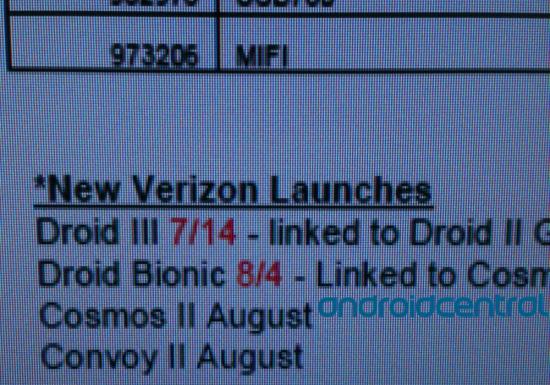 Motorola is planning to launch two new Android devices in USA via Verizon Wireless and they are Droid Bionic and Droid 3. Droid Bionic was recently leaked and it was completely redesigned as compared to the model we saw at CES. We heard that Motorola will launch it later this summer and now another leaked shot is leaked which is giving us some information related to the Droid Bionic as well as Droid 3. Recently, we told you that Verizon is launching Droid 3 on July 14th in stores and the leaked shot is telling us the same thing. What's new in the image is that Verizon is unveiling the new Droid Bionic on August 4th, that's according to the screenshot above unveiled by Android-Central.
Droid-Bionic was announced back in January, it's already very late and I hope Verizon will finally launch it in August. At the moment, nothing is confirmed so the leaked release date is subject to change. The image is also showing LG Cosmos and Samsung Convoy, they are not smartphones however Verizon will be launching them in August too.
So Droid fans, are you going to pick Droid 3 or Droid Bionic?