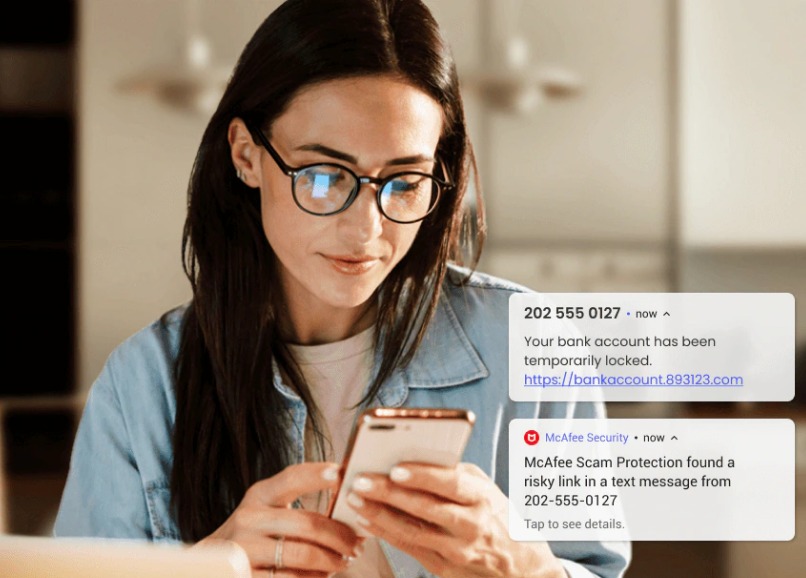 McAfee has launched a new feature in its product suite called McAfee Scam Protection. This new tool leverages patented artificial intelligence (AI) technology to combat cybercriminals, who are increasingly using AI to create more convincing and widespread scams.
Phishing scams, a prevalent cybersecurity threat globally, have become even more sophisticated with the use of AI. Cybercriminals are generating personalized and highly convincing scams, making it challenging for individuals to distinguish between genuine and fake messages. This surge in AI-generated scams has raised concerns about online security.
How McAfee scam protection works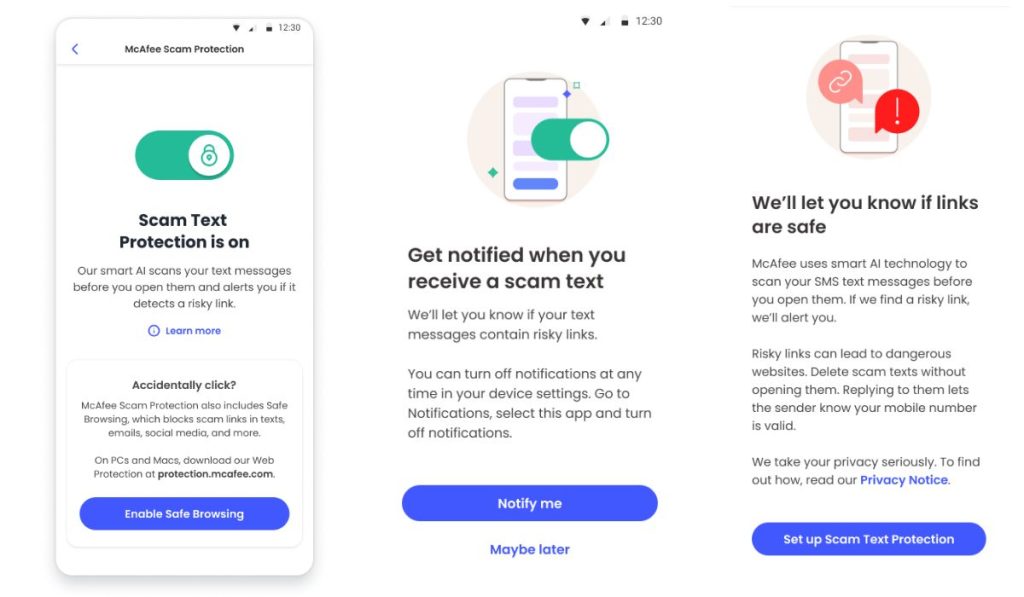 McAfee Scam Protection takes a proactive approach to identify and block scams. It uses AI technology to detect malicious links and immediately alerts users, preventing them from clicking on potentially harmful links. Even if a user accidentally clicks on a malicious link, McAfee Scam Protection steps in to block the site from loading.
Key Features of McAfee Scam Protection:
Proactive and automatic protection: Users receive scam notifications before opening a message.
Patented and powerful AI: McAfee's AI constantly analyzes and processes millions of malicious links worldwide, enhancing detection capabilities.
Simple and user-friendly: Once set up, McAfee Scam Protection works automatically, eliminating the need for manual checks.
Free trial for new users: New customers can enjoy a free seven-day trial of McAfee Mobile Security, which includes Scam Protection.
Availability
McAfee Scam Protection is compatible with Android, iOS, Chrome, Safari, Microsoft Edge, and Firefox. While text alert functionality is currently available for Android users, iOS users can expect this feature in October.
Most McAfee customers now have McAfee Scam Protection available as part of existing plans; simply update the McAfee Security app with no need to purchase separately or download a separate app.
Regarding the announcement, Greg Johnson, McAfee's Chief Executive Officer, said,
AI has changed the game for cybercriminals. Gone are the days of obvious typos, poor graphics, or other telltale signs in phishing emails or scam texts. Today, cybercriminals are using artificial intelligence to dramatically improve the accuracy, sophistication, and speed of an attack, making it harder than ever to tell real from fake. It's why we all need the most advanced, innovative AI working in our favor, to proactively protect us, in real-time, before we even know we've been targeted.

McAfee Scam Protection combines advanced AI with the very best in human threat intelligence to spot and block fake emails, texts, and social media links proactively, so you can go about your day worry-free. Our new scam protection technology is revolutionary, and we are excited to equip families and individuals with the most advanced AI technology that helps keep online scams and cyber threats at bay, so people can live their lives online with confidence.