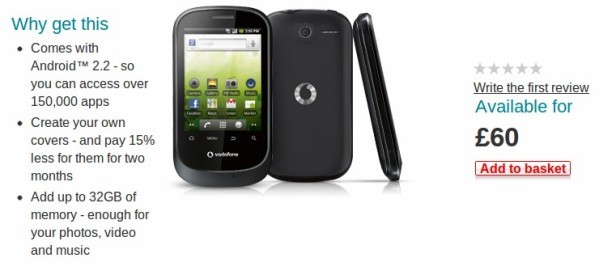 A few weeks ago, Vodafone UK officially announced Vodafone Smart, which is a low-end Android powered device designed for people who are not that much in the smartphone game, and it's a Vodafone branded phone. It's actually for people who are looking for a cheap device to use it as their main or secondary device. The phone is small like the Motorola Wilder, but Smart is running on Android. It features a 2.8-Inch capacitive touchscreen display, 528 MHz processor, 130 MB internal memory and there is also microSD card support, 2 MP camera, HSPA, Wi-Fi, Bluetooth, and GPS. If you are thinking that it's an entry level device and it will be running on Android 1.5 then you are wrong because it's running on Android 2.2 a.k.a Froyo.
Vodafone is offering a number of high-end Android and other devices, but that doesn't mean they don't care about people who can't afford it. That's why they are offering Smart and if you want this handset, then get it for just £60 on Pay as you go. It's really cheap and price isn't bad for a handset running on Android 2.2 with some decent entry level specs.
Well, anyone getting it as their main or secondary device?