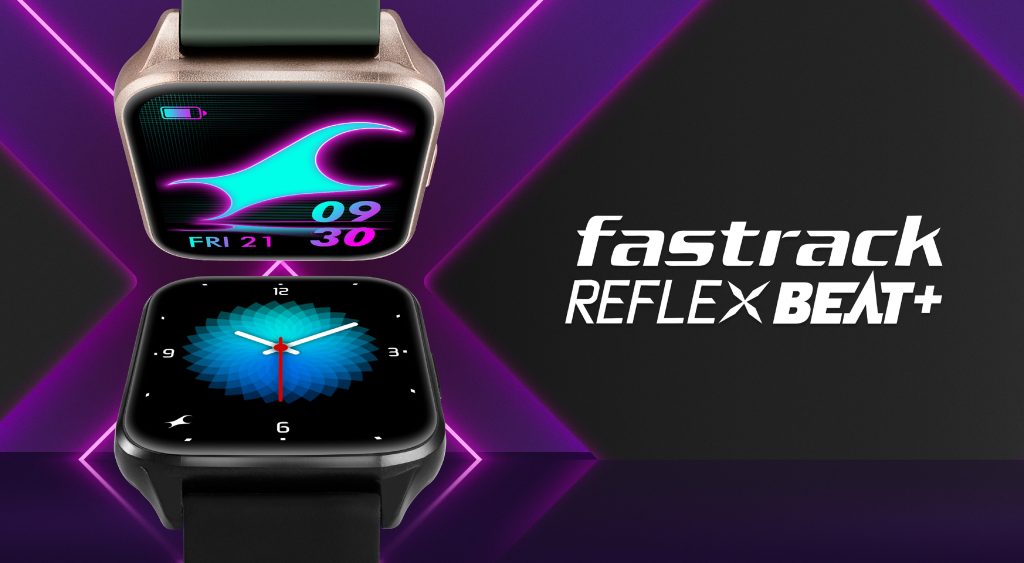 Fastrack has launched its newest smartwatch, the Reflex Beat+. The watch boasts a big display and a variety of additional features. This launch comes after the release of the Fastrack Reflex Play.
The Reflex Beat+ smartwatch is equipped with a 1.69-inch UltraVu Display and 60 multi-sports modes. Additionally, it offers a range of useful features, including a Health Suite that includes essential trackers like a Heart Rate Monitor, Women's Health Monitor, Sleep Tracker, and SpO2 Monitor.
The Reflex Beat+ boasts a sleek design with a silicon strap that provides a secure fit on the wrist. It has an IP68 rating, making it dust and water-resistant, making it suitable for various sports and outdoor activities. Furthermore, it offers more than 100 cloud watch faces.
In addition to its other features, the Fastrack Reflex Beat+ smartwatch offers a long battery life of up to 5 days and has convenient controls for your camera and music. It also allows you to receive and reject calls, view notifications, and stay informed about the weather all from your wrist.
Quick specifications: Fastrack Reflex Beat+
Multiple strap colors
1.69″ UltraVu display
60Hz Refresh rate, 500 nits of brightness
60+ Sports modes
100+ Watch Faces
Up to 5 days of Battery life
Health Suite: SpO2 Monitor, Heart rate, Sleep tracking and Women's health
Smart notifications support
IP68 Water and Dust resistance
Data privacy support
Fastrack Reflex World App
Pricing and availability
The Fastrack Reflex Beat+ is available at a special launch price of Rs. 1,495 on Amazon.in. It comes in five different colors: Beige Latte, Wine Red, Black, Olive Green, and Deep Teal.
Speaking at the launch, Ravi Kuppuraj, COO Wearables Digital Health Innovator, Titan Company Limited said:
We are thrilled to offer Reflex Beat+ our first offering in the affordable wearable segment in an exclusive partnership with Amazon Fashion. Smart watches are now a functional and fashion necessity for consumers across the country. Thus, we endeavour to reach out to a large fashion and fitness-conscious audience with new launches and present them with a range of options. We are happy to join hands with Amazon Fashion to announce our new launch and look forward to Reflex Beat+ becoming a part of everyone's style.
Speaking at the event, Saurabh Srivastava – Director & Head, Amazon Fashion India said,
We are happy to launch Fastrack's new smartwatch Reflex Beat+ during our Great Republic Shopping event on Amazon Fashion and continue our long-standing relationship with Fastrack. The growing demand for fashionable smart watches will continue to see a rise in 2023, and Fastrack Reflex Beat+ not only monitors your health but also takes care of your entertainment with its camera & music control features. Our objective is to transform the way people shop for fashion in India and to expand our portfolio with easily accessible products at affordable prices for our fashion-forward and tech-savvy consumers, but also fitness enthusiasts.