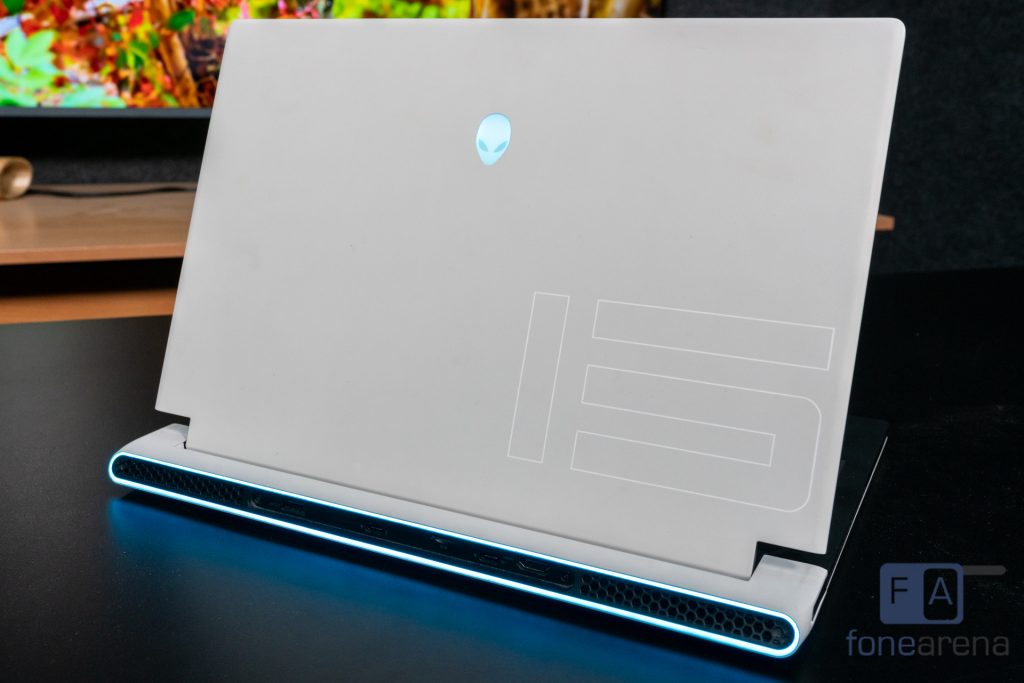 Alienware has been creating gaming laptops for more than a decade now. They were known for creating beast machines with high performance with thick designs. A lot of that has changed now, although the high performance claims continue to exist.
The Alienware x15 R2 is the company's latest offering in the premium gaming laptop market, powered by Intel's 12th Gen Core processors and NVIDIA's 30-series RTX GPUs. We got a chance to check out the fully-specced out model of the x15 R2, and here is our review.
Design and lighting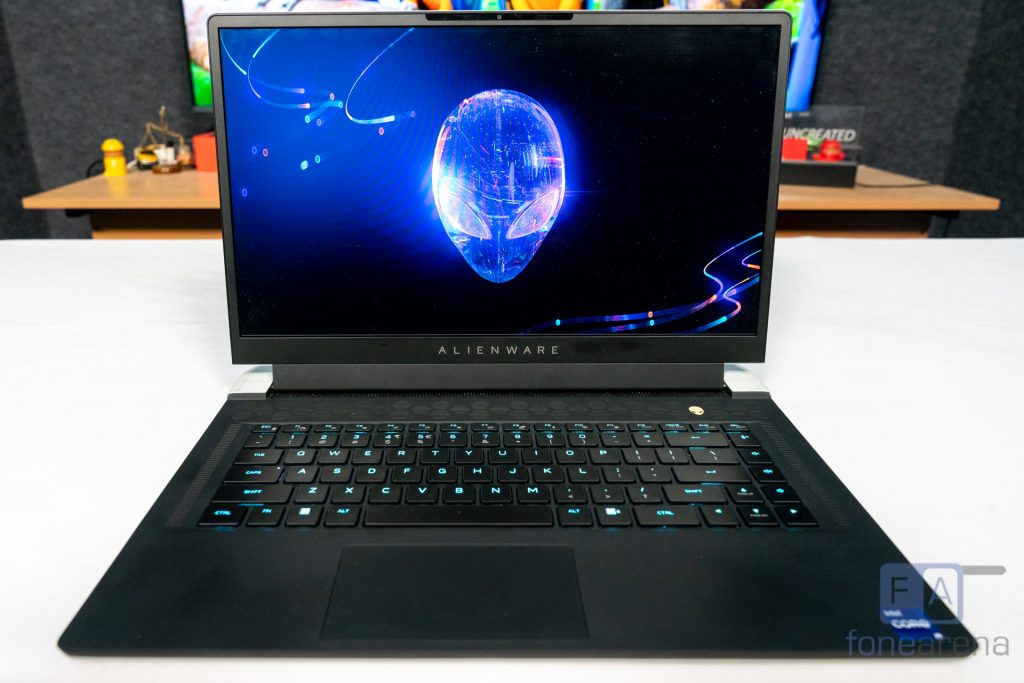 The Alienware x15 R2 is easily one of the best looking laptops I have looked at till date. The basic design of the x15 series is an evolution of their m15 series, which has existed for many years now.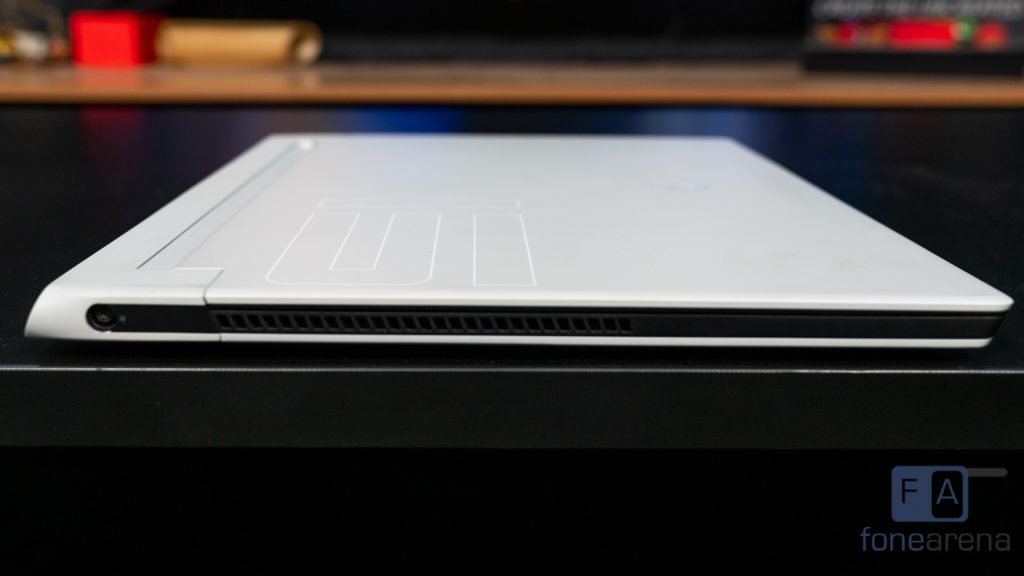 The difference is that the x15 is a lot sleeker, made with more premium materials and has a better external finish. I love the dual tone finish with the white exterior and the black keyboard deck.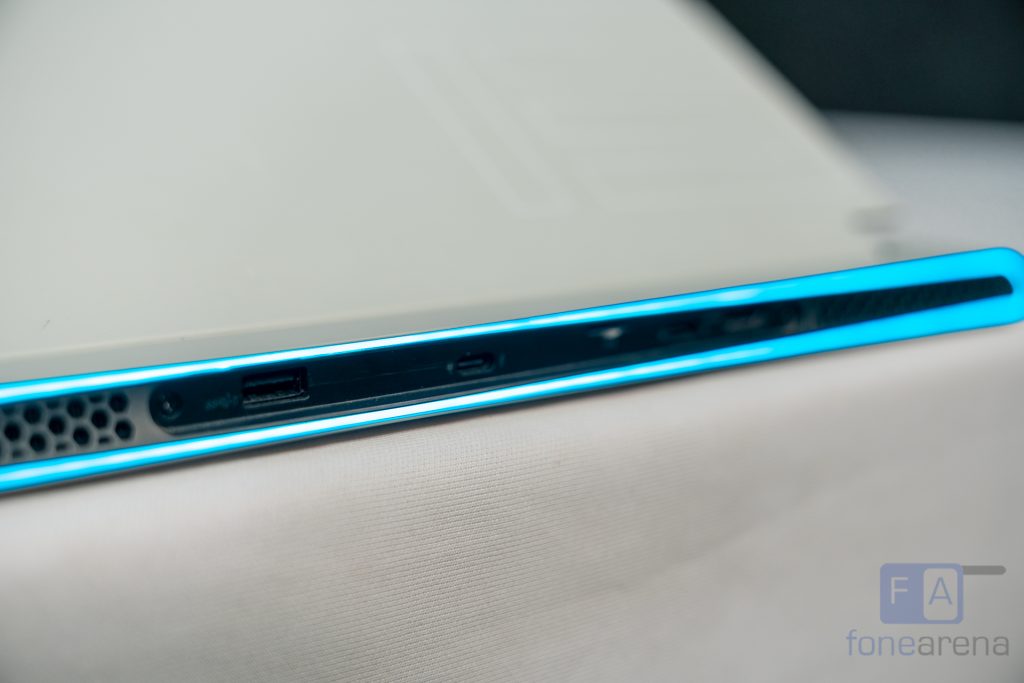 The lightbar at the back is unique to Alienware's design language and all-in-all, the x15 R2 has a very "spaceship" look. Alienware has also added RGB lighting to the logo, which can be controlled in software.
The hinge has a perfect amount of tension, enabling one-finger opening. The laptop feels incredibly dense and there is basically no chassis flex. The bezels are small on three sides, and the top bezel contains a webcam and IR cameras for Windows Hello.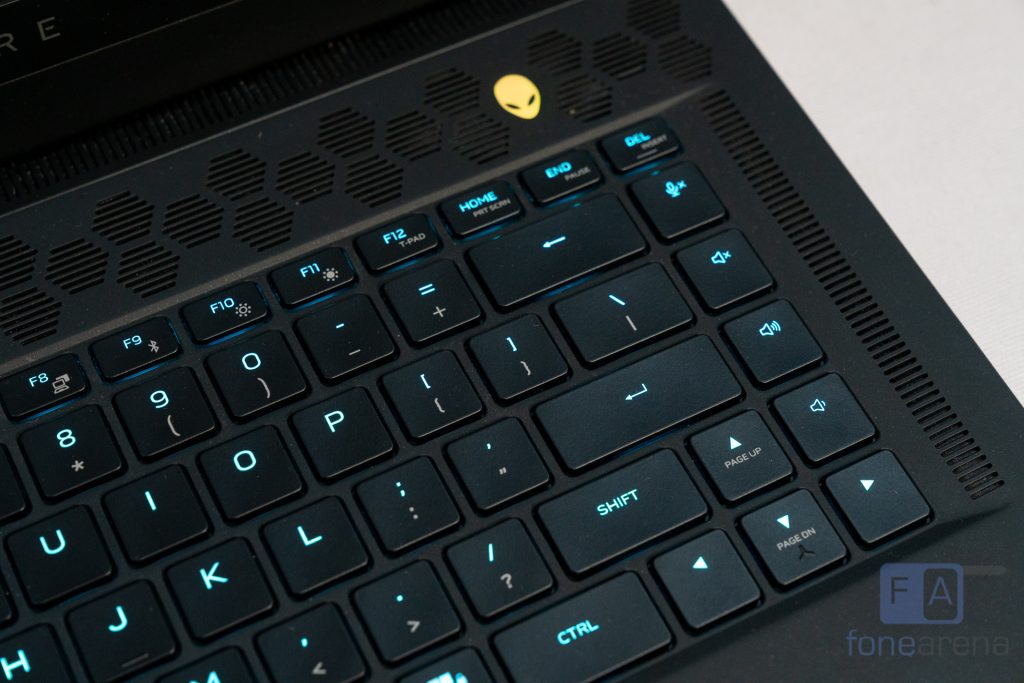 All around the keyboard deck there are vents for cooling and the power button is a little alien face. Overall, I love how this laptop looks, and it will certainly turn heads if you use this in public.
Display and Audio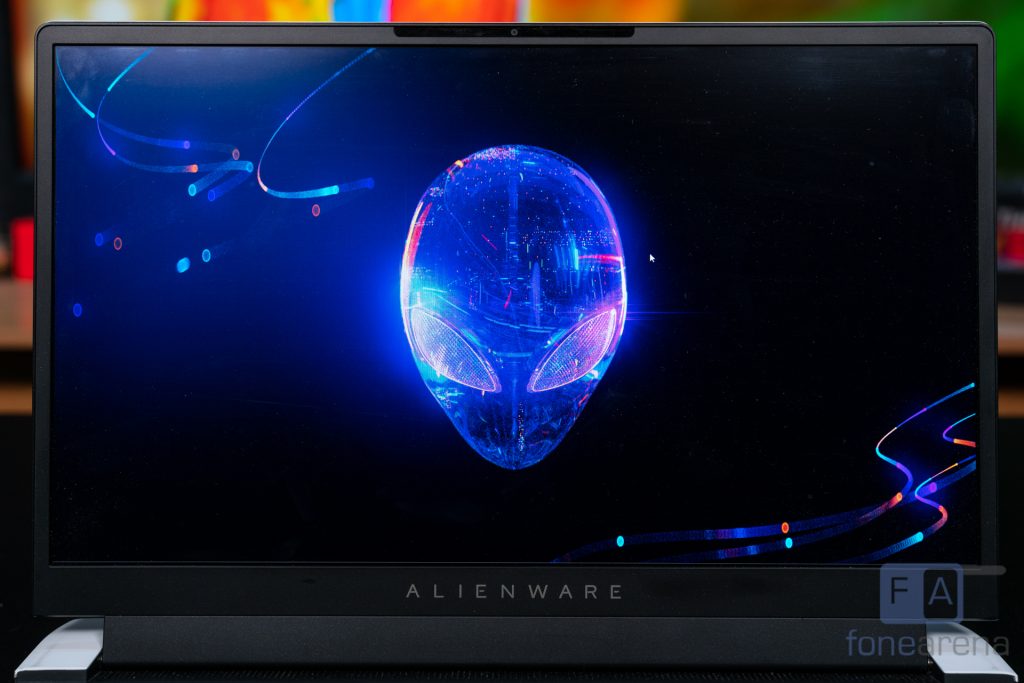 For the display, the x15 R2 is equipped with a 15.6-inch FHD panel with a maximum refresh rate of 360Hz and a response time of 1ms. The panel features technologies such as ComfortView Plus, NVIDIA G-SYNC, Advanced Optimus, and it is certified for Dolby Vision. The panel is more suited towards E-sports games, which is evident with its 360 Hz refresh rate. Although, it does come with G-Sync support, the panel will be great for non e-sports titles too.
Dell does not mention the colour accuracy of the panel, but I found the colours and contrast to be good. Some users may prefer having a QHD 165Hz panel instead, which is actually sold by Alienware in the US market, but it is not an option in the Indian market.
Audio wise, there are 2 bottom-firing 2W speakers that sound pretty good. I wouldn't say that they are as good as the MacBook Pro, but they get loud and stay mostly distortion free. Another thing to note is that the laptop supports Dolby Atmos too.
Performance and thermals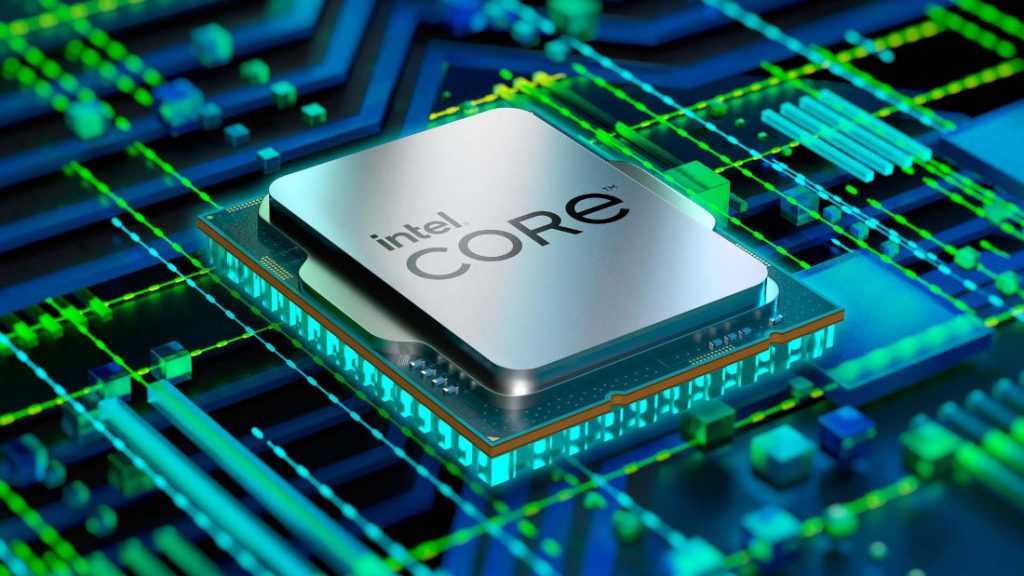 The performance of the Alienware x15 R2 is easily its biggest highlight. Our laptop is equipped with Intel's latest 12th gen Core i9-12900H processor along with an NVIDIA RTX 3080Ti GPU. For RAM, it comes with 32GBB of LPDDR5 dual channel memory running at 5200MT/s.
The Intel Core i9-1200H is a beast of a processor that features Intel's Hybrid Architecture, built on Intel 7 lithography. As the name suggests, Hybrid Architecture refers to use of both performance cores and efficient cores in one processor, similar to the processors that exist in smartphones. The advantage is the processor's ability to dynamically assign workloads between the performance cores and efficiency cores.
So basically, the more demanding workloads can be taken up by the performance cores, while the less-demanding workloads such as background tasks can be taken up by the efficiency cores. This can be beneficial for laptops, as it can improve battery life while not compromising heavily on performance.
On the other hand, the NVIDIA GeForce RTX 3080Ti Laptop GPU is based on NVIDIA's Ampere architecture. It features 16GB of GDDR6 memory, 7424 CUDA cores, 2nd generation RT cores, and 3rd generation Tensor cores. It is a powerful GPU capable of delivering high FPS in games and high performance in productivity applications.
This CPU and GPU combination is one among the most powerful that you can get in a laptop today. Be it AAA titles or e-sports games, you are getting performance that was previously impossible in a gaming laptop.
Here are some benchmarks from the x15 R2:
It isn't all great with the x15 R2 unfortunately. While both the CPU and GPU are powerful, they are held back by the thermal limitations of the laptop. To keep it cool, the laptop features Alienware's "Element 31" thermal interface material, which is a proprietary compound made from gallium-silicone.
Along with this, the laptop also features 4 fans in total that cool 4 large heatpipes. Even with all this cooling technology, the x15 R2 is unable to keep the temperatures under check and would thermal throttle quickly. During gaming loads, which are not as demanding as synthetic loads, I observed temperatures as high as 109° which is extreme in my opinion While I didn't notice any drops in frame rates in games, it is clear that the processor is being held back and could easily perform better.
Keyboard and trackpad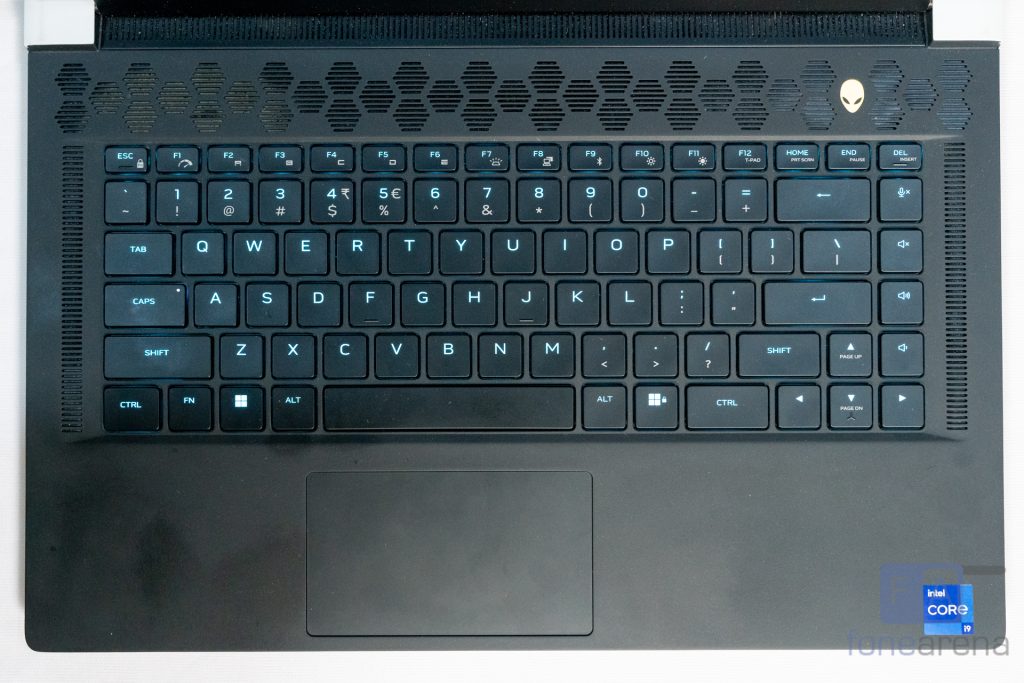 The keyboard of the Alienware x15 R2 is up there among the best gaming laptop keyboards in my opinion. It is a chiclet style keyboard with 1.5mm travel distance for each key. The keys have individual RGB LED lighting and also features N-key rollover technology and anti-ghosting technology. The layout had no issues, and I like the dedicated media keys on the right edge of the keyboard.
Regarding the feel, they are snappy and satisfying to type on. They are great for gaming and for productivity use. The only issue I had with the keyboard was the smaller-than-usual palm rest. If you have bigger palms, it can be a problem.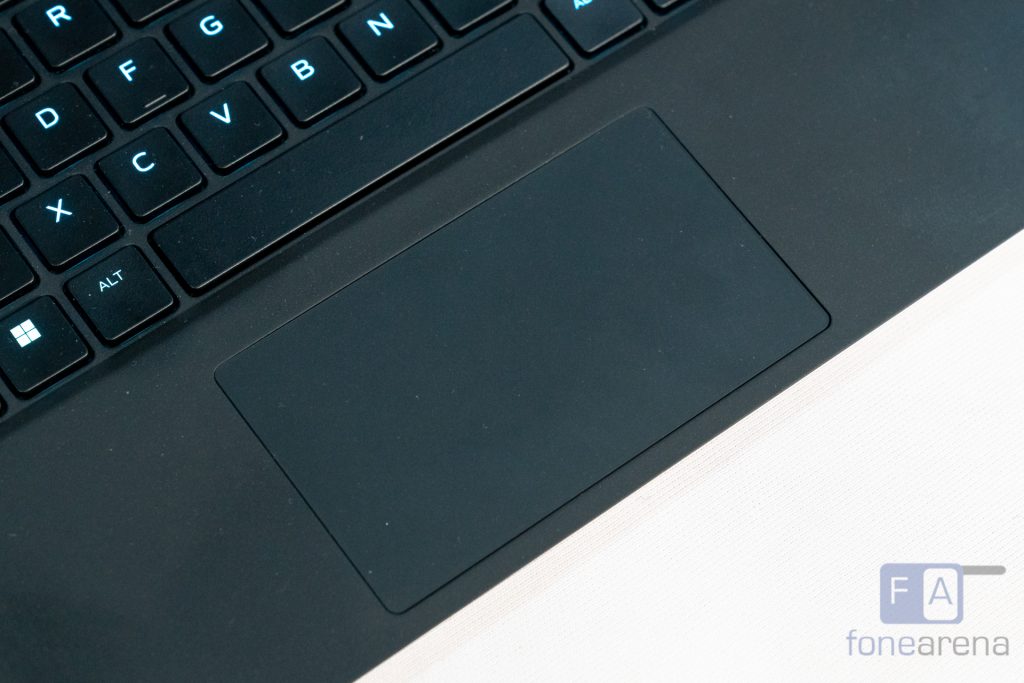 The trackpad is not particularly large, but it is glass topped. The tracking is smooth and accurate, and Window Gestures worked perfectly fine.
Ports and Connectivity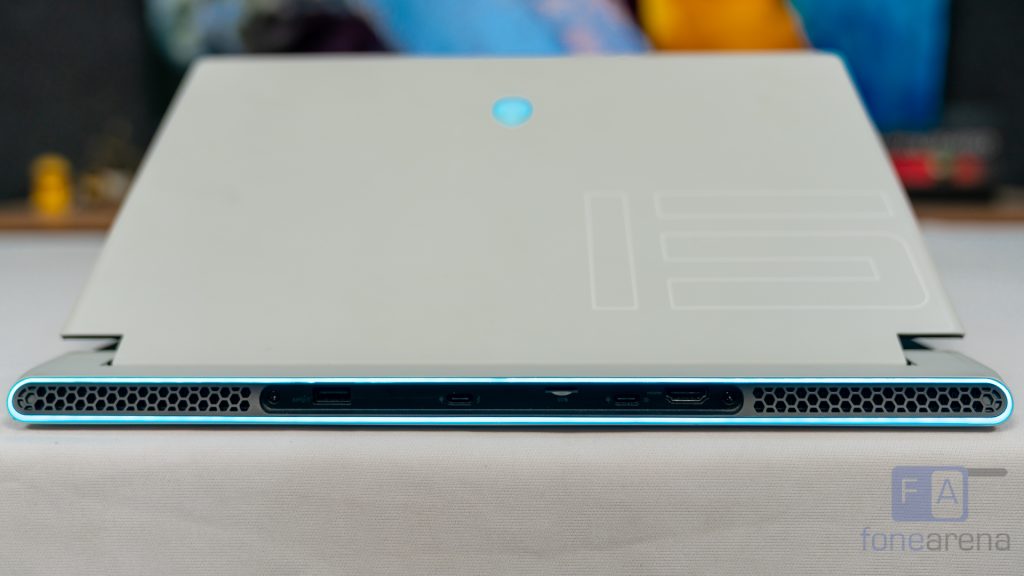 Alienware has put nearly all the ports on the back side of the x15 R2. They include a Type-A USB 3.2 Gen 1 Port with PowerShare, a Type-C Thunderbolt 4 with Power Delivery, a MicroSD Card Slot, a Type-C USB 3.2 Gen 2 Port and an HDMI 2.1 Output Port. The left side has a DC-in Port and the right side has a combo headphone jack. Personally, I would have liked to see a full size SD card reader, or at least another USB Type-A port. Otherwise, the port selection is good enough.
Connectivity is excellent on this laptop. It is equipped with an Intel Killer AX1675 Wi-Fi 6E certified network card, and it supports Bluetooth 5.2. Speeds were fast, and I faced no issues with network connectivity. For wired connectivity, Alienware ships a USB-C to 2.5Gbps dongle in the box.
Battery
The laptop is equipped with an 87Wh 6-cell Lithium-ion battery. With powerful internals such an Intel Core i9 and a RTX 3080Ti GPU, I didn't have high expectations. And as expected, the battery life was pretty weak. I got about 2.5 hours of battery life with light usage, and it was much lower if I tried gaming.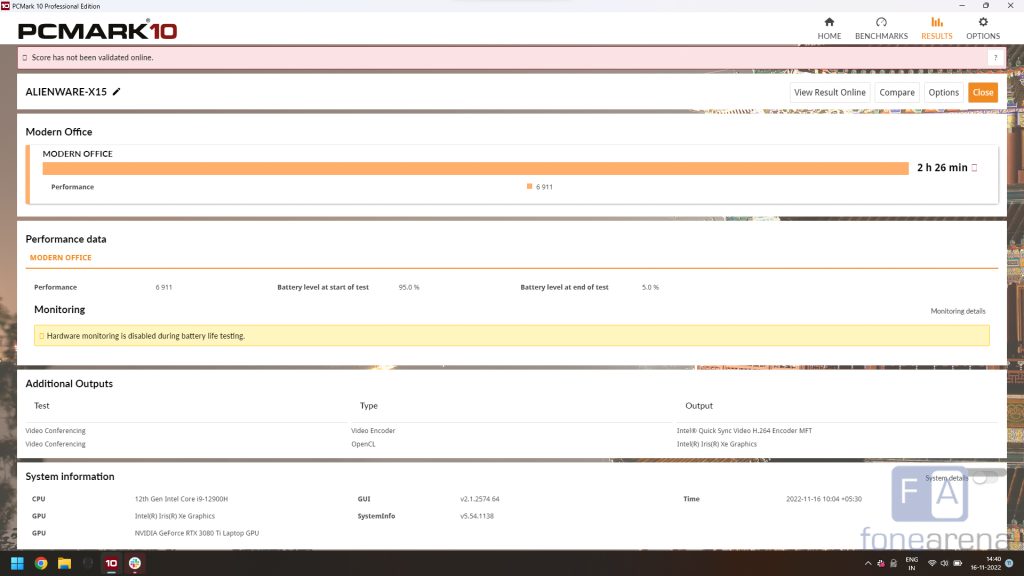 In PCMark's Battery Benchmark test, I got a score of 2 hours and 26 minutes.
Conclusion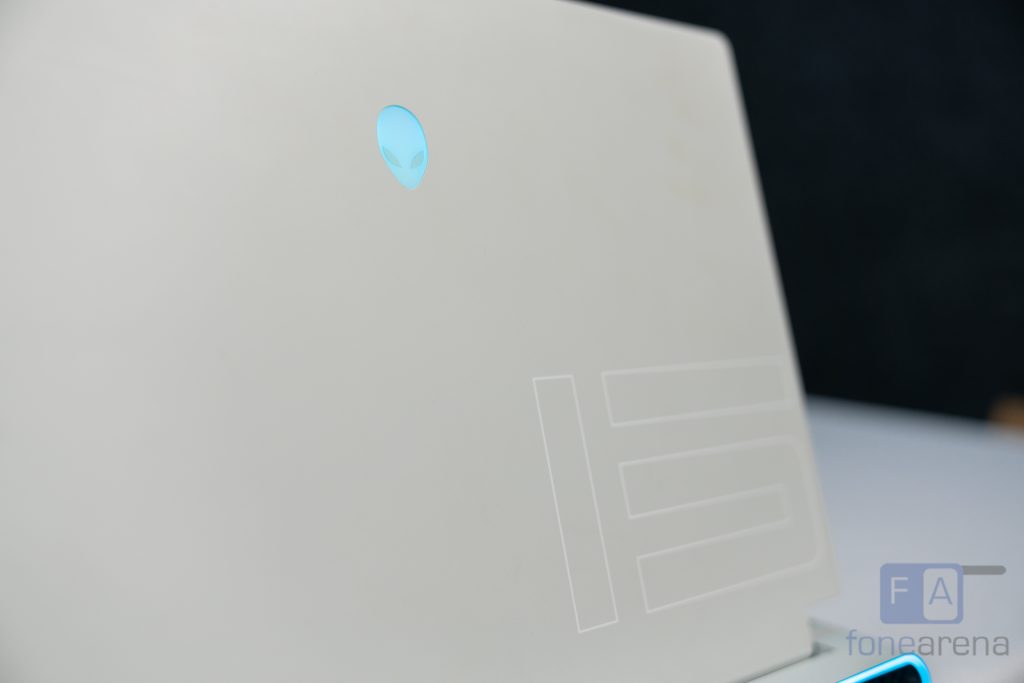 The Alienware x15 R2 targets a niche segment of the gaming laptop and for that segment, it is an excellent product. The laptop has stunning looks, absolutely powerful internals and will easily grab the attention of everyone in a room. The keyboard feels great, and the display is so smooth and good for gaming.
The combination of Intel's 12th Gen CPUs and NVIDIA's 40-series GPUs are incredibly powerful, but it is held back by the thermal design. Although that is expected for a laptop that is this sleek. If you get this laptop, you are certainly buying it for the "Alienware" brand and the design, and not for the raw performance. The gaming experience didn't feel lacking, but it was not the best possible, especially for the price.
So would I recommend this laptop? If getting maximum performance isn't the highest priority for you and you care more about the design of the laptop, then the Alienware x15 R2 is a great choice. Otherwise, the premium gaming laptop market space has a lot of excellent choices from ASUS, MSI, etc. They just may not be as good-looking as the Alienware.
Pricing and Availability
The Alienware x15 R2 starts at Rs. 2,49,990 and is available for purchase across Dell Exclusive Stores (DES), Dell.com, and multi-brand outlets.