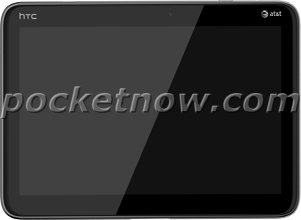 HTC recently announced their first ever Android tablet which is known as HTC Flyer, and we also heard that Flyer will receive Honeycomb soon. We recently told you that HTC is saying that they will launch Honeycomb powered tablets later this year. It looks like the time is near when we will see HTC's first ever pure Honeycomb tablet. Our friends over at PocketNow got their hands on leak shot of HTC Puccini. Well, that's an awkward name and it's actually a codename, and if you are thinking what Puccini means, then let me tell you that it's actually an Italian last name. Well, as you can see AT&T branding on it, it means that it will hit AT&T first and it will be compatible with AT&T 4G LTE network. It will run Honeycomb and it will also support HTC Scribe pen technology.
That doesn't make any sense, if this tablet is coming with Scribe technology, then I think this tablet will run customized version of Honeycomb. What I think is that Honeycomb in this tablet will also come with some Sense UI touch. My personal guess is that this tablet will also feature 3D display; anyway HTC will clear the air soon. It's expected that HTC will start shipping this tablet in June, so start saving some money if you want a HTC tablet this summer.
So Android lovers, are you looking forward to this leaked tablet or happy with your XOOM?