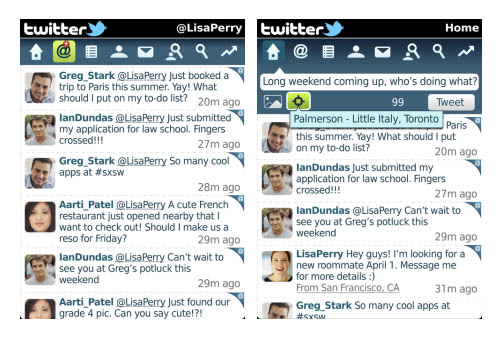 RIM has launched the official version of Twitter for blackberry 1.1, now available for download at Blackberry App world. The Beta version of the app was launched in the beta zone this February. This version brings new features like adding Geo location, notifications for mentions, chat style layout and # tag auto-complete.
Features of Twitter for Blackberry 1.1
Now you can add your Geo location along with the tweets.
Push notifications are available for mentions.
Chat style layout for direct messages.
Auto-complete the # (hash) tags that are previously mentioned.
You can enable Geo location feature from the options. Other than these features the image upload and Geo icons have been resigned, languages such as Chinese, Polish, Czech, Thai have been added. Some issues in the beta versions such as Geo location errors and URL shortening problems have been rectified in this update.
You can update Twitter for Blackberry version 1.1 within the app or download it on Blackberry App World for devices that run Blackberry OS 4.5 and later.