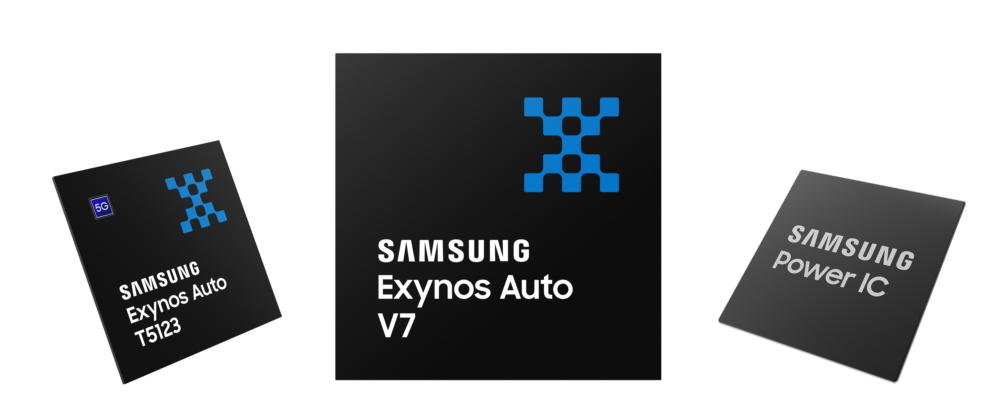 Samsung on Tuesday unveiled three new automotive chip solutions – the Exynos Auto T5123 for 5G connectivity, the Exynos Auto V7 for comprehensive in-vehicle infotainment systems, and the ASIL-B certified S2VPS01 power management IC (PMIC) for the Auto V series. Let's have a brief look at it.
Exynos Auto T5123
The Exynos Auto T5123 is a 3GPP Release 15 telematics control unit specifically designed to bring fast and seamless 5G connectivity in both standalone (SA) and non-standalone (NSA) mode to the next generation of connected cars.
The chip aims to deliver essential information to the vehicle in real-time via high-speed download of up to 5.1 gigabits per second (Gbps).
The Exynos Auto T5123 supports a high-speed PCIe (PCI Express) interface and a low-power high-performance LPDDR4x mobile DRAM to process the data transmitted and received through the 5G modem.
In addition, the unit comes with two Cortex-A55 CPU cores and a built-in Global Navigation Satellite System (GNSS) to minimise the use of external ICs and help reduce product development time.
Exynos Auto V7
The Exynos Auto V7 is designed for in-vehicle infotainment systems. The V7 features eight 1.5-gigahertz (GHz) Arm Cortex-A76 CPU cores and 11 Arm Mali G76 GPU cores.
The GPU comes in two separate groups, with three cores in the 'small' domain for cluster display and AR-HUD, and eight in the 'big' domain for central information display (CID) and others.
The V7 also comes with NPU for services such as virtual assistance that can process visual and audio data for face, speech, or gesture recognition features.
Further, the Exynos Auto V7 supports up to four displays and 12 camera inputs that provide information to assist drivers and passengers. It also has three HiFi 4 audio processors as well. The V7 has up to 32 GB of LPDDR4x memory capacity that offers high bandwidth of up to 68.3 GB/s.
For security, the Exynos Auto V7 also offers strong data protection through an isolated security processor for crypto operation and provides a hardware key using a one-time programmable (OTP) or physical unclonable function (PUF).
The Exynos Auto V7 is currently in mass production and is being used in Volkswagen's latest In-Car Application-Server (ICAS) 3.1.
S2VPS01
The S2VPS01 is a PMIC (Power management integrated circuits) designed and developed for the Exynos Auto V9 and V7.
The S2VPS01 regulates and rectifies the flow of electrical power, for robust performance. It comprises highly efficient triple/dual-phase buck converters and integrates a low-dropout regulator (LDO) and real-time clock (RTC) within the package.
For protection from harsh thermal and electrical conditions, the power IC comes with various protection functions, including over-voltage protection (OVP), under-voltage protection (UVP), short circuit protection (SCP), overcurrent protection (OCP), thermal shut down (TSD), clock monitoring and output stuck checks.
It is Samsung's first automotive solution produced under the ISO 26262 functional safety process certification that was acquired in 2019, and it also achieved an ASIL-B certification in 2021.