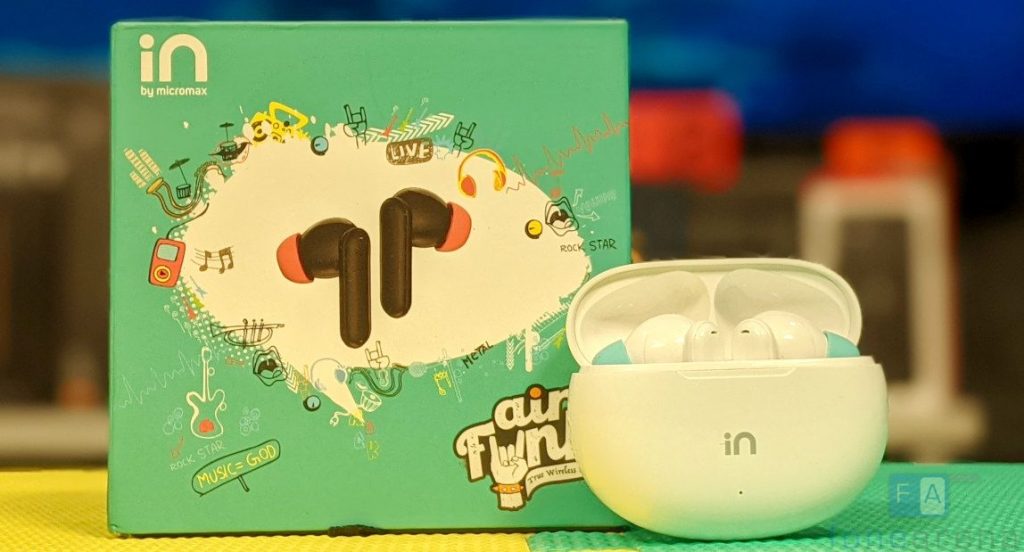 Micromax launched the Airfunk 1 and Airfunk 1 Pro, the company's first TWS earbuds, last month. I have been using the Airfunk 1 Pro for a couple of weeks now. This has a Qualcomm QCC3040 chip, Bluetooth 5.2 with aptX support, Qualcomm cVc 8.0 noise-cancelling technology, 4 built-in ENC (Environmental Noise Cancellation) and lots more. The company also says that the headset if made in India. Specifications look good on paper, is it worth the price? Let us find out in the review.
Box Contents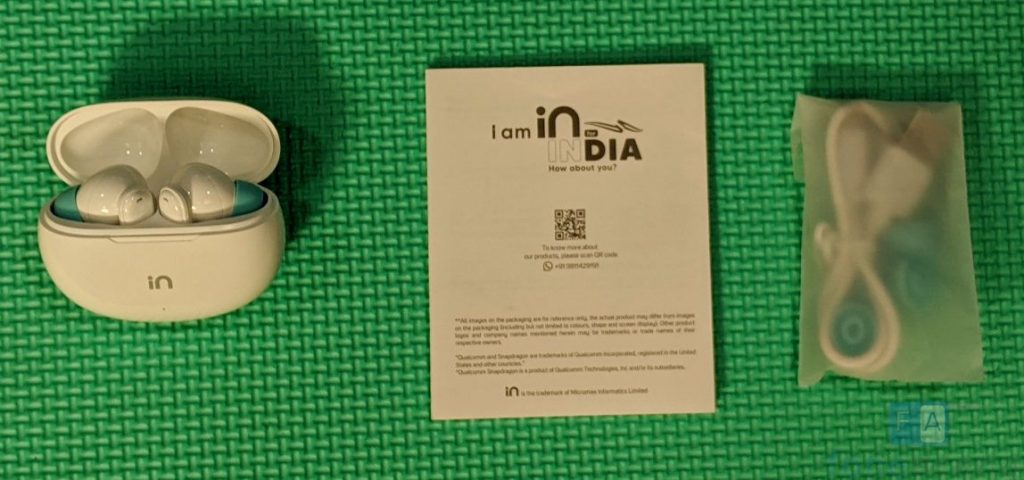 Micromax Airfunk 1 Pro in White colour
USB Type-C Cable
Ear tips in Small and Large sizes (Medium pre-installed)
User manual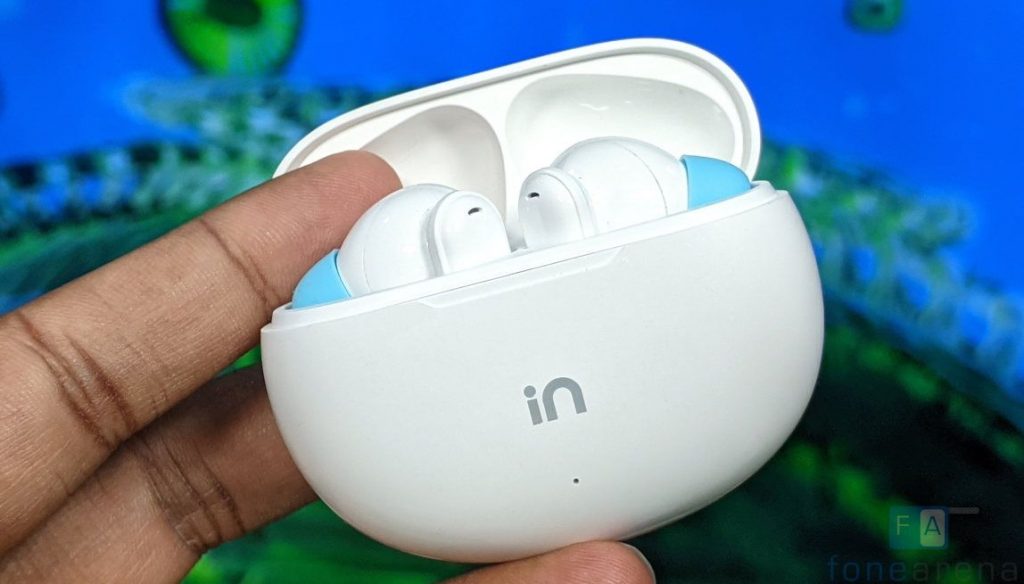 The charging case has an oval box that has a glossy finish and is made of plastic, so it is prone to fingerprints and scratches. You can see the LED indicator on the outside.  The white version gets dirty easily, so I would prefer other colours. The charging case measures 60.23×47.6x26mm and weighs 32 grams.
You can see the in branding on the outside. There are case specifications such as power input and 470mAh battery on the back.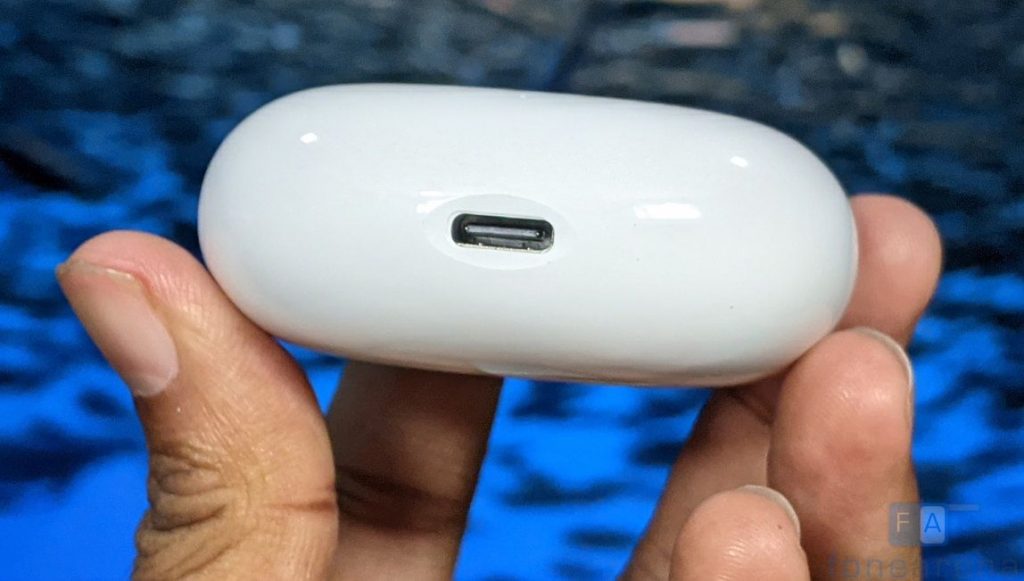 The USB Type-C port is on the bottom part of the case. It doesn't have a  function key since the headset directly pairs with the phone, and not the case.
Similar to the case, the headset also has a plastic finish with a glossy look, so it is prone to fingerprints and scratches. The earbuds measure 32.61×20.56×21.74mm weigh about 4 grams, which is light. These feature an in-ear design that look a lot like Apple Airpods. Still, it doesn't fall out of your ears when running or cycling. The primary microphone is present on the side of the headset and the secondary microphone is present on the back. There are touch controls on the back of both the earbuds that lets you control volume, play or pause or skip music, launch voice assistant and accept or reject calls. There are LED lights above the touch are, but these are hardly visible.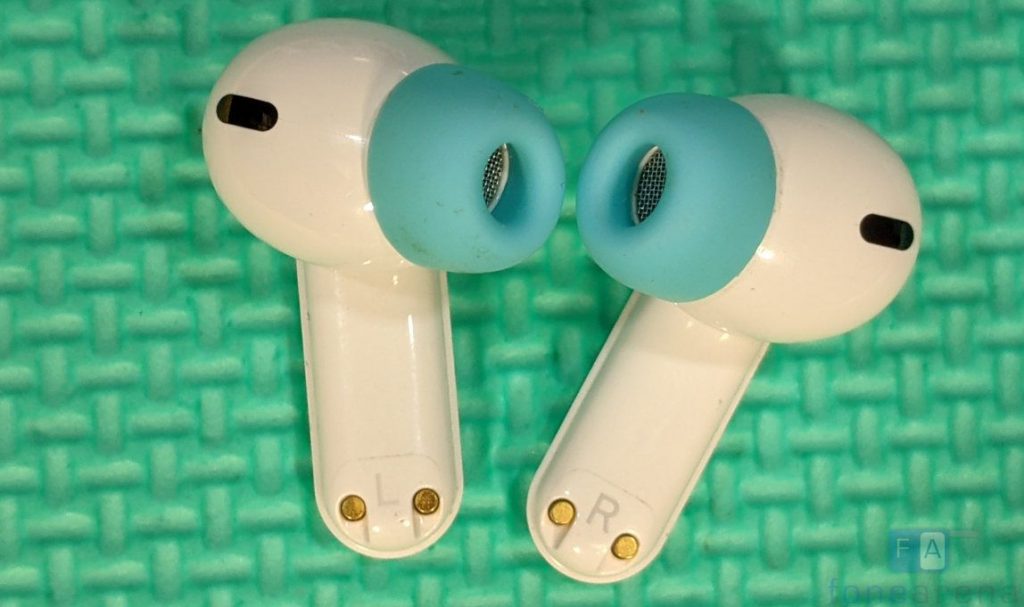 Even though there is a black coloured thing that looks like a sensor, it is just for the look.  You can see the charging contacts and LED on the inside. Since the headset doesn't have an optical sensor for Wear Detection, it can't automatically pause the audio when you remove it from your ears. The earphones also have IP44 ratings for dust and water resistance so that it can withstand dust and splashes or light rain, but you can't immerse in the water. You mostly see IPX4 ratings in a headset in the price range, but the IP44 ratings for dust and water resistance is good.
Connectivity, Pairing, and Controls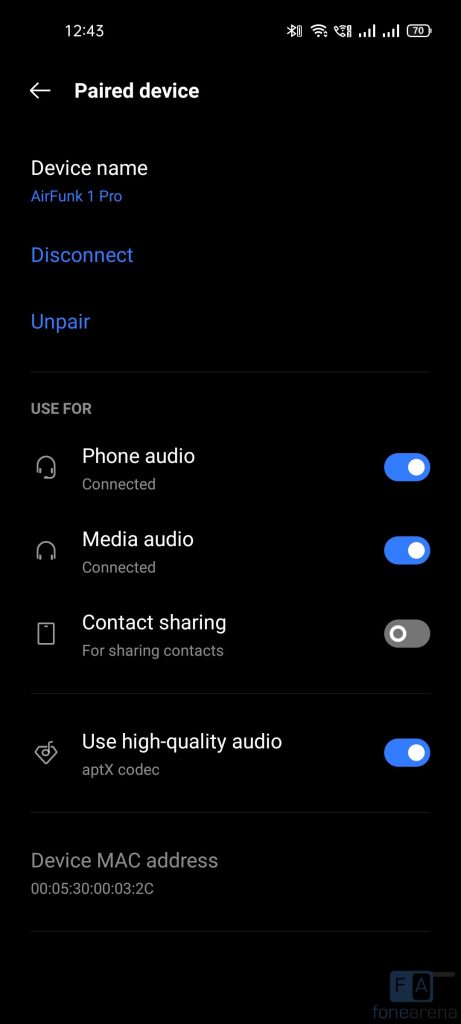 It has Bluetooth 5.2 and Qualcomm QCC3040 chip. The pairing process is very easy, just remove the earbuds from the case, you will hear a voice prompt 'Pairing' and the LED indicator of one earbud flash Blue continuously. Enable the Bluetooth function on your device, and select the 'Airfunk 1 Pro' and connect. After it is connected successfully, you hear 'Connected' prompt. I didn't face any connectivity issues during my use with the realme GT Master Edition phone. It doesn't have dual mode connectivity, so you can only pair with one device at a time.
The touch controls are easy to access and are responsive to touch. Since the earbuds are not connected to the case, you can turn them on or off.
Function
Left earphone (L)
Right earphone (R)
Power on
Press and hold the touch area for 3 seconds
Power off
Disconnect, press and hold the touch area for 5 seconds
Play / Pause, Hang calls
Double tap
Answer calls
Single tap when you receive a call
Reject calls
Double tap when you receive a call
Volume+
Single tap
Volume-
Single tap
Previous Song
Triple Tap
Next Song
Triple Tap
Launch voice assistant
Touch and hold for 2s
It doesn't come with any companion app for customizing controls or receive firmware updates.
Audio Quality and Call Performance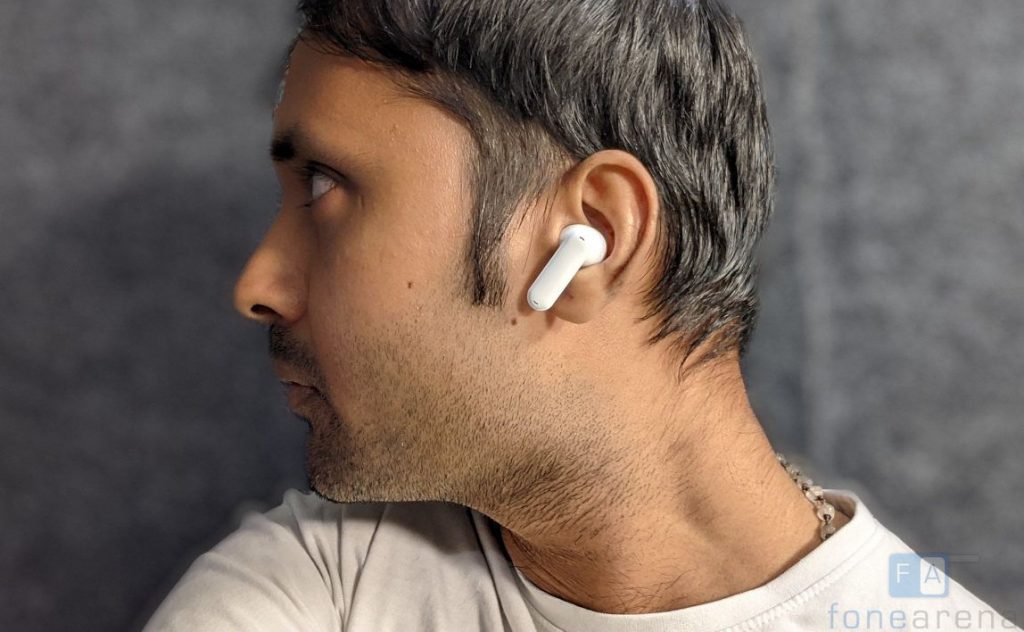 The Airfunk 1 Pro packs a 13 mm dynamic driver that handles high, middle and low frequencies well. It doesn't have any equalizer options. Wish it had bass booster mode since the bass is not high. Since it has in-ear buds, there is no passive noise isolation since there is a small gap. You just have to select the right buds that fit your ears.
It has Bluetooth 5.2 with aptX codec for audio, but there is no dedicated gaming mode, so there is latency when playing games. There are dual MEMS microphones in each headset, and it uses Qualcomm cVc 8.0 Echo Cancelling and Noise Suppression technology that helps when it comes to voice clarity during calls, but it doesn't cut out wind noise much. Overall, these have decent audio quality and average call quality for the price.
Battery Life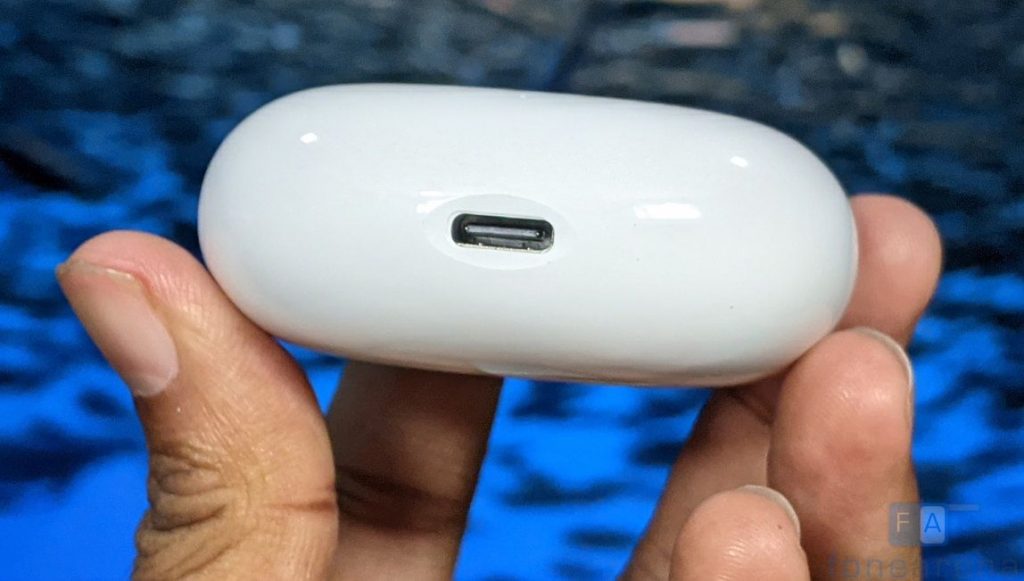 The earphones promise about 7 hours of standalone battery life when listening at 70% volume. During my run with aptX enabled, I got about 6 hours of battery life in 60 to 70% volume. This is good, but if you can disable aptX you get a better battery life in SBC. It takes 1 hour to charge the earbuds, and it doesn't have fast charge support. If the earbuds are not connected to a phone for more than 3 minutes, then it enters the power saving mode. When the battery is low and only 5 minutes of playtime is left, you will hear a warning voice message "Battery low" repeatedly every 30 seconds.
With the 470mAh charging case, it promises up to 32 hours of battery life. We got about 22 hours or over 3 additional charges wit aptX. When you are charging the buds in the case, it glows in stead blue when you close the case. It takes close to one and half hours to charge the case fully over USB Type-C.
Conclusion
Overall, the Micromax Airfunk 1 Pro is a decent Bluetooth true wireless earbuds for a price of Rs. 2499. It has a lightweight, compact design, offers decent audio quality and come with aptX. The battery life decent, but the call quality is not the best, and it misses a dedicated gaming mode. It could have offered a companion app with custom EQ settings like Bass boost mode. It will be available from Micromax.com and Flipkart in Black, White, Blue, and Yellow and Red colours starting from tomorrow, September 1st.
Pros
Bluetooth 5.2 with aptX support
Decent audio quality
Lot of touch control options, including volume controls
IP44 dust and water resistant ratings
Decent battery life
Cons
Call quality is average
No low-latency gaming mode