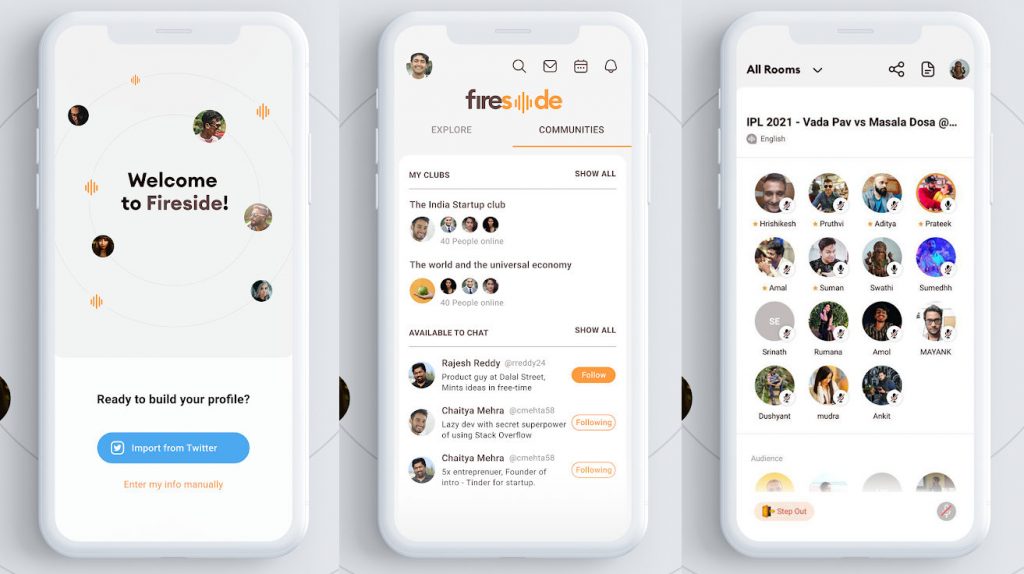 fireside is India's first voice-based social media platform, according to the creators of the app who founded the Chingari app that now has over 10 million downloads on Android gaining popularity after TikTok was banned in India a few months back.
With fireside  you can voice your thoughts, or simply listen and absorb the conversations on a variety of topics in a virtual room with celebrities, friends, or mostly, strangers, said the company. It added that the platform encourages debates, discussions, and discourses on matters that matter.
The fireside app is available as a public beta on both iOS and Android.
Highlights of fireside

EARN THE NET WORTH OF NETWORKS

The fireside app is a social networking app that lets you follow, and form connections with like-minded individuals. It lets you share your thoughts and synergize on enriching ideas. Empower yourself with worldwide connections that will add value to your professional, and personal life.

THERE'S A ROOM FOR EVERYONE

Chat about anything and everything in the sessions on the fireside app. From serious to funny, critical to trivial, English to vernacular, speak the language of your convenience. Listen and learn as a member of the audience, or step into the Chatbox to voice your thoughts on the topic for the room. From workshops to debates, from fan fiction to candid confessions, this platform aims to be an outlet for whoever wishes to speak and to listen.

CLUB YOUR INTERESTS

Do you harbour a niche interest, or would like to stay up-to-date on current topics? Join one or many clubs that the fireside app hosts, including Personal Finance, Startups, Fitness, Day trading,History, Technology, Design, Travel, Parenting, Music, Marketing, Cars& Bikes, Women's Issues, LGBTQ+ Rights, etc.,

GAIN GROUND IN THE BACKGROUND

Go about your day while gaining knowledge on the topic of your interest. Let the fireside app run in the background while scrolling through your everyday schedule. The fireside app doesn't bind your attention, it's just that useful friend, who's there whenever you need it.