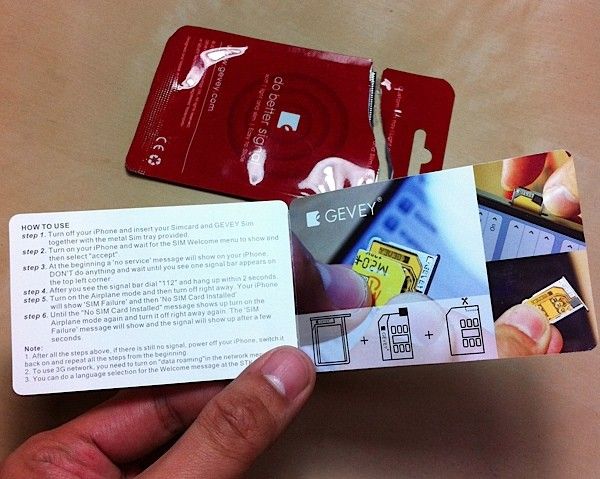 So here is the news for all those who own an iPhone 4 running on 4.2.1 or above versions and have been waiting for the Dev team's Ultrasnow to do the unlocking. The phone can finally be unlocked with a new SIM imposter called Gevey SIM. A SIM card hack known as Gevey has been released to unlock the iPhone 4 running the latest iOS 4.3 software and baseband. This is a hardware hack which is quite different from the usual software hack like Ultrasn0w.
httpv://www.youtube.com/watch?v=U8victBqtnM
The hack involves a wafer thin SIM, which needs to be inserted in the SIM card tray along with the original SIM card that you use with your iPhone 4. You then have to follow a short procedure of dialling an emergency number, hanging up, then toggling flight mode on and off a few times. Then service with your chosen provider magically appears. It is a little convoluted and has to be repeated if you reset your iPhone 4 or run out of battery.
Gevey SIM supports iOS 4.0, 4.1, 4.2, 4.2.1, 4.3 and basebands 1.59.00, 2.10.04, 3.10.01, 04.10.01. In order to avoid the phone from being locked, the Gevey SIM needs to be with the phone all the time. If you switch off your iPhone or battery drains out, you will lose the unlock and will need to follow the entire unlocking process again.
The Gevey SIM is now available for $75 which is quite a costly solution. But if you want unlock your iPhone 4, its currently the only solution available which does not even need a jailbreak.