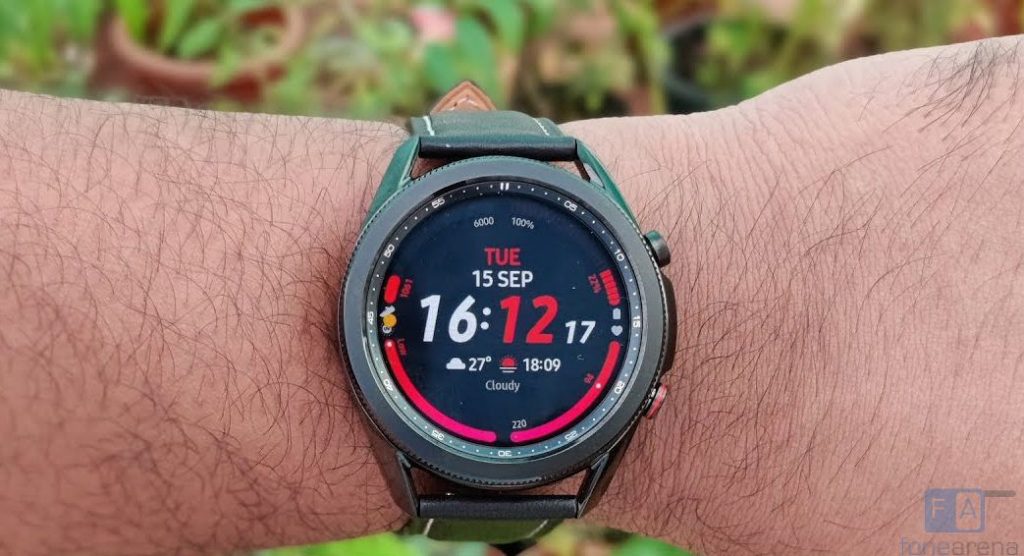 Samsung Galaxy Watch 3 is out! It is refined, sports a tweaked design, and comes with a built-in blood oxygen monitor. Alongside the launch of Galaxy Note 20 Ultra, Samsung also announced the Galaxy Watch 3 in two variants — 41mm and 45mm dial.
It is one of the best-looking smartwatches out there, with a rotating physical bezel and stainless steel build. Starting at Rs. 29,990, does the Galaxy Watch 3 justified its worth? Let's check it out!
Build quality and design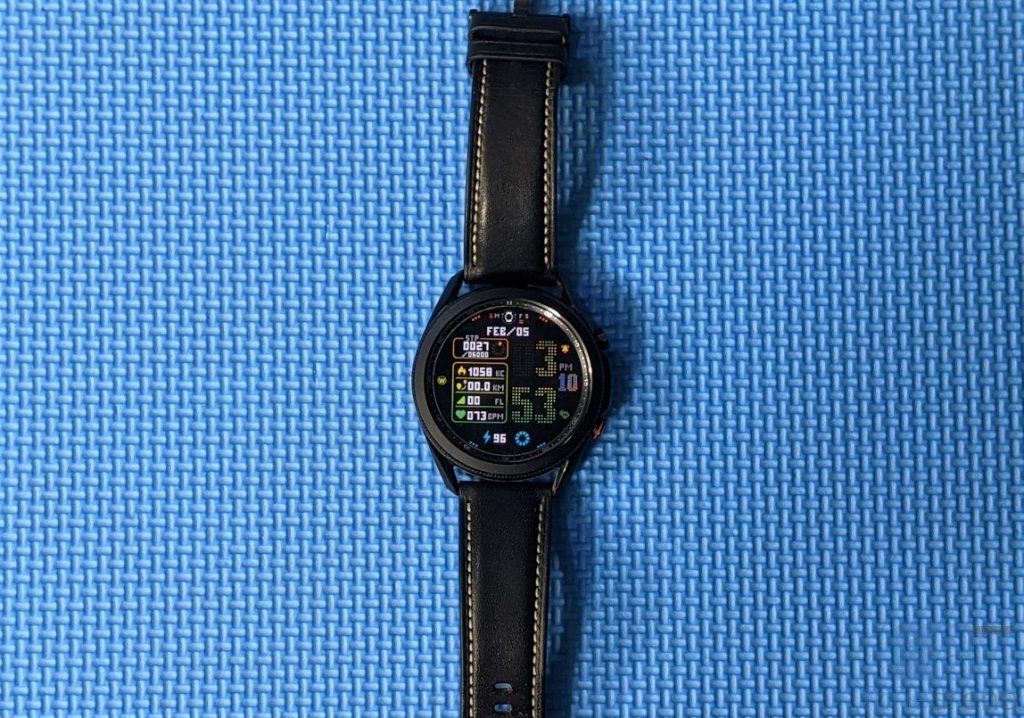 The Galaxy Watch 3 takes cues from Galaxy Watch from 2018 on the design front. Samsung maintains the classic watch look with a circular dial made out of stainless steel. Unlike the Galaxy Active 2, we get a physical rotating bezel that acts as a controller for navigating the interface. By rotating it to the right, one can access widgets, whereas rotating it to the left lets you see the notifications you've received.
We have two buttons on the right taking care of app functions and back. Press and hold the bottom button activates Bixby or your choice of app. Double press the bottom button to see the recently used apps. The straps are made of leather and high quality. It is nice and supple.
The Watch 3 measures 41 x 42.5 x 11.3mm and weighs around 48 grams. At 48 grams, the watch feels surprisingly lightweight and didn't often feel it in the hand during sleep. It also has 5ATM + IP68 water resistance, MIL-STD 810G certified for durability as well. Overall, the build quality of the device is fantastic and feels premium.
Display and performance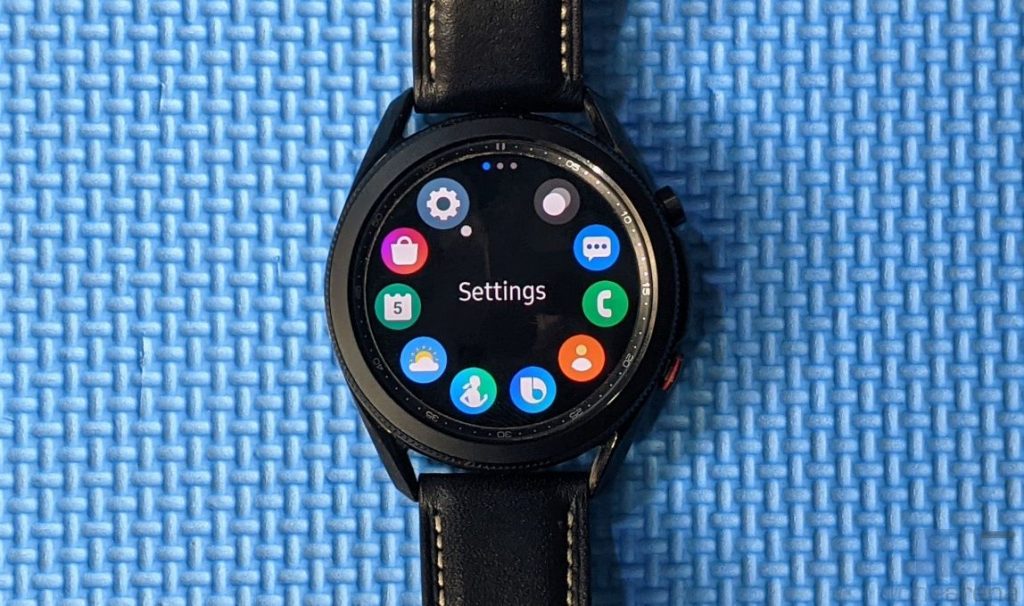 The Samsung Galaxy Watch 3 comes with a 1.4-inch (360 x 360) Super AMOLED display with Corning Gorilla Glass DX protection on top. It is crisp and bright. The viewing angles are good too. The blacks are deep and, we find no issues while seeing it under broad daylight.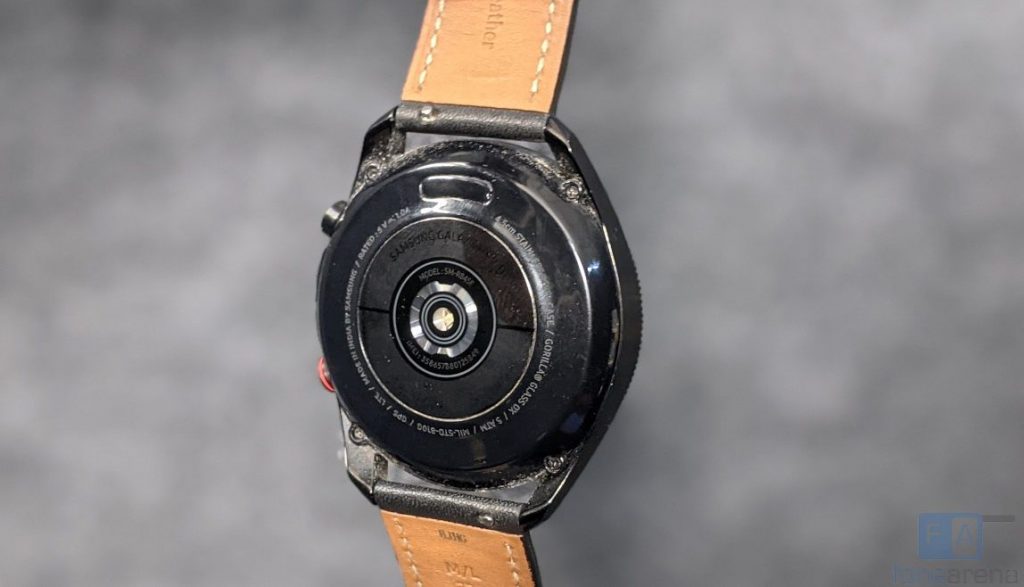 The Samsung Galaxy Watch 3 is powered by a Dual-core Exynos 9110 (1.15 GHz) with 1GB RAM and 8GB ROM. It has a bunch of sensors including an Accelerometer, ECG sensor, 8 LED photoplethysmography, Gyroscope, Barometer, and Ambient Light. Our review unit has LTE support, meaning you can receive notifications and calls when you're not around your phone.
In general, the interaction with the UI was fluid and responsive throughout the testing period. We haven't faced any problems. Both the hardware and software compliments each other giving users a rich and smooth experience. The Bluetooth connection was stable as well.
It runs on Tizen-based Wearable OS 5.5 out of the box, which is compatible with Android phones running Android 4.4 or later iPhone 5 and above with iOS 9.0 or later. We can see a lot of improvement over the Tizen OS this time with lots of refinement. Notably, users need to install a bunch of apps — Galaxy Wear (mandatory for pairing), Samsung Health (to check out fitness-related data).
Coming out from WearOS (OPPO Watch), the Galaxy Watch 3 was a bit refreshing and pleasant. It was fast, slick, and user-friendly. However, the downside of TizenOS is the lack of third-party apps like WearOS and WatchOS. The Galaxy Store offers several watches faces collections, both free and paid with options to customise various elements in it.
Coming to fitness, the Galaxy Watch 3 offers a lot of workout and tracking modes. Another thing worth mentioning here is that it automatically detects workouts like running, cycling, and other activity if you've been doing it for at least 10 minutes.
However, it is not accurate as of such, where, in my case, it triggers the cycling activity, when I ride a bike. It also detects, when you are idle for more than 30 minutes and tells you to stretch your torso three times.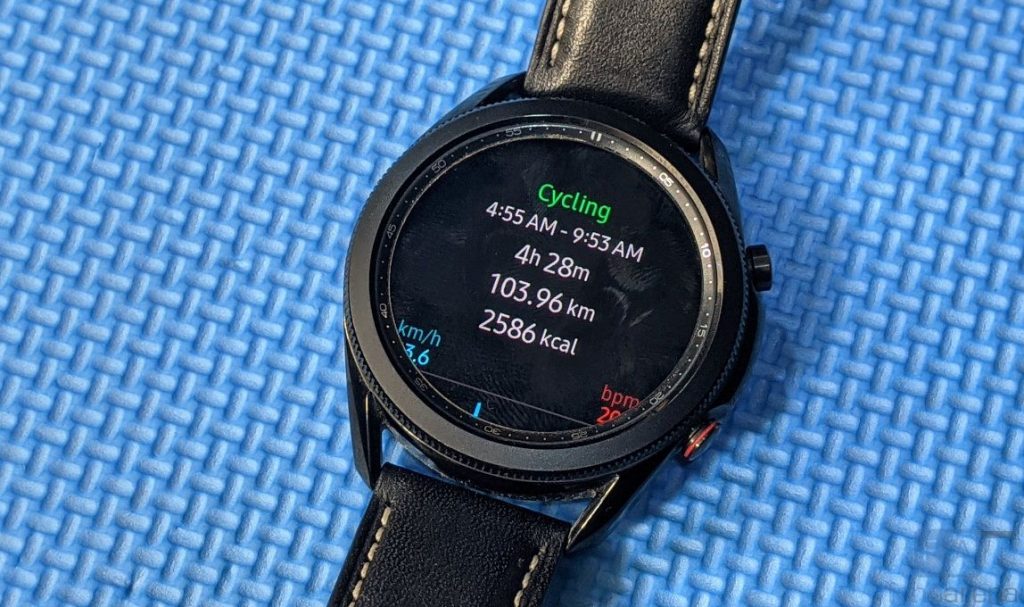 The Watch 3 has managed to log a fairly accurate step count during walk and distance during running. You can access the data through Samsung's Health app, once you sign in with your ID. Samsung Health does a fantastic job at displaying this information in charts after your run.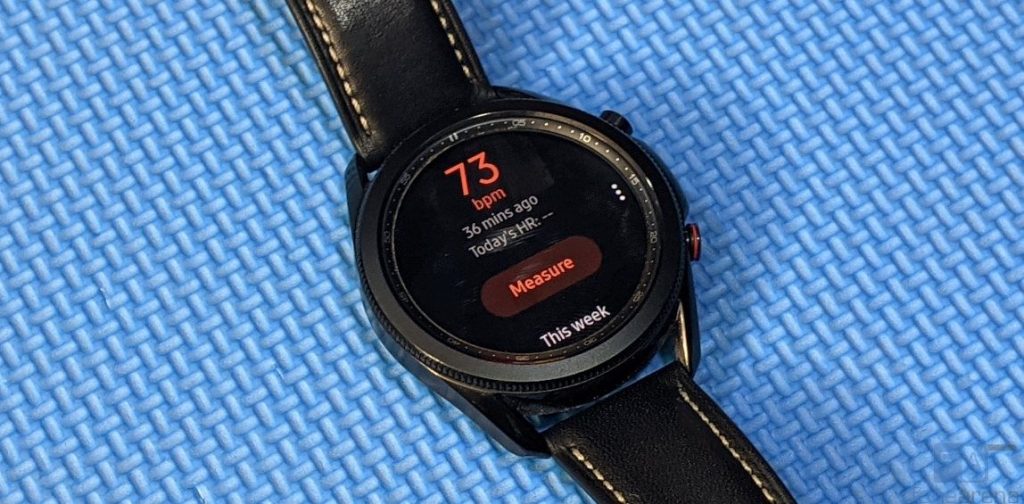 It also measures your heart rate, which cannot be trusted seriously, but it seems to be pretty reliable as well and better than most of its competitors too. The sleep tracker does a good job and tracks sleep patterns as well. You get a 'Sleep score' on a scale of 100, based on various factors including total time asleep, time in sleep cycles, movement, and physical and mental recovery.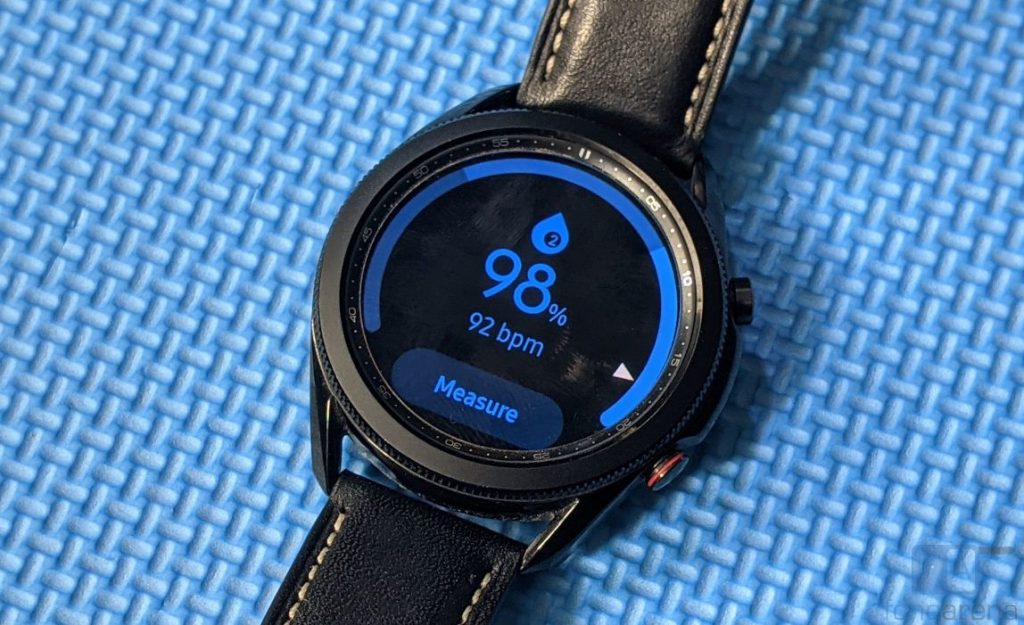 With this watch, we can also measure SpO2 levels through our wrist like any other smartwatches in the market. On average, it showed around 98%, which means I am in good health. Well for the accurate data, we need to compare it with the pulse oximeter.
Battery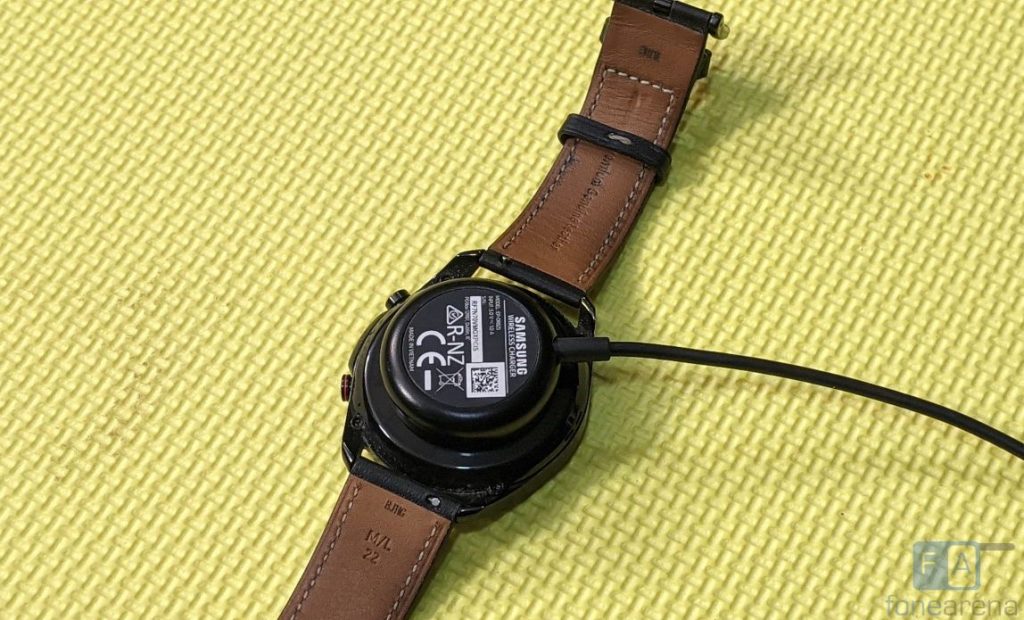 The Samsung Galaxy Watch 3 is powered by a 340mAh Li-ion battery with wireless charging. And this is where the device fell short. On average, we merely got around a full day on a single charge with intensive usage including, running (GPS), Always-On display, connected to the phones 24 hours for notification. Upon disabling the above-mentioned features, we got around one and half days, which is pretty decent. However, the pain lies in the charging part, where it takes a solid two hours to charge fully. It feels like an eternity after coming from OPPO Watch. Overall, the battery life of the Gear Watch 3 is decent, not bad, and not so good.
Conclusion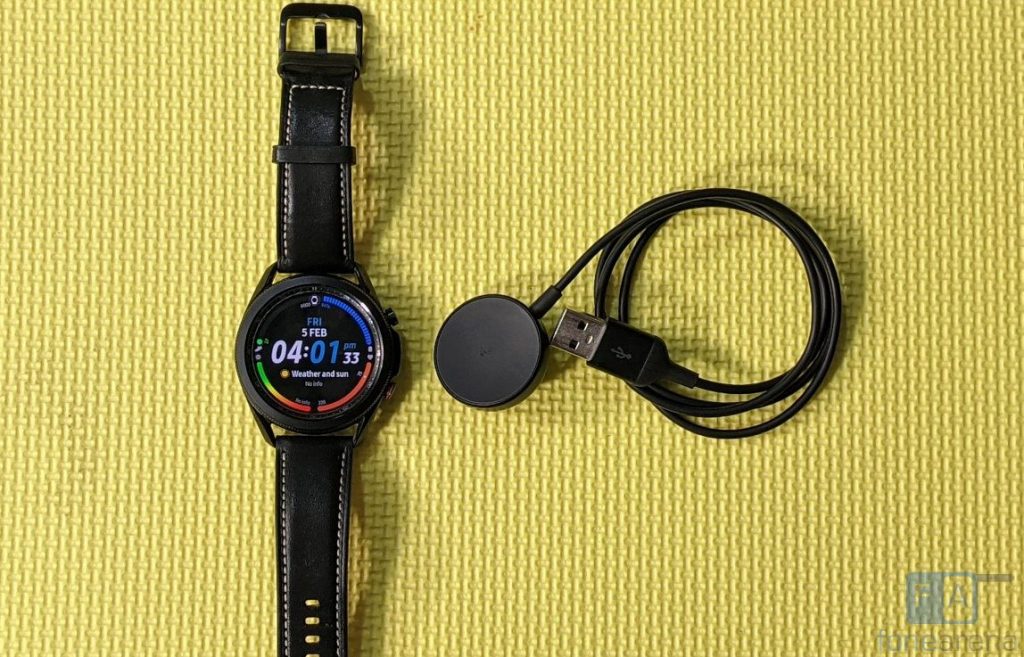 If you are looking out for a quality, all-rounding smartwatch, Galaxy Watch 3 is the perfect option available right now. It offers a crisp display, amazing build, stress and SPo2 monitor and an overall fluid user experience.
The Samsung Galaxy Watch3 41mm in Mystic Bronze and Mystic Silver colours is priced at Rs. 29,990 for the Bluetooth and Rs. 34,490 for the 4G variant and the Galaxy Watch3 45mm comes in Mystic Silver and Mystic Black colours priced at Rs. 32,990 for the Bluetooth version and the 4G version is priced at Rs. 38,990. It is available across retail stores, Samsung Opera House, Samsung.com and leading online portals like Amazon.in.