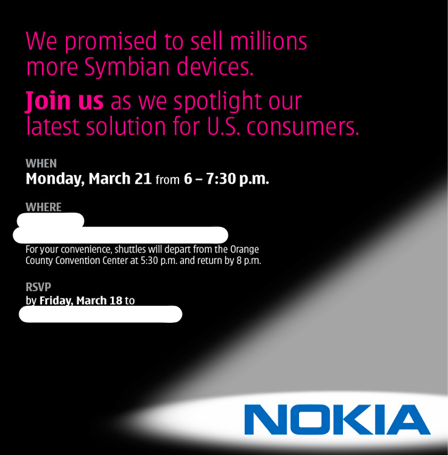 Nokia is planning to launch a new Symbian device at CTIA on March 21 happening at Orlando, Florida. Nokia's performance in the American market has been disappointing compared to other major mobile markets such as Europe, China and India. Looks like Nokia's new CEO Stephen Elop has plans to refocus on the American market which is one of the biggest mobile markets.
In an invite sent to the American media pictured above, the company confirms that Symbian is still alive and it would spotlight its latest solution for US consumers.
We are not sure if Nokia would launch a all new handset or would be just announcing a carrier branded version. The Nokia X7 was rumored for AT&T and C7 has been rumored for T-Mobile.
[Via IntoMobile]