Welcome to a new interview series here on Fone Arena, something we wanted to do for quite some time now. We invite you to (virtually) meet the team working behind the scenes, we invite you to meet the Fone Arena Team! Each week I will conduct a new interview with one of our authors, in which you'll get to know us a bit better.
Starting off this week, is our friend from Pakistan, Asad Rafi! Nice to meet you Asad!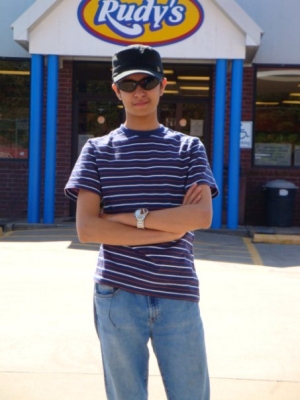 Who are you? Introduce yourself!
Hello, my name is Asad Rafi. I am a 17 yr old boy who lives in Pakistan, and sometimes in USA. I am a very big fan of everything related to tech world. Besides blogging, I study and read books, actually most of the time surfing on the net and learning about different things. In my free time, I watch movies, listen to songs and play football but it's so hard to get free times these days! You can catch me on Twitter @asadrafi.
Tell us a little bit about your "mobile career". What did you do prior to FoneArena?
I started my career as a blogger 2.5 years ago, when I was just 15. Well, before that I never heard about blogging but then one of my friends told me about it, he is also a professional blogger. I created my first blog with Blogger.com. In the beginning, it was very hard for me because my first language is not English, and I was also new in blogosphere. When I started my career, I was used to write about gadgets, computers, cameras, cars and mobile phones. But then I choose mobile phone as my specific class. I started with a very small blog of my own, and then I moved to another blog. After few months, I joined AndroidSPIN which is a good and famous blog related to Android. I worked for more than 5-6 months there, and then I joined Fone Arena last year. Fone Arena is currently the best place and I love working here. All my co-workers are awesome and very supportive especially Varun Krish, who always supports and guides me. Besides Fone Arena, I am also Editor of HomeShopping.pk, which is Pakistan's largest online retailer.
Which Device(s) do you currently use?
At the moment, I have an Asus K52 F laptop. Other than that, I have a Sony Ericsson W350i, and some other devices. Now I am looking forward to extend my gadget library by adding some new devices. I am planning to buy a smartphone in the upcoming days, and after that, I might buy my first DSLR camera too. But if anyone wants to gift me, then most welcome 😛
Your favorite OS at the moment?
My favorite OS is Android OS, and it will stay as my favorite OS forever. I started my mobile career by writing about Android phones only but after joining Fone arena, I also started writing about other phones. I used to have an Android phone, but don't have it at the moment. I am looking forward to buy a new phone, and it will be none other than an Android powered phone. If you talk about phones, then I also love the iPhone 4. I don't like the iOS, but I am a fan of iPhone 4 hardware. The hardware is so amazing, the Retina Display and the amazing looks. Well, I am not including the death grip. I wish that the iPhone 4 could run Android OS officially, but I know that's never going to happen.
What was the coolest thing that ever happened to you, involving mobile phones?
Well, that's hard to tell. Let me tell you some of them. Getting selected as a writer for Fone Arena was one of the best things ever happened. I didn't sleep that night, and I was so happy. It was a very big moment for me. The second is when I bought my first laptop because it was my dream to have a personal laptop. And now I am waiting for a lot of coolest things to happen…
Where do you see mobile phones in the future?
If we have a look on the past, then mobile phones have improved a lot. Few years back, mobile phones were only used to make calls, but now they are everywhere. People are checking their mails, chatting, sending mms, playing games, taking pictures, uploading them and a lot of other stuff. I can say it without any doubt that mobile phones are slowly taking place of computers. Mobile phones are getting stronger and stronger each day. Recently, LG launched first phone with Tegra 2 processor and a full 3D display. After few years, we are going to see phones with some powerful graphic and processing speeds. So it means that smartphones are going to be changed into superphones, or I think they are already changed. I think mobile phones are changing and getting better and better. Like we have seen type of concept phones in movies and also on the web, and I am sure that these phones will be real after a short period of time.
I also want to talk about tablets. Tablets are around us from long time, but after the launch of Apple iPad, tablets are getting popular and common. A lot of big companies are working on tablets, and recently Motorola and Samsung announced new tablets. That shows that we are going to see a tough competition between tablets in future. As Apple iPad 2 is also around the corner, so I can guarantee that this year we are going to see some good tablets. Desktop era will be ended soon and portable laptops, tablets and mobile phones will replace it.
And last but not least, how would your dream device look like?
Well, what we all want in our dream device is power and performance, not to forget the X-factor. The device should be blazing fast and beautiful. The device should have a medium size design, not that big and not that small; it should be like Desire or Samsung Galaxy S. The device should have an amazing and crystal display and have some awesome sound. And the important thing that it should have is good battery life, because I don't want a phone with awesome features and poor battery life. Last but not least, the device should run Android OS. Well, I think I am going to see this type of device in near future, or not?